Inaugural AM Medical Virtual Summit D...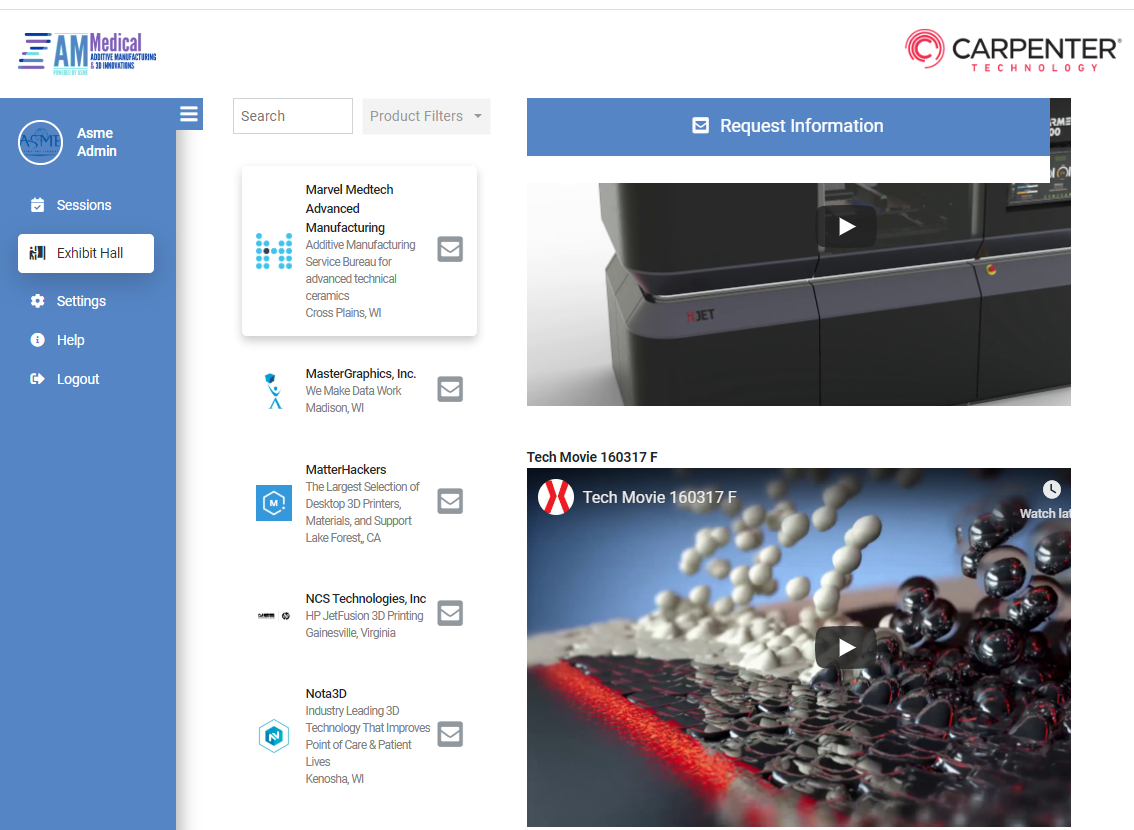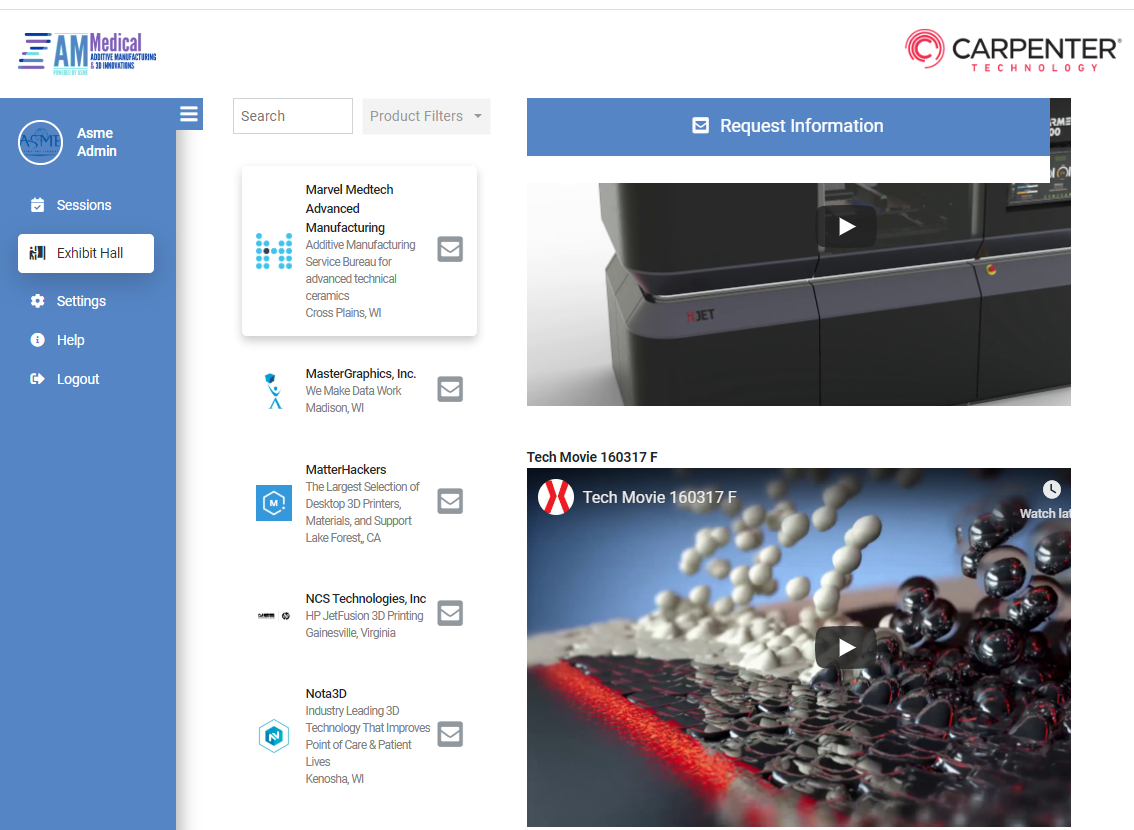 Marvel Medtech Advanced Manufacturing's booth in the AM Medical Virtual Summit Exhibit Hall.
Inaugural AM Medical Virtual Summit Draws an Impressive Audience
Jun 24, 2020
ASME's inaugural AM Medical Virtual Summit, held on May 27, 2020, brought together engineers, clinicians, technology vendors, and industry leaders in an immersive virtual event experience focused on medical additive manufacturing and innovative 3D printing for medical applications.
The AM Medical Virtual Summit was originally planned as an in-person medical additive manufacturing (AM) trade show and conference—AM Medical: Additive Manufacturing & 3D Innovations. It was quickly pivoted to an online forum when it became apparent the COVID-19 outbreak would prevent in-person events from taking place.
The success in converting the summit to an online event in a timely manner was driven by ASME's commitment to emphasize the AM community's efforts in providing solutions to issues highlighted by the COVID-19 pandemic.
"The additive manufacturing community has shown the importance of medical applications for this technology—especially in the age of COVID. We felt it essential to bring this event to market to advance this life-saving technology and increase its adoption," said Deborah Holton, managing director of ASME Industry Events, adding that the event far exceeded expectations with stellar content and sponsors.
More than 2,300 live attendees, exhibitors, and speakers from over 80 countries participated. Those numbers exceeded all original expectations for the in-person event, making the event an unqualified success. Organizers originally set a goal of 1,000 registrants, 600 attendees, and 20 sponsors; the virtual event drew more than 4,000 registrants, over 2,300 live attendees and included 33 sponsors.
Feedback from attendees of the virtual event indicated it fulfilled its intended purpose for the community. "The ASME Virtual AM Medical event brought together experts in the field in additive manufacturing and 3D Innovations," said Justin Ryan of Rady Children's Hospital, San Diego. "The virtual event enabled great dialogue with the experts and attendees without the hassle of travel costs or a global pandemic," added Karthik Tappa of University of Texas MD Anderson Cancer Center.
The daylong program, with more than 15 hours of live content, included a number of informative presentations including "Medical AM/3DP Community Response to COVID-19," featuring panelists from VA Puget Sound, Montefiore Medical Center, and Johnson & Johnson. A keynote session "Effective Quality Systems for Additive Manufacturing," included speakers from the Mayo Clinic, Stryker, Advanced Regenerative Manufacturing Institute (ARMI), and the U.S. Food and Drug Administration. A second keynote, "What's Next for Medical & Dental 3D Printing," featured speakers from Medtronic and Dimension Inc. In total, there were more than 19,000 views of the live sessions.
Other special features at the AM Medical Virtual Summit included 14 interactive sponsored sessions exploring key technological innovations, real-world AM challenges, and networking sessions. Sponsors included Coherent Inc., Carpenter Technology, GE Additive, 3D Systems, CAD BLU, EOS, NCS Technologies, Oxford Performance Materials, Protolabs, B9 Creations, Zeiss, DMG MORI, Empire Group, and Additive Industries.
The sponsors and exhibitors also responded positively to the event. "I was very happy with the attendance of this event and the number of leads we got from both the booth and presentation!" said Lauren Pedersen of 3D SYSTEMS. To view the full list of sponsors, visit
event.asme.org/AM-Medical-Virtual-Summit/Sponsors
.
For those who missed a session or weren't able to attend the event, recordings of the 30 sessions can be viewed on-demand, free-of-charge for the next 12 months. The summit's Virtual Exhibit Hall will also be open through the end of August at the
AM Medical Virtual Summit website
.
Following the success of the inaugural event, ASME will launch additional AM events later this year: AM Virtual Summit, August 11-12; an ongoing AM Medical Webinar series; and an in-person AM Medical Event, co-located with Medical Design & Manufacturing (MD&M) Minneapolis, October 28-29, in Minneapolis, MN.
The first will be
AM Medical Webinar Series
, which kicks off at 4:00 p.m EDT on July 9. The hour-long installment, titled "Building the Business Case for 3D Printing in Hospitals," will feature leaders from several prominent point-of-care manufacturing companies. Sponsored by Formlabs, the webinar's speakers will include Andy Christensen, president of Somaden; Jonathan Morris, director of the Mayo Clinic's 3D Printing Anatomic Modeling Lab; Beth Ripley, assistant professor of radiology at VA Puget Sound; Justin Ryan, research scientist at Rady Children's Hospital-San Diego; and Gaurav Manchanda, director of healthcare at Formlabs.
The panel will discuss topics such as first steps for implementing 3D printing at hospitals, how hospitals should address reimbursement, what skills are necessary to be successful, and 3D printing resources for health care facilities. Visit the webinar series' webpage for more information on the webinar or to register.
The AM Virtual Summit planned for August 11-12 will feature sessions and sponsors related to developments in AM in the medical and aerospace fields. The
AM Medical in-person event
will be held October 28-29, co-located with Medical Design & Manufacturing (MD&M) Minneapolis.
For more information on the ASME's AM events and community, visit
event.asme.org/AM-Medical#sign-up
to sign up for more information.