Clean Energy Leaders Convene Next Mon...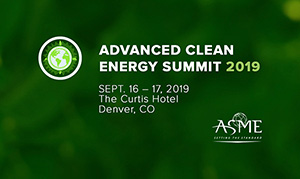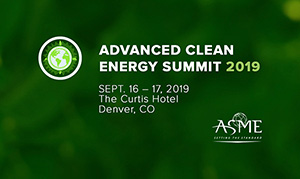 Clean Energy Leaders Convene Next Month at the Advanced Clean Energy Summit in Denver
Aug 23, 2019
Next month, ASME will host the inaugural Advanced Clean Energy Summit (ACES) — a new global forum bringing together energy industry professionals and innovators working in the field of clean energy technology and management. The event will take place from Sept. 16-17, 2019, at the Curtis Hotel in Denver, Colo.
The summit was developed to facilitate improved collaboration among energy incumbents and technology disruptors. The current lack of this kind of collaboration has delayed advances in the commercialization of innovative clean energy technologies, according to the recent report, "Advancing the Landscape of Clean Energy Innovation," from former U.S. Secretary of Energy Ernest J. Moniz and Daniel Yergin, Pulitzer Prize winner and vice chairman of IHS Markit.
To that end, ASME's new Advanced Clean Energy Summit aims to address challenges and opportunities in applications including advanced energy systems, energy storage, environmental systems, gas turbines, material and energy recovery, nuclear energy, oil and gas power resources, and solar and wind energy.
Industry executives, product development managers, small business owners, state and federal representatives, research engineers and other clean energy professionals are sure to benefit from the two-day program, which will feature keynote speakers, presentations from industry leaders, and smaller group "fireside chats."
The summit will address the theme, "Evolving Into a Balanced Global Energy Portfolio," with keynote speakers Dr. Michael Webber, chief science and technology officer at ENGIE and author of Power Trip: The Story of Energy, and National Renewable Energy Laboratory (NREL) Chief Research Officer Dr. Peter Green, who will give the presentation, "Enabling the Global Energy Transition: A Technology Progress Report."
The Advanced Clean Energy Summit also will feature presenters and facilitators from companies including Constellation/Exelon, Plug Power and Siemens; government agencies such as NREL and the U.S. Department of Energy; and academic institutions including the Penn State University and Purdue University.
Attendees will learn how to build and enrich their clean energy portfolio; leverage transferable engineering, design and project delivery knowledge; improve project and product economics; adopt best practices and lessons learned; and invest in and implement new technologies. At the end of the event, participants will possess a list of actionable next steps they can use to continue their progress toward a more balanced power resource portfolio in the months ahead.
"The transformation that's necessary in the global energy ecosystem requires a new approach," said ASME Executive Director/CEO Tom Costabile, who will provide opening remarks at the event. "The ACES program is designed to promote collaboration across technologies, tackle issues and encourage all stakeholders to embrace a clean energy future. ASME reaffirms our commitment to support this ongoing work."
For more information on the Advanced Clean Energy Summit or to register, visit https://event.asme.org/ACES.