ASME E-Fests Announce an Inaugural E-...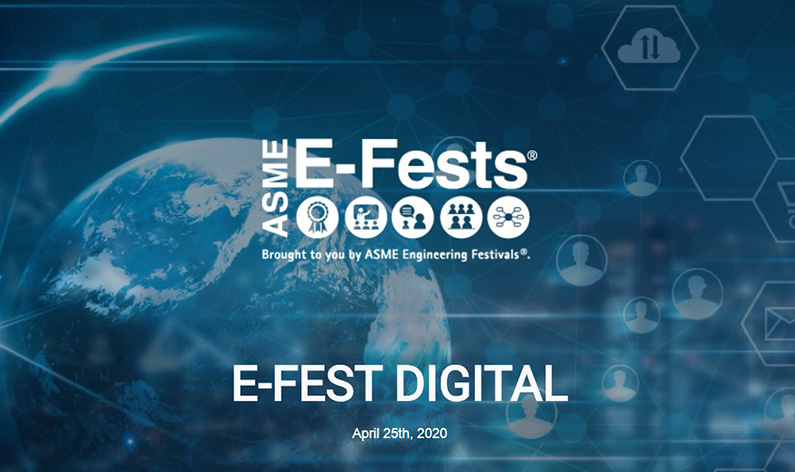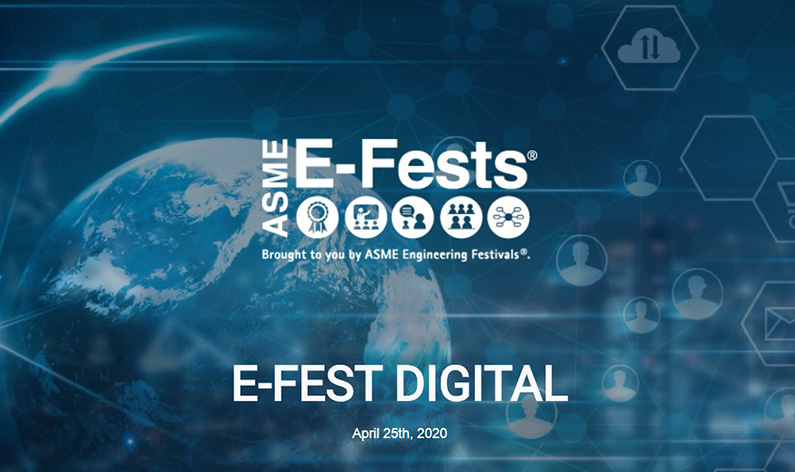 ASME E-Fests® Announce an Inaugural E-Fest Digital Event on April 25
Apr 3, 2020
ASME has organized an exciting new online festival for engineering students, E-Fest Digital, as a substitute for the cancellations of this month's E-Fest North and E-Fest South events in Michigan and Georgia because of the continuing COVID-19 crisis. The new event, E-Fest Digital, will be held Saturday, April 25.
Advance registration is recommended for E-Fest Digital, which will be streamed on ASME's E-Fest YouTube Channel from 11:00 a.m. to 4:00 p.m. Eastern Time. Students can register for free on the E-Fest website, https://efestdigital.asme.org/home.
Consisting of a modified version of a typical E-Fest program, ASME's new E-Fest Digital 2020 will be a half-day global engineering experience for students to showcase their technical proficiency in areas including design, additive manufacturing and robotics and presentation skills in a setting where they can interact with industry engineers and mentors, and develop leadership and professional development skills.
With a program that includes elements of ASME's E-Fests and EFx events, E-Fest Digital will feature an engaging combination of sponsored content, competitions, engineering infomercials, mentoring sessions and skill-building sessions, as well as awards and prizes designed to inspire and encourage the diverse, multidisciplinary engineering workforce of tomorrow.
Following opening remarks from ASME Executive Director/CEO Tom Costabile and an overview of the day's schedule, the E-Fest Digital program will include a number of sessions addressing a variety of topics of interest to engineering students as well as early career engineers. They include Student Leadership Training sessions such as "Creating Your Self-Brand," "Adapting to Change" and "Becoming Your Own Boss" from presenters Nicole Salloum of CloudX, Maya Reslan of the National Institute of Standards and Technology, Omar Kheir of EPCOM, Bilal Wasim of Sterling Engineering, and Brandon Graham from Arke Aeronautics.
E-Fest Digital 2020 will also feature sessions offering advice on perfecting your elevator pitch led by Harsh Vyas of ITT Corporation India and Vikrant Chiddarwar of Siemens Digital Industries Software; and a session titled "How Did Your Career Evolve" presented by Jeff Hanson, professor at Texas Tech University, chair of the ASME Student Programming Committee and faculty advisor for the ASME Texas Tech Student Section. The program will include two sessions on resources and opportunities for ASME student members and early career engineers, presented by Valentina Alayon, strategic projects specialist at ASME, as well as flashback videos from previous E-Fests and spotlight videos profiling a variety of ASME volunteers.
Student competitions are an integral part of every E-Fest and E-Fest Digital is no exception. The event will feature a number of competitions for students, including the Human Powered Vehicle Challenge (HPVC), the Student Design Competition (SDC), the Innovative Additive Manufacturing 3D Challenge (IAM3D), the Elevator Pitch Competition, and the Oral Competition.
Participation in the HPVC, SDC and IAM3D competitions is limited to students who had previously registered for either E-Fest North or E-Fest South. Individual competitions such as the Elevator Pitch and Oral Competition competitions are open to all students who register for E-Fest Digital, subject to capacity. Descriptions of the various competitions and their video submission guidelines are available on the E-Fest Digital website at https://efestdigital.asme.org/page/1508803/exhibitors.
For more information on E-Fest Digital 2020, or to register for the event, visit https://efestdigital.asme.org.