Advanced Manufacturing and Repair for...
Advanced Manufacturing and Repair for Gas Turbines Symposium to Kick Off Next Month
Feb 7, 2019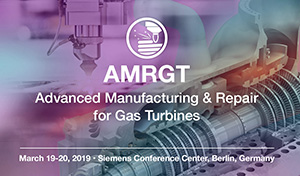 ASME will present a new industry event, the Advanced Manufacturing and Repair for Gas Turbines Symposium, next month in Germany. The event will be held on March 19 and 20 at the Siemens Conference Center in Berlin and will provide a venue for engineers, designers, researchers, repair professionals and business leaders from the gas turbine community to interact and learn about the latest developments related to advanced manufacturing and repair for the gas turbine industry.
The Advanced Manufacturing and Repair for Gas Turbines Symposium will feature case studies and insight from some of the world's most innovative manufacturing and design engineering companies. The 2019 symposium program will incorporate case studies from global entities including GE, Siemens, MHI, Solar Turbines, PSM?Ansaldo and EPRI and such leading universities as Penn State University, Leibniz University and the University of Texas at El Paso.
Presentation topics will include cold metal transfer (CMT) additive manufacturing, additively manufactured turbine cooling geometry, additive manufacturing engine component repair, laser powder bed fusion adoption and advancement, additive manufacturing of smart parts for energy system applications, and extending hot section life with advanced material property recovery.
The symposium will also feature a special keynote session with Markus Seibold, vice president of additive manufacturing for Siemens' Power and Gas Division, on March 20. During his presentation, "3D Printed OEM Parts and New Materials to Drive Customer Success in Power Generation New Unit and Service Business," Dr. Seibold will highlight the successes and challenges he has experienced as part of the additive manufacturing group at Siemens — a company that has amassed more than 110,000 hours of operating experience with 3D-printed components, both within its power generation business and servicing industry customers.
The Advanced Manufacturing and Repair for Gas Turbines Symposium program will also include two tutorials on Tuesday, March 19. "Designing for Metal Additive Manufacturing," presented by Prof. Timothy W. Simpson of Penn State University, will provide attendees with an overview of the challenges that arise when seeking to ensure that additively manufactured parts meet their design specifications and cover how additive manufacturing changes the design workflow process. The second tutorial, "Additive Manufacturing and Advanced Repair for Gas Turbine Components," will be presented by Bernd Burbaum, Andreas Graichen and Reiner Anton of Siemens. The session will offer a broad overview of the various technologies currently in use in the industry, followed by a more focused discussion on additive manufacturing applications for power and gas products used within the gas turbine industry.
For more information on the Advanced Manufacturing and Repair for Gas Turbines Symposium or to register, visit https://event.asme.org/AMRGT.