What is that Robot Doing in My Supermarket?
What is that Robot Doing in My Supermarket?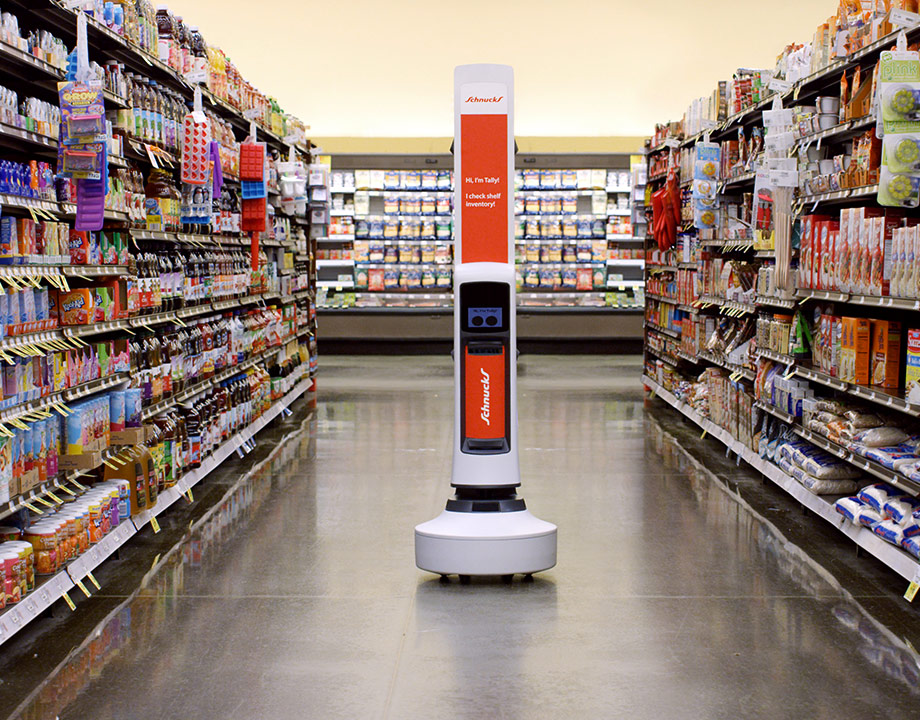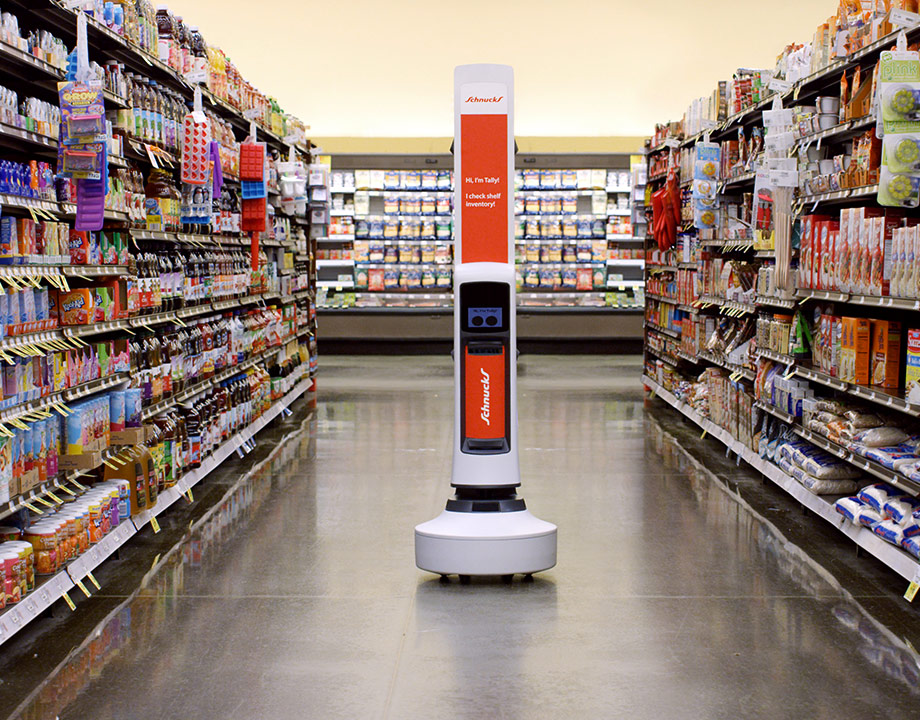 As Tally patrols the aisles of a Schnucks grocery store, it monitors the inventory. Photo: Simbe Robotics
Robots are becoming an increasingly common sight in grocery stores and other large shops around the nation. Retailers often tell their customers that the robots are there to monitor for spills, broken glass, and other hazards.
While that is true, it is only part of the story. The real driver behind retail robots is inventory management. It represents the perfect storm of data science, sensors, robotics, and the cloud.
Retail inventory management is tricky, even under the best circumstances, said Jeff Gee, co-founder of Simbe Robotics, a company that has developed an inventory management robot. Stores know when products arrive and when they are sold, but they find it difficult to tally what happens between those two points in time.
That information is critical because it provides merchants with solutions to manage their shelves more efficiently, Gee said.
"Is the product on the right shelf?" Gee continued. "Is it priced correctly? Has it expired? These are important questions, because anyone who walks through a grocery store knows that things move. That bucket of fried chicken from the deli was picked up and then left by a customer over by the Oreos. The peanut butter brands have been mixed up on the shelf."
Misplaced or incorrectly priced products cost merchants money because customers cannot find what they are looking for.
Further reading: Robot Firefighter That Saved Lives
Stores now rely on hourly employees to manage and track inventory. The work is tedious and often leads to errors, said Eugene Kublanov, a principal consultant in procurement and business services at KPMG, a global professional services firm. He believes inventory tracking could benefit from automation.
"Over the past five years, technology has advanced in terms of computing power and cloud technologies to really enable the adoption of robotics in retail," he said. "The technology is there and proven. Inventory management and material stock issues cost the retail industry billions of dollars each year, so having a robot that can more efficiently and accurately track inventory data is going to be an advantage."
Enter Tally, Simbe Robotics' fully automated shelf-auditing robot. It uses a combination of sensors, computer vision, and data tracking algorithms to manage a store's complete inventory. It smoothly glides up and down grocery store aisles like a taller, thinner version of WALL-E's girlfriend, EVE.
As Tally navigates the aisles, it notes misplaced, mispriced, and missing items, items that are flying off the shelves and other products that are not moving at all. The data helps retailers make faster and smarter decisions about when to restock.
What's more, Tally easily—and safely—navigates the complex environment of a grocery store.
"From the beginning, we understood that the robot would have to be small, compact, slim, and agile, and that it would have to share space with humans," Gee said. "The hardware was specifically designed so it can navigate the store safely and capture data at the same time."
Tally boasts a suite of cameras and sensors to do this. This starts with LIDAR (light detection and ranging) sensors to identify obstacles and humans in order to plan a safe course.
You May Also Like: Bacteria-Killer Robot Armed with Ultraviolet Light
The top of the robot features ultrasonic and depth and stereo vision cameras to collect inventory data. By analyzing this data, retailers can develop the most efficient plan to fill their shelves.
"All of these different sensors and cameras are packaged very carefully in optimized places on Tally, so they can do what they need to do," Gee said.
"Tally moves in only one direction, forward, and it moves very slowly so the robot can see what's around and know what's coming," he said. "Grocery stores are a challenge because kids are running, they want to come up and see Tally—sometimes they want to hug Tally—and so the robot has to be able to maintain a line of sight and react to anything coming its way to avoid any safety issues."
Simba recently raised $26 million in initial (Series A) venture capital funding and signed an inventory financing deal with Softbank Robotics that will enable it to manufacture 1,000 Tally robots over the next two years.
The company is currently running trials at two grocery stores, Giant Eagle and Schnucks, and a large sporting goods store, Decathlon. Its business model is to sell Tally as part of its data analytics services for restocking management.
Tally is not the only inventory management robot on the block. This year, Walmart announced that it would deploy Bossa Nova's shelf scanning robot at 300 locations. Ahold Delhaize, which owns Food Lion, Giant, and Stop & Shop in the United States, ordered 500 Marty robots from Badger Technologies.
Editor's Pick: Robots that Weld, Clean, and Coat
Robots are not the only way to go. Earlier this year, Walmart opened an experimental store that combines artificial intelligence with thousands of cameras to monitor shelves less obtrusively.
Intense competition will likely lead to a features war among robot makers. Yet, when asked if Simbe plans to extend Tally's functionality to include some kind of reaching or grasping capability to physically restock the shelves it now only audits, Gee immediately replied, "No."
"People like to anthropomorphize robots and so I can see why they might think Tally will eventually get arms," he replied. "But as a data capture platform, we just don't need them. Tally wasn't designed to use arms and it doesn't need arms to do what it does.
"Rather, we want to extend Tally's sensing capabilities. We're looking at how to best check temperatures in the refrigerated and frozen food aisles. We want to know the best technologies to look at produce to see what's fresh and what's not. There are so many applications in retail where the right sensors can capture data and help the stores manage what's happening on the floor.
"We are listening carefully to our customers to understand what it is they really need and then figure out a way to engineer a solution to make it happen. We don't need arms to do that," Gee said.
Kayt Sukel is a science and technology writer based outside Houston, Texas.
Related Content