Video: Chapter 3 - How Should We Be T...
Decision Point Dialogues II: STEM, Chapter 3 - How Should We Be Teaching?
Danica's and Derek's teachers use project-based learning to spark critical thinking. How should we measure whether these methods are successful? How much weight should we place on international test comparisons?
This third episode is part of the second Decision Point Dialogues program—Critical Thinking, Critical Choices: What Really Matters in STEM. Here, celebrated journalist John Hockenberry, host of the public radio program The Takeaway, leads 12 influential STEM thought leaders through a myriad of intricate cultural, economic, and education related conflicts based on a mock scenario.Join the conversationon the third episode.
Watch Chapter 4 - Who Should Be Teaching?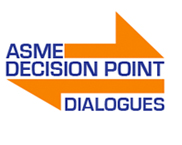 Stay connected to the ongoing dialogue with subject matter experts and access exclusive content by visitinggo.asme.org/stemdialogues.
© The copyright of this program is owned by ASME.