Universal Robots Grabs New York Stock Exchange Manufacturer Attention Pt1
Universal Robots Grabs New York Stock Exchange, Manufacturer Attention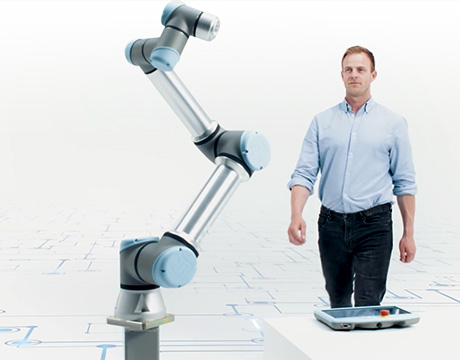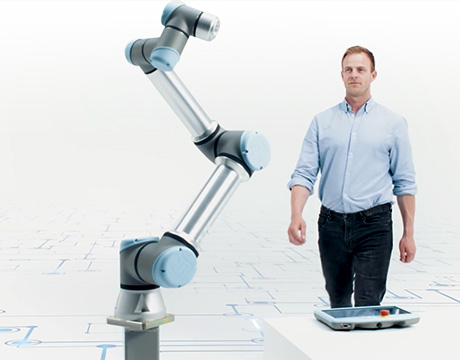 Everyone knows a business has arrived when its leaders ring the bell to close trading on the New York Stock Exchange. Late last year, however, the exchange broke from tradition and chose a Universal Robots UR5e to perform the task.
The event was not organized for Universal, a Danish startup acquired in 2015 by Teradyne, an automated test and measurement firm. Instead, it honored the fifth anniversary of ROBO Global, a fund that invests in robot-related public companies.
Universal's UR5e encapsulates the type of innovation and business performance that has caused both investors and factory owners to take notice. It is lightweight, easy to set up, and safe enough to operate around workers (as well as financiers and executives).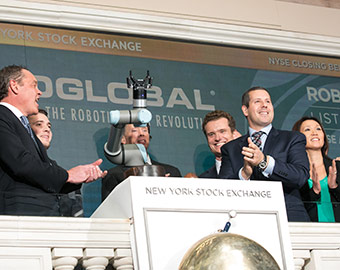 It is also easy to program. Users simply position the arm where they want it, then use tablet- or smartphone-based software to tell it what to do at each position. Once the robot begins the task, it automatically optimizes movement between positions. It usually takes about 15 minutes to program the robot, said Stuart Shepherd, the company's sales manager for the Americas.
ASME.org Editor's Story Choice: The Rise from BattleBot to Corporate Robot Most Popular Story: Artificial and 3D-Printed Skin Advances for Robots, Humans
Most conventional robots, by contrast, require dedicated programmers and a fence to prevent workers from getting close enough to get injured.
Universal created the market for cobots, small collaborative robots that work around people without safety cages, 10 years ago. By the close of 2018, it held a 60 percent share of the cobot market, despite vigorous competition from now-defunct Rethink Robotics and such old-line industrial robot arm vendors as ABB, Fanuc, Kuka, and Yaskawa.
It is also a business success. By the close of 2018, Universal's sales were on track to double to $255 million, Shepherd said. Revenue grew 72 percent in 2017, 62 percent in 2016, and 58 percent in 2015.
Shepherd joined the company last April, after a 35-year career in the robotics industry. He graduated from Purdue University with a mechanical engineering technology degree, held positions at FANUC, KUKA, and Güdel,served a term as Chairman of the Robotic Industries Association, and is currently the Chairman of the Association for Advancing Automation.
Through most of his career, Shepherd sold heavy-duty robots to large automakers. Universal's approach to the market is very different, he said. Instead of targeting industrial giants, Universal is going after small and medium-sized enterprises. These companies often have no robot experience, no dedicated robot teams, and many applications that have never used robots before.
Breaking into this highly diverse market requires time and resources for intensive application development. That's why Shepherd called Teradyne's 2015 acquisition of Universal Robots "a tipping point." The larger company, which had $2.1 billion in revenue in 2017, was able to pump more money into research, engineering, sales, and manufacturing.
Teradyne optimized Universal's supply chain. Many fast-growing companies have trouble meeting demand Shepherd explained. Teradyne addressed that problem by ensuring Universal had dual sources for critical components to reduce the likelihood of delays or shortages.
Under Teradyne, Universal redesigned its robots. The new e-Series is easier to configure and assemble, and can go from order to delivery anywhere in the world in five to seven days.
The robots are also easier to deploy and maintain. It took about an hour and a half to set up the UR5e used to ring the bell at the Stock Exchange. The redesign also slashes the time needed to swap out misbehaving joints from hours to about eight or nine minutes.
Universal used its position as the cobot industry's dominant player to createUR+, a marketplacewhere users canUR-certifiedaccessories for its robots.The company always relied on third-party vendors for grippers, cameras, sensors, lights, actuators, and other devices. The new marketplace provides an easier way for customers to search their options.
"We don't add extra value to that channel or try to monetize it," Shepherd said. "We just connect customers with solutions. Every nanosecond we spend on those accessories is another nanosecond wasted."
Instead, Universal focuses tightly on R&D and manufacturing.
"We have to stay ahead of the competition," Shepherd said. "The reason we're market leaders is that we built robots for collaboration right from the beginning. It's the only thing we do, and we have a limited range of products, robots optimized for 3, 5, and 10 kilograms.
"Our growth path is to replicate the growth of large industrial robots, but in 10-kilogram and under applications. Our challenge is to reach small-to-midsized entrepreneurs with the right applications. Maybe our robots can't do spot welding, but they can feed pieces to a larger robot that does," he said.
Another future market could be warehouse and logistics robots. Last August, Teradyne acquired Denmark's Mobil Industrial Robots. It makes mobile vehicles that can navigate warehouses and shop floors autonomously. Universal's lightweight robot arms could provide those platforms with the ability to pick and unload products autonomously, Shepherd said.
Read Part 2 of this story to find out why ROBO Global wants companies like Teradyne and Universal Robots in its portfolio.
More Exclusive Stories from ASME.org: Fight Climate Change, Build the Wall! Using the Eyes of Killer Shrimp to Design a Super Camera 3D-Printed Cement Improves Crack Resistance

For Further Discussion
Our growth path is to replicate the growth of large industrial robots, but in 10-kilogram and under applications. Our challenge is to reach small-to-midsized entrepreneurs with the right applications."Stuart Shepherd, Universal Robots
Related Content