Sun Train Shines New Life on Vintage ...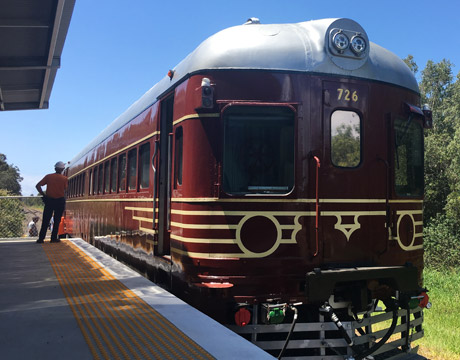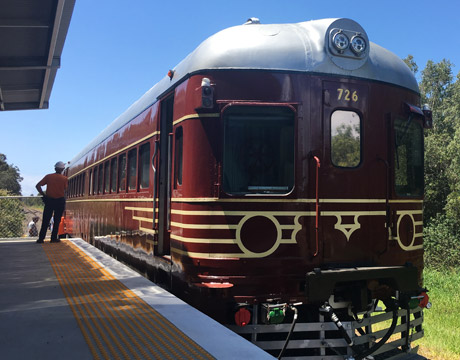 A railroad company in Australia has restored a derelict heritage train and powered it with solar panels. Image: Wayne Brown / Wikimedia Commons
Sun Train Shines New Life on Vintage Rail
Apr 12, 2018
by Agam Shah Associate Editor at Mechanical Engineering magazine
The Byron Bay Train is an excursion line that runs on a 1.8-mile stretch of track along the Australian coast near Sydney. The bay is known for its beaches, surf, and wildlife. The vintage train—which originally ran on an 82-mile line that was active from 1894 to 2004 – has also achieved renown: it's been retrofitted to run entirely off of solar power.
From the ground, the 100-passenger, two-car train is a charming throwback, looking much like it did when it was first built in 1949. The 128 flexible thin film solar panels, capable of generating 6.4 kW, have been incorporated into the roof of the cars.
Even when the sun is hidden behind clouds, the inverter is showing that we are still exporting at 17 kW into the grid. Tim Elderton, managing director, Lithgow Railway Workshop
The panels recharge a battery pack that enables the train to travel 50 kilometers on level terrain at speeds of up to 60 km per hour. The batteries can also draw from a 30 kW photovoltaic array mounted on the railcar shed roof at the main station. That array can recharge the electric train battery pack in less than 30 minutes.
When the train isn't being recharged, the solar panels feed electricity to the grid, says Tim Elderton, managing director for Lithgow Railway Workshop, which was contracted by Byron Bay Railroad Company for the train's solar power conversion. A local green energy provider pays the railroad for the excess electricity. Also for You: Trains Send Power to the Grid.
"Even when the sun is hidden behind clouds, the inverter is showing that we are still exporting at 17 kW into the grid," Elderton says. "For me being a career railway mechanical engineer, I still find it astounding that a railway company can make money from exporting power generated by solar power, rather than the more conventional situation of spending money on diesel fuel to power trains."
The train previously had 300-horsepower Cummins diesel engines. One was ripped out and replaced with an electric drive unit, while the other was retained for ballast weight for wheel traction. "The other engine can be used should something ever go wrong with the electric drive unit or solar charging system," Elderton says.
There were challenges in the conversion, especially when installing the engine, transmission, piping, and cabling. The total conversion cost roughly U.S. $650,000. It included modifications like installing electric air compressors to operate the air brakes, and replacing all lighting with LEDs to reduce power consumption.
The vintage train is off to a successful start, with more than 10,000 passengers in its first 20 days. A restoration project of a museum piece suddenly has turned into a business opportunity for Lithgow Railway Workshop and Byron Bay Railroad, which are receiving inquiries for solar-powered trains. The two companies are planning to form a joint venture to manufacture and export the technology.
The Byron Bay train is still new and runs only a short distance, but with battery-powered cars and freight trucks on their way, solar panels could play a role in modernizing trains.

For Further Discussion