Sprayable Coating Shows Better Strength in Shedding Ice
Sprayable Coating Shows Better Strength in Shedding Ice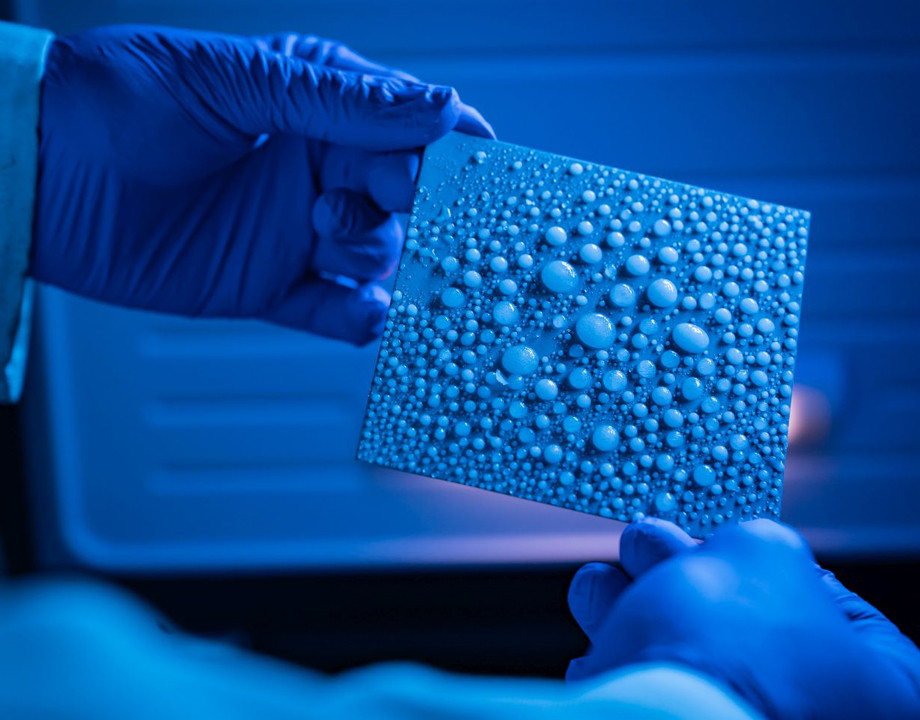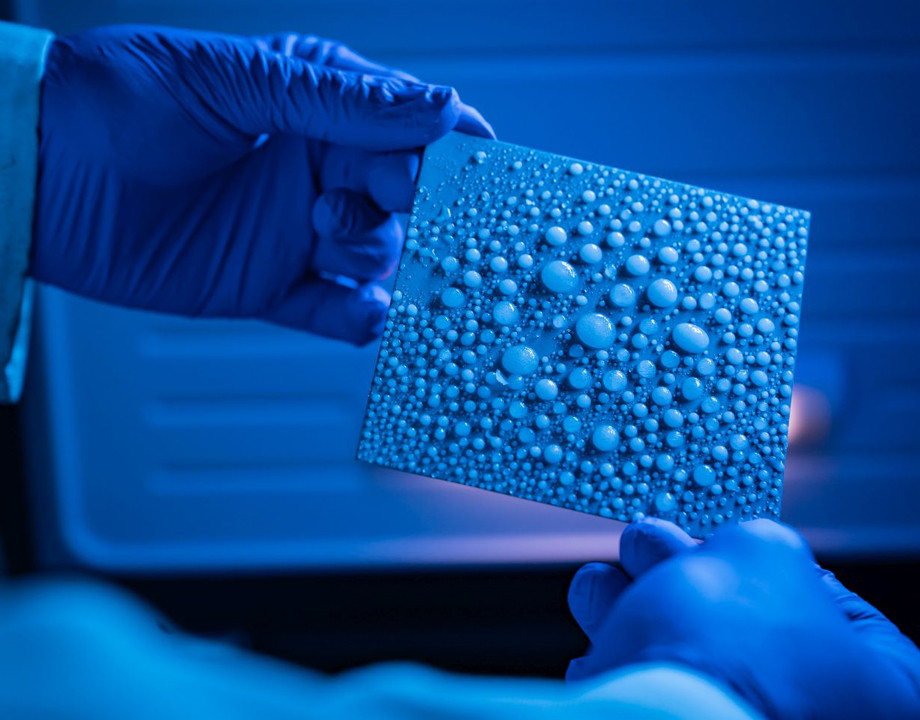 Newly developed material surpassed existing coating technology for aerospace in tests conducted by Boeing. Image: University of Houston, Cullen College of Engineering
Icing imposes a significant burden on those living in cold climates, with negative impacts on infrastructure, transportation and energy systems.
Over the past few decades, a wide range of materials with ice-shedding characteristics have been developed, including surfaces that are nonwetting/hydrophobic, liquid-infused, stress-localized, and those with low interfacial toughness. Though many of these materials demonstrate low ice adhesion in a laboratory setting, none have achieved widespread practical adoption because they tend to have very low durability, limiting their applicability.
However, the shortcomings with current methods of de-icing surfaces have inspired researchers to pursue more efficient and environmentally friendly solutions, including ones that use heat to melt away ice, draw on special graphene coatings, passive solar systems and even electrified concrete for airport runways. Other materials rely on special grooves to siphon moisture away and prevent ice buildup, or phase-change liquids to repel water away.
Hadi Ghasemi, Cullen Associate Professor of Mechanical Engineering at the University of Houston, and doctoral student Sina Nazifi took a different approach. Working with a $150,000 grant from the U.S. Air Force Research Laboratory to continue refining "icephobic" coatings, they've been able to develop a material that until now has been absent of both low ice adhesion and high durability.
More for You:
New Surface Coating for Medical Devices Prevents Hospital Infections
"We developed a new concept in which, through material design, you can significantly accelerate the crack formation and growth and easily remove external objects from the surface," said Ghasemi, describing the material in
Materials Horizons.
. "In this material concept, through chemical and mechanical heterogeneity, we effectively control crack nucleation and growth at the interface."
Through 'fracture-controlled surfaces,' as it's called, they were able to develop a sprayable ice-shedding material, which is applied through air pressure guns similar to the other commercial paints, that is 100 times stronger than any other materials and allows detachment to be accurately controlled and accelerated.
The material structure of FCSs is mainly composed of three phases: a matrix phase, a crack nucleating phase, and a third phase for guiding the crack propagation.
"The matrix phase is polyurethane, the second phase for crack nucleation is dispersed PDMS gels, and the third phase for the crack guiding is hydrophobic silica, SiO2 particles," said Ghasemi.
The new durable coating material has already been tested by Boeing under erosive rain conditions at 385 miles per hour where it has outperformed current technologies by a magnitude three times greater than other state-of-the-art aerospace coating materials.
Become a Member:
How to Join ASME
The principle of the new fracture-controlled material lies in the fact that for detachment of any external solid object from a surface—like ice from an airplane wing—force must be applied, and that force will inevitably lead to formation of some cracks at the interface. These cracks, or fractures, grow until full detachment of the object from the surface.
"Through coordinated mechanical and chemical heterogeneity in the material structure, we affect the interfacial crack nucleation and growth on these surfaces," he said. "Physically, via mechanical heterogeneity of the material, we prespecified the crack nucleation coordinates at the interface and guided the crack growth in an interfacial plane, with no kinking in other directions.
"And unlike most other ice-shedding surfaces, the properties of FCSs are volumetric, so any damage to the surface will result in exposure of fresh material that will continue providing ice-shedding performance," he said.
Recently, Ghasemi received another $750,000 grant, "Novel Icephobic Coatings for Aircrafts," from AFRL to continue refining icephobic coatings for their aircraft. The work will be a collaboration between Boeing and Elemental Coatings, Ghasemi's own corporation established for his lab's commercial work.
Elemental Coatings has developed advanced anti-icing coatings that are currently in use across a number of industries, all attempting to tackle the problem of surface icing that adversely affects aviation systems, like aircraft and drones, as well as monitoring devices on the surface.
Editor's Pick:
New Roof Both Cools and Heats
As part of this effort, in collaboration with Boeing, the primary goal is to advance the coatings for Air Force aircraft, Ghasemi explained. Those coatings will function virtually identically to existing coatings, but with the additional property of minimizing ice adhesion to the surface.
As a result, the coating will be compatible with existing procedures and equipment that are already in place and in use, greatly simplifying adoption of Elemental Coatings' product for both military and commercial applications, Ghasemi said..
The work is especially welcome since the market for anti-icing surfaces surpasses $2 billion each year and is a huge expenditure for aviation entities. Icing can be fatal. Fo the period of 1990 to 2000, some 12 percent of all weather-related air disasters were due to icing, he noted.
This new fundamental concept of fracture-controlled materials paves the way for innovations in materials for power, wind energy and other industrial and commercial applications where icing is an issue, such as ice buildup on wind turbines and transmission systems that can lead to power deficiency, collapse of poles and towers, rupture of conductors, and flashover of insulators.
These new coating materials, said the researchers, stand to alleviate these issues.
Michael Beachum is an independent writer in Dallas, Texas.
Related Content