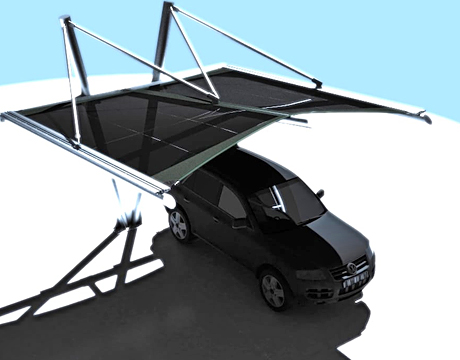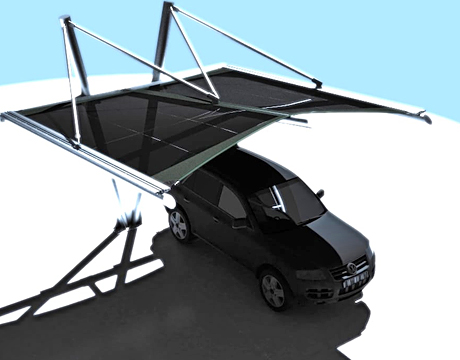 The solar shade. Image: Footprint Media / Solar Cloth Co.
You probably haven't parked under a heated tensile fabric structure—or even heard that phrase before—but you likely will in the not-too-distant future. One company that produces cloth that incorporates flexible, thin-film photovoltaics into the material is seeing its products increasingly mounted over parking lots and other environments while another company uses a similar material to create tents that can be deployed by humanitarian aid workers.
Take the case of business park owner Clearbell Capital LLP of London. A few years ago, the company sought a way to turn the parking lots outside 15 of its business parks into solar structures. The company wanted to continue the low-carbon footprint used within the parks' office buildings. But it sought a flexible and attractive parking cover that would blend into surrounding settings that were both industrial and natural, says Natasha Prior, business manager at the Solar Cloth Co.
Clearbell Capital eventually turned to Prior's company of Cambridge, UK, for a solution. The Solar Cloth Co. makes flexible, solar modules bonded to lightweight fabric or plastic that can be rolled and fit onto curved and flexible structures. The modules are comprised of thin film photovoltaics: lightweight, flexible, solar panels, Prior says.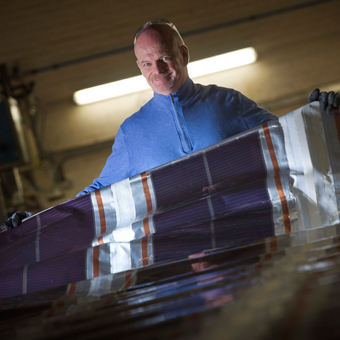 The Solar Cloth Co. calls its technology tensile photovoltaics. The cloth can take solar applications into areas where traditional silicon panels won't work or aren't practical, Prior adds.
Under the tensile fabric now topping the Clearbell Capital lots, the cars stay warm during the workday.
With this background in the yachting industry, Solar Cloth Co. owner Perry Carroll first began work on a solar sail, also sold by the company and used to power electrical devices on the yacht. The principles behind the yacht sail and solar cloth are the same, Carroll says.
The solar cloth does come with tradeoffs. While the thin-film photovoltaics weigh much less than conventional solar panels, they produce 15 percent less power than generated by the current generation panels, says Natasha Prior, the company's business manager.
The modules within the fabric produce power for around 20 years, she adds.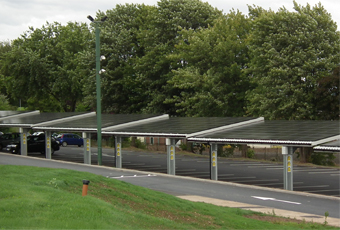 The company uses a photovoltaic technology called copper indium gallium selenide.
"This is very different from the silicon solar that people are used to seeing on roofs," Prior says. "The CIGS panels are lightweight and flexible, meaning that they can be installed on curved or non-load bearing roofs where other solar would not be suitable."
CIGS thin-film solar cells are created by depositing a thin layer of copper, indium, gallium, and selenide on glass or plastic backing along with electrodes on the front and back to collect current. Because they strongly absorb sunlight, the solar cells can be made from a thinner film than other types of cells, according to a statement from Solar Frontier Kabushiki, a Tokyo, Japan, photovoltaic company that makes thin film solar films through the CIGS process.
The panels absorb light for long periods, so they generate energy from dawn until dusk, and capture light on cloudy days. They also have a higher shading tolerance, meaning they can be installed in tricky locations that may not face south and may be shaded by trees or surrounding buildings, a feature Clearbell Capital sought as many of its lots are partially shaded, Prior adds.
The number of flexible solar modules bonded within one foot of the solar cloth depend on the design and the size of the installation, Prior says.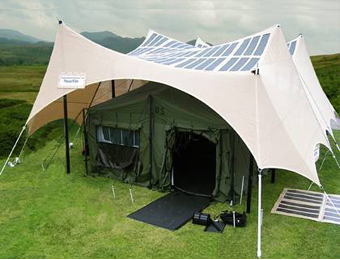 The company is not alone in manufacturing flexible, solar fabrics, though the market is relatively open. A tent, the PowerShade, made from a similar-style fabric from PowerFilm Inc. of Ames, Iowa, can generate one kilowatt of energy. In addition to keeping its occupants warm, the material could help power emergency equipment at short notice in remote places during humanitarian or natural disasters, says a PowerFilm Inc. spokesperson.
For commercial use, one hindrance to solar panel adoption is that they can be difficult to install and integrate with existing architecture functionally and aesthetically, Prior says.
"Flexible solar cloth overcomes all of these problems and can add real value to existing and upcoming sites," Prior adds.
A ten-square-meter solar cloth weighs around 7.3 pounds, much less than conventionalsolar panels, which, to cover the same space, would weigh between 35 and 48 pounds, Prior says.
Clearbell Capital, for example, implemented the tensile technology because it was lighter weight and less expensive than traditional solar cell technology, she says.
Solar Cloth recently merged with Base Structures, a fabric manufacturer in Bristol, England. Prior says she anticipates a range of colorful solar cloth with the merger.
"It's getting to be like you don't even know you're looking at a solar installation," she says.
Jean Thilmany is an independent writer.
Learn about the latest energy solutions at ASME's Power & Energy Conference and Exhibition.
For Further Discussion
This is very different from the silicon solar that people are used to seeing on roofs. The CIGS panels are lightweight and flexible, meaning that they can be installed on curved or nonload-bearing roofs where other solar would not be suitable.Natasha Prior, Solar Cloth Co.
Related Content