RIT Ready for 3D Printing 2.0
RIT Ready for 3D Printing 2.0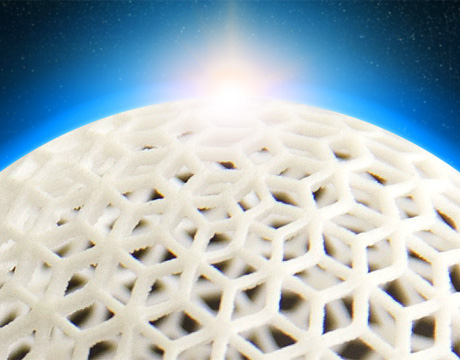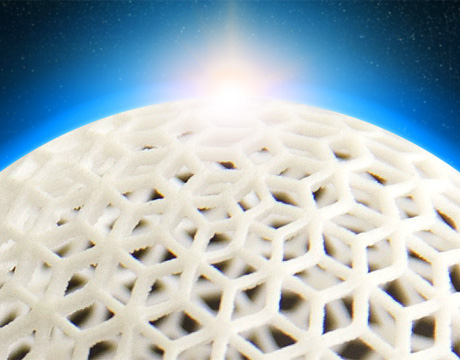 Rochester Institute of Technology is on the brink of realizing the grand vision of being a leader in the development of advanced 3D printing technology and materials. Key to that achievement is the university's establishment of a dedicated program and center devoted to 3D technology.
While RIT has been building its additive manufacturing capabilities both as a research topic as well as to support other research missions and student usage, the New York State Center for Advanced Technology in Additive Manufacturing and Multifunctional Printing, or AMPrint Center as it's called for short, is expected to raise the bar to a new level.
Although the AMPrint Center officially opened on October 25, 2016, RIT has already established partnerships with other universities and major corporate players including Corning, Eastman Kodak, GE Research, MakerBot and Xerox among others for a variety of projects that the participants hope will result in groundbreaking research.
The Rochester region has a strong history in printing, imaging, and photography with Kodak, Xerox, and other regional companies, according to Denis Cormier, director of the center and Brinkman Professor in RIT's Kate Gleason College of Engineering. "Not many people know that Xerox makes the print heads for 3D systems, and Kodak recently signed an agreement with California-based Carbon (formerly Carbon 3D), one of the big up-and-coming 3D printing companies, to do material development for Carbon," he said. "There is a lot going on in this area that isn't well known."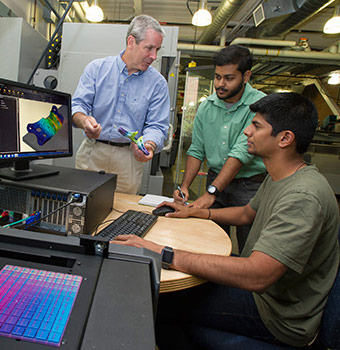 Cormier says the development in the region is one reasons he was attracted to RIT in 2009 when he was offered a faculty position in the College of Engineering to build its additive manufacturing capabilities. The concentration of expertise in the area was also a consideration in the decision to build the new center, he says, adding that there has been a mutually beneficial relationship historically with RIT very involved in "training and feeding" its students to become experts and valuable employees for these industry partners.
With help from corporate funding as well as the leadership of a consortium of universities and corporations that received New York state grants, the center is investing in several new manufacturing systems and equipment that will be integrated for producing a wide range of products faster, stronger, and less expensively.
One project with Hardinge Group, a leading designer and manufacturer of high precision, computer-controlled machine tool solutions, headquartered in nearby Elmira, NY, involves developing a hybrid manufacturing system that integrates multiple processes, both milling and 3D printing, into a single platform. Such a process has advantages not only of lower costs and improved accuracy but can also change the composition of a part's material as it is being built.
"This seems to be one of the very hot things right now," Cormier says. The AmPrint Center purchased Hardinge's Bridgeport GX-250 5-axis vertical machining center and is collaborating with Hardinge as well as Dallas-based Hybrid Manufacturing Technologies and IPG Photonics, of Oxford, MA, to extend the capabilities of the machining center by integrating additive manufacturing functions.
"The cladding head goes in the same spindle that the cutting tools use so that you can put the cladding head away when you aren't using it and do machining and then put the cutting tools away and use the cladding head," Cormier explains. "We are pretty excited about that particular approach and partnership," he says.
Among other projects in the works are 3D printing an inner-ear drug-delivery system consisting of small, powerful 3D printed sensors; developing flexible 3D printed solar cells that can be integrated into wearable technology; developing new metal-based nano-inks; and 3D printing circuit board patterns processed in milliseconds and using a fraction of the electricity traditionally used.
Another project, with Xerox, that involves fabricating a print-head jetting system for one of the 3D printers, was started as part of an engineering multidisciplinary senior design project, and work is continuing. "These are new processes and materials that the center is building. It's pretty exciting if you are a student to think 'I'm not just making 3D plastic housing for this model or product,'" says Cormier. Now they can start printing all sorts of materials to enhance the performance of their product.
"You can think of it as 3D printing 2.0 when you start moving on to the multifunctional printing processes," opening a window for students into the next generation of 3D printing technologies, materials and applications, he says.
All indications are that the industry will continue to grow at double digit rates for some time. According to Wohlers Associates 2016 report, the additive manufacturing industry has had a compound annual growth rate of 31.5% over the past three years, including 25.9% to $5.165 billion in 2015. Over the past 27 years, the annual rate for the industry has been 26.2%.
RIT believes that the center brings together university and corporate researcher-scientists in the printing and imaging industries in a way that will significantly impact manufacturing not just in New York state but across the nation.
Nancy S. Giges is an independent writer.

For Further Discussion
You can think of it as 3D printing 2.0 when you start moving on to the multifunctional printing processes.Denis Cormier, director, AMPrint Center, RIT
Related Content