Pandemic Spotlights on Innovation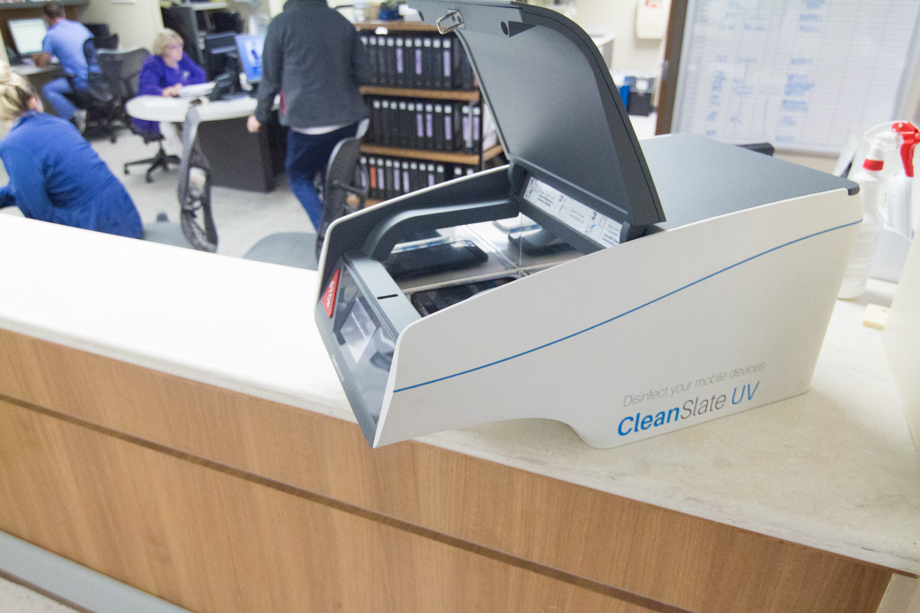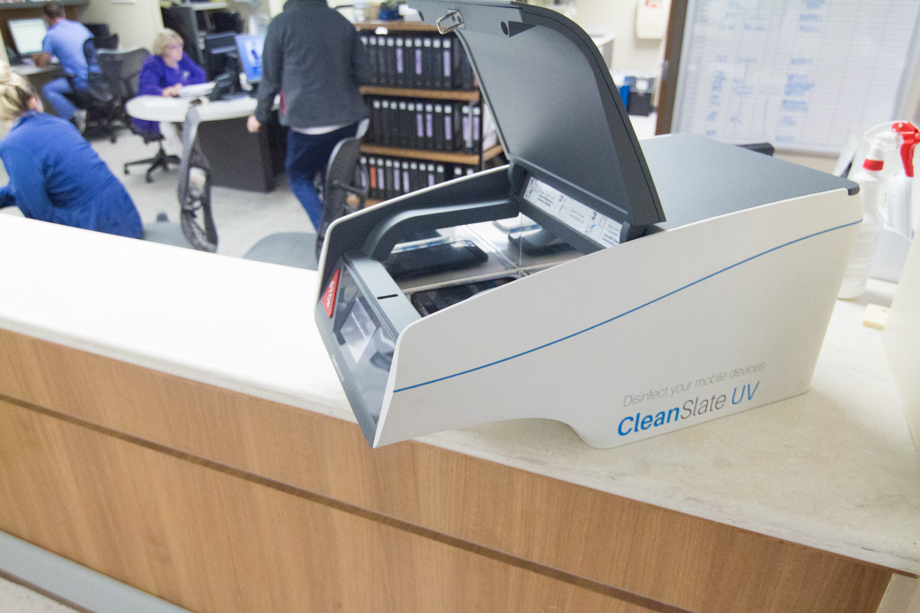 For original equipment manufacturers, the pandemic offered a path towards innovation—to create products designed to stop pathogen transmission. Photo: CleanSlate UV
Pandemic Spotlights on Innovation
Apr 30, 2021
While the coronavirus pandemic proved globally devastating, the flip side of the public health coin might be more impactful, enduring, and consequential. The global health crisis jump-started innovation among engineers and machine designers, particularly those in the medical industry, to develop new products that could reduce pathogen transmission.
These new products have a wide range of sizes, engineering sophistication, applications, and cost. Some are tailored to healthcare, while others are associated with far disparate industries, such as food service. Some new equipment was explicitly designed to stop disease transmission. The technological solutions have been varied, as designers incorporated different strategies into their product design.
Original equipment manufacturers (OEMs) have discovered that there are many different ways products can stop pathogen transmission—and that the culture of innovation is alive and well. Three companies, CleanSlate UV, Dexai Robotics, and MYT Wares, all created future-thinking products to tackle problems raised by the pandemic. All three used different motion plastic components from igus, a Germany-based manufacturer of tribologically optimized polymer blended parts, to help design and build the novel creations.
The Power of Ultraviolet Light
One method many OEMs are using to destroy pathogens is as old as the sun. It is, in fact, directly related to the sun.
CleanSlate UV, headquartered in Toronto, uses ultraviolet light to reduce germs on mobile devices. The business was founded in 2014 and focuses on sanitizing smartphones, portable computers, tablets, and other handheld devices. The product can eradicate 99.998 percent of Methicillin-resistant
Staphylococcus aureus
(MRSA) in 20 seconds and does so without harsh, damaging chemicals. Some studies have discovered that approximately 94 percent of cell phones used by hospital staff bore contaminants.
"We wanted a product that had an intuitive design," said Manjunath Anand, Chief Technology Officer for CleanSlate UV. "Infection prevention at any facility begins with staff and visitors. To enable the use of UV systems, simplicity and ease of use are important. An ideal UV system requires no training, allows easy integration into the workflow, and doesn't require visitors to be trained."
CleanSlate UV uses chemical-free technology, and the UV light will not damage sensitive touchscreens on mobile devices. The products include UV-C light, which is typically blocked by the ozone layer. It can be used to kill germs such as bacteria, viruses, and spores. UV-C light disrupts the DNA and RNA of the pathogens, eliminating their ability to replicate. Cells are not physically removed. The technology works by line of sight, so the light must reach a surface to eliminate bacteria or viruses.
Related Content:
The Robot Will See You Now
Inside the cleaner, CleanSlate implemented igus' motion plastics, which could survive the exposure to harsh UV light. "Material selection for the UV chamber poses a tough challenge to engineers as many plastics discolor or see degradation over a period of continuous UV exposure," Anand said.
With its product already on the market, 2020 proved to be wildly successful for CleanSlate UV. Its year-over-year growth grew by 1,200 percent, and its products sanitized more than 60 million mobile devices. It extended its reach among global partners, branching into retail, hospitality, pharma, and long-term care. Products demonstrated efficacy against SARS-CoV-2 (the virus that causes COVID-19) and were the first mobile device sanitizer to undergo direct testing.
"Smartphones are the third hand we never clean, and COVID-19 has shone a spotlight on that,'' Taylor Mann, CleanSlate UV co-founder and CEO
, said in a press release
. "It's exciting to work with a broader range of clients, from retailers to airports, to implement modern safety protocols."
Automated Socially Distance Service
While the CleanSlate UV is a relatively small device, its technology is complex, about the size of a home office copier. An automated solution introduced last year by Dexai Robotics is also quite elaborate and much larger in physical size.
The company developed an automated solution for food preparation. The unit, called Alfred 2.0, allows for hands-free ordering that can be placed through any device with an internet connection. The robot also includes a subsystem for utensils.
"The COVID-19 pandemic has dramatically altered the way that we eat," said Justin Rooney, a mechanical engineer on the Dexai team. "Hands-free orders reduce human proximity and contact with Alfred 2.0, thus reducing the chance of transferring pathogens."
Dexai's Alfred 2.0 includes a slewing ring and uses an igus 3D printer filament to create custom two-part bearings used as a cable manage solution beneath the main robot garment.
"Traditionally, a solution like this would be prohibitively expensive," said Cody Chu, Dexai's design leader of the project. "Limiting movement of cables on a 6-7 DOF robot arm to a predictable motion is a challenging problem in robotics. This has been transformed thanks to igus' robust selection of wear-resistant printer filaments."
Alfred 2.0 also serves another critical purpose. The unit is part of a trend toward the increased use of automation in the foodservice industry. The design includes a robot, two areas to hold tools, a kitchen display system, bowl passing arm, an enclosure for electronics, and two refrigeration units.
Engineering for Health:
HVAC Systems are the Front Line in the Fight Against COVID-19
"The bowl passing arm now moves uninhibited around the base of the robot, preventing ingredient spillage and increasing salad production throughput," Rooney said. "We also updated the electronics enclosure that has improved thermal performance, enables 15-minute installation, and is easier to service in the field."
Safer Daily Interactions
Smaller products, with fewer components and far simpler, also inhibit the spread of disease. One of those is a hands-free door opener, which is designed by MYT Wares of Brooklyn. The device is easy to install and provides contactless, sanitary-safe entry.
Designed by Etienne Sauret, Peter Coulombe, and the team at MYT Wares, the sanitation benefits are a secondary advantage of the door opener. The original design intent was to make it easier for people carrying items such as briefcases, heavy boxes, or even coffee to open doors without touching handles. As the pandemic escalated, MYT Wares accelerated the design process.
"The shaft glides up and down between two igus bushings,'' Sauret said. "It was very important to have a very low coefficient of friction between the two. This assembly basically answered three core questions for us. The ability to go up and down, to rotate, and to do so without sound."
Sauret's door opener initially did not include plastic components in early designs. He turned to plastic parts after early iterations of the door-opener did not operate as the team intended.
"There are a lot of people who do not like to touch door handles,'' Sauret said. "We were already in the design process. We thought it was important to come up with something in response to the pandemic."
History Lesson for the Future
The pandemic swept around the globe, infecting nearly one-third of the global population. The death toll reached staggering sums in continents and countries around the world, including the United States. The medical crisis led to innovations in limiting the spread of diseases, as well as in treatments and vaccines. Social, political, and economic consequences ensued.
This pandemic, however, occurred in 1918. Much like that global catastrophe, the pandemic of 2020 is driving technology to seek answers to a public health crisis. "Pandemics have ravaged civilizations through history
," Glenn McDonald wrote on History.com last June.
"But global health crises have sparked progress in culture and society, changing lives for the better. Water and sanitation systems improved, and revelations led to innovations in limiting disease spread as well as in treatments and vaccines."
Hear More on the Topic:
Podcast: Emerging Technologies to Fight COVID-19
There is no "bright" side to a worldwide pandemic. Millions of deaths due to a virus, whether they occurred in 1918, 2020, or some other time period, is sobering, an emotional jolt to the mental health of the global community. People who survive the pandemic might not be impacted physically, but the mental anguish is far-reaching and will continue to evolve over time. The pandemic of 2020, like the one in 1918, illustrates just how vulnerable the global population is to external forces.
A little more than a year after the outbreak of the COVID-19 pandemic, technological innovation is well underway in the race to develop even more products to stop the spread of infectious diseases. Certainly, more products are on the short- and long-term horizon. Just as confident, future pandemics will generate the same cycle, incorporating technology, innovation, and science to stop the spread.
Thomas Renner is a technology writer and public relations executive for igus.