New System Aims to Cut the Cost of Solar Power in Half
New System Aims to Cut the Cost of Solar Power in Half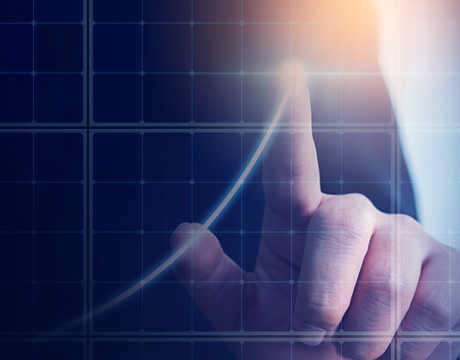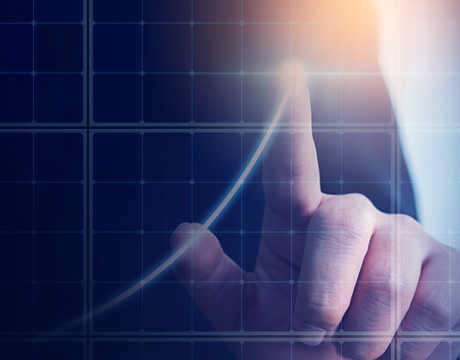 Solar power has many advantages, mainly an endless supply of energy by harnessing the power of the sun. But it suffers from extremely inefficient storage systems, a limitation that has kept prices high and limited the widespread adoption of the technology.
Alex Huang, a professor in the Department of Electrical and Computer Engineering at The University of Texas at Austin and director of the school's Semiconductor Power Electronics Center, hopes to change that with a bold promise for the future of solar: cutting the price of the technology in half by combining power generation and storage into one single system.
"We need to achieve higher efficiency in solar energy conversion," Huang says, referring to the purpose of his team's new power storage architecture, which recently earned a $3 million research grant from the U.S. Department of Energy. "And that led us to propose a new design that allows the solar power plant to be connected to the medium voltage system directly, instead of going through another transformer. We also added multi-function capabilities so this project has additional functionality, particularly in the integration of energy storage and to provide other services to the energy grid."
For You: A New Solar Cell on the Block
Most solar energy storage systems today are based around a solar invertor that is connected to a 480-volt or 690-volt system and then fed through a transformer. But those transformers are massive pieces of equipment, and add substantially to the cost of operation. It's like connecting a dedicated substation to each inverter in order to manage the system. That means the energy generated by the solar cells has to be moved and stored outside of the generators. It's inefficient, expensive and outdated.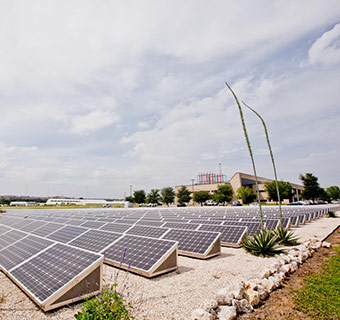 Dr. Huang 's team is working to cut the cost of solar power and make it more efficient by combining both power generation and storage into a single system. It's based around several new types of photovoltaic inverters, or "modular, multifunction, multiport and medium-voltage utility-scale silicon carbide solar inverters," better known as an M4 inverter. This design is dedicated to "converting the direct current output of a solar panel to medium-voltage alternating current" without the need for an expensive and external low-frequency transformer.
"The basic way this works is we're taking DC voltage from the solar and turning that into AC, but in this case the AC voltage is much higher than the DC voltage," Huang says.
There is a high-frequency transformer inside the M4 inverter operating at frequencies hundreds and thousands times higher than those found in traditional transformers, which top out at around 60 Hz. This higher-frequency approach can improve the quality of the final product on its own, though the UT team's modular architecture design places several converters in series to further streamline the output quality.
The end result is a clean power generation and storage system that's cheaper to operate and easier to maintain over time.
But that's just the beginning.
By incorporating the transformer functions into the solar power generation system itself, the M4 is also intended to drive clean energy adoption by utilities, offering new functionality and advanced tools that stand to change the way those power systems operate.
For example, the lower voltage battery system in the M4 can be charged either via the solar panels directly or by tapping the existing electrical grid. From there, that power can be discharged back to the grid at any time. The battery system provides the buffer that commercial systems need to operate, making solar-produced power available for dispatch at any time, regardless of the weather time of day.
"It provides a lot of freedom for the grid," Dr. Huang says. "When your solar power generation goes up when we have a lot of sunshine, or goes down when we have clouds in the sky, the storage can come in to make up the difference. So from a utility point of view, it's more grid friendly. It's a very flexible, controlled system."
Although still in the research stages, the long-term plan is to introduce this technology as a lower cost alternative to existing solar generation and storage solutions. One objective of the project is to demonstrate the overall ownership cost of modern solar, particularly the ongoing operation costs associated with clean energy sources.
"It's not just the initial capital cost, which will be higher than a traditional transformer system, per kilowatt level, but that will be offset by improved reliability, reduced service time, and the multi-port functions that offer additional revenues streams for systems," Huang says.
Over time, Huang hopes this technology leads to broader adoption of solar power by utilities, driving more and more investment into these types of efficiency technologies. He believes the industry is already moving in this direction and is targeting power plants and commercial-scale installations.
"The message is that utilities can make use of solar in ways they have not been able to in the past," he says. "Future solar energy systems will offer multiple functions and new kinds of connections by combining this kind of solution with new semi-conductor technology. This is just one part of the smart grid of the future."
Tim Sprinkle is an independent technology writer.
Listen to Episode 1 of ASME TechCast: Building the Case for a Diversified Workforce, with Roma Agrawal
The message is that utilities can make use of solar in ways they have not been able to in the past.Prof. Alex Huang, University of Texas, Austin
Related Content