How Automation Is Changing Food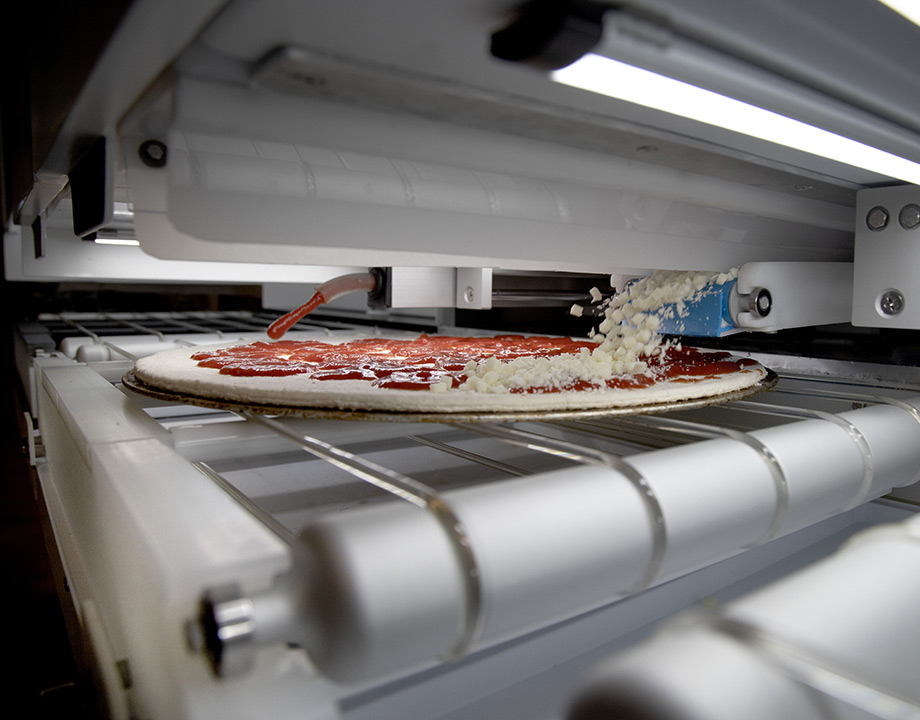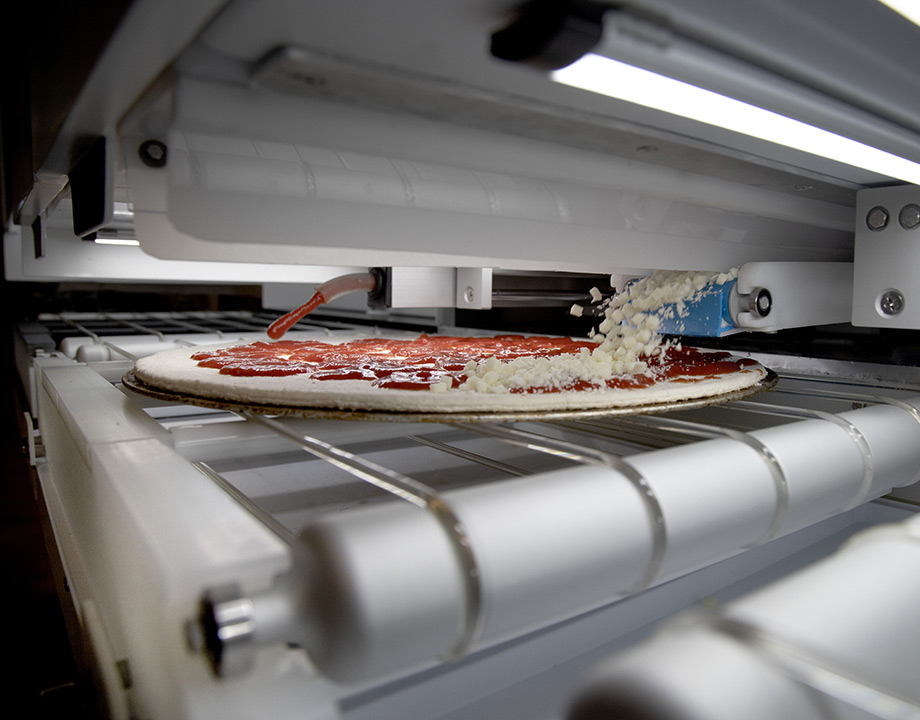 This robotic system assembled pizza pies to hungry customers at CES in Las Vegas. Photo: Picnic
How Automation Is Changing Food
Jan 14, 2020
Restaurant owners are no strangers to their customers' Yelp reviews ranging from "Tastes Great!" and "This is the yummiest discovery yet" to "There's way too much pepperoni" and "Pittsburgh's Aiello's pizza is far superior!"
This time, the cook won't fret over those reviews because they describe robot-made pizzas at CES, the consumer electronics trade show held in Las Vegas in January. Seattle-based Picnic, the company behind the machine, was overjoyed with the demand and the long lines of attendees waiting for a slice.
"Everyone wants to get a closer look," said Brian De Vitis, a mechanical engineer and director of engineering at Picnic. "I couldn't even tell you how many people were recording pizzas being assembled using their cameras and cell phones."
Not so much a single robot but an assembly line of different modules programmed to work together, Picnic's machine can produce up to 300 12-inch customized pizza pies per hour. AI, cloud computing, and automation tech are under the hood.
Traditionally, industrial assembly machines are structured to receive an input, and through a set of steps produce an output. Picnic's robotic system, on the other hand, mimics distributed computing—it learns to decide when and how to take each step while in the process of assembling. The machine is separated into modules, but each module is in constant communication with the others and, depending on various input signals, can send messages to other modules to adjust their actions.

Further Reading: Solving World Hunger with 3D-Printed Food
To begin, a human slides a crust onto the conveyor belt. As the robot recognizes the dough, it pushes it along to be covered with sauce, cheese, pepperoni, and other toppings that fall from different taps and shoots—all with robotic precision. As the sauce is poured from one tap, cheese is grated from the next shoot onto the same pie.
At CES, the robot produced margherita, pepperoni, and sausage pizzas (sold for $7.50 per slice), but its modules can dispense six different ingredients. Once covered with toppings at the end of the assembly line, humans have to pick up the pies to transfer to the oven, then slice.
The convention's concession area wasn't the robot's first interaction with humans. In October 2019, Picnic teamed up with Centerplate, a catering provider for hundreds of conferences, sports, and entertainment events, to serve pizzas at the Seattle Mariners' T-Mobile Park stadium.
Three year earlier, in 2016, two mechanical engineers founded Otto Robotics to produce automation tools for different industries. Eventually the startup focused on the restaurant industry and raised millions from investors. Two years later it was renamed Vivid Robotics and, with backing from Paul Allen's Vulcan Capital, the pizza-robot was developed. The company came out into the open as Picnic last fall.
During the design process, Picnic engineers spent a considerable amount of time figuring out how to apply their robotic knowledge to pizza. "The biggest challenge we had was miniaturizing how we handle and dispense toppings," De Vitis said. "We brought in expertise in food science to help our engineers understand modern food-handling techniques. From there, we focused on making the mechanisms elegant and robust."
Further Reading:
Engineers Cook Up New Robots for Hungry Food Industry

As with automation on the factory floor, engineers had to come up with protocols for industrial safety. After all, humans still have to put crusts onto the assembly line to start up the process. "If an operator tries to access a panel they shouldn't when the machine is live, it will cut power to anything accessible that may be dangerous," De Vitis said.
Robotic modules not only dispense toppings, but keep an optimal and safe temperature for the ingredients. With every pizza produced, the machine learns and improves its assembly skills.
Next, Picnic is planning to adjust the robotic system to produce salads and wraps to include in its robotics-as-a-service offering to restaurants.
As for customers and their reviews, the robotic cook isn't in control of how the pizza tastes, yet. It is designed to work with any given ingredients, and can assemble perfect-looking pizzas from both frozen and artisanal dough.
Daria Merkusheva is a technology writer based in New York City.