GPS Helps Robots Get the Job Done
GPS Helps Robots Get the Job Done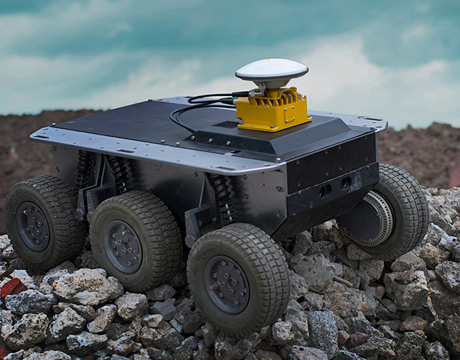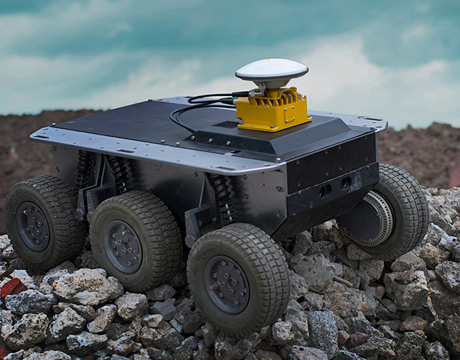 Engineers have developed a new ruggedized GPS receiver for agricultural, robotics, maritime and outdoor industrial applications. Image: Swift Navigation
Global Positioning Systems (GPS) help us find where we are and where we're going. They can also do the same for robots, which could have impact on fields from manufacturing to agriculture.
Recently, Carnegie Robotics and Swift Navigation announced the two companies were teaming up to create products that will incorporate GPS into robotic equipment. This could lower the cost of robotics and automation in cars, trucks, military equipment, and vehicles used in surface mining.
This month, the two companies introduced Duro, a ruggedized version of Swift's Piksi multi dual-frequency Real Time Kinematic Global Navigation Satellite System receiver. They unveiled the Duro in May at the Association for Unmanned Vehicle Systems International's Xponential 2017 show in Dallas.
Duro is built for the outdoors, and has positioning accuracy within one centimeter. It can upgrade software in the field, and is protected against weather, moisture, vibration, and unexpected issues that can happen when used outdoors for extended periods.
Being outdoor-friendly makes the robot applicable in many fields including maritime, outdoor industrial work, agriculture, and mapping.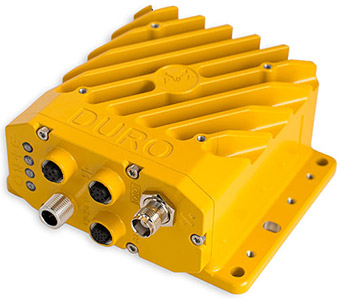 Precision is key, says Rob Hranac, vice-president of business development for Swift Navigation. The GPS in most cell phones can be off by a meter or more.
"To successfully navigate and perform tasks, we need to be much more precise," he says.
These robots, Hranac says, are precise to within one centimeter thanks to the RTK GPS. The Piksi takes less than a minute to get into centimeter-accurate mode, and can maintain that while in motion. It currently has an ethernet connection; future models will feature an in-build cellular modem and SIM card support.
Hranac says the potential applications of robotics such as these are exciting to see. "So much innovation is happening and we have a front-row seat to it."
GPS and automation, and the major interest from automotive companies, could have a major impact on the trucking industry, where there is a shortage of drivers and turnover is high. Several companies, including Starsky Robotics and Embark, are creating self-driving truck technology.
The GPS also works for precision parking of large trucks in crowded docking ports. "There's a real push to automate in trucking right now," says Hranac. "It's a big focus for robotics."
Gold Mine for Mining Companies
Rio Tinto, one of the world's largest metal and mining companies, uses self-driving trucks at four of its Australian mines.
The massive trucks are made by Japanese company Komatsu. GPS shows precisely where the trucks, which are used for hauling mined materials, are controlled remotely from Perth, hundreds of miles away from the mines. These trucks can also sense obstacles, and their speed and location are tracked by the GPS.
Robots Down on the Farm
Duro's military-grade exterior protects the navigation system from weather, dust, immersion in water, and vibration.
"That is why we partnered with Caregie" says Hranac. "They know what outdoor robotic systems need to work. But it also meets our core goal of being easy to deploy."
That makes a robot such as this a fit in agriculture, including smaller farms that might not have gotten into robots before. Robots are already being employed in harvesting, but they can also be used for other tasks such as watering or applying pesticides.
"The old way was, if you had insects, you'd go and dump pesticides on the entire field," says Hranac. "But you can now fly a drone over, take snapshots of the chlorophyll, and use a robot like a Duro on the ground to apply pesticides only in affected areas. That saves time and money, and less pesticide going in the ground."

For Further Discussion
So much innovation is happening and we have a front-row seat to it.Rob Hranac, Swift Navigation
Related Content