Finding a Way Forward After the Pandemic
Finding a Way Forward After the Pandemic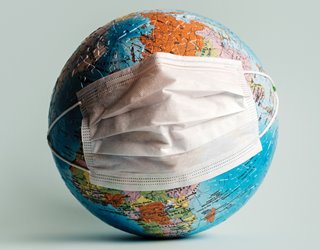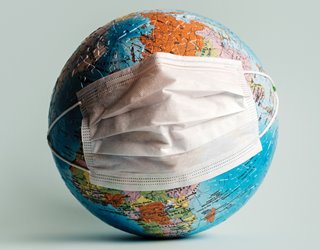 We talked with leading experts about how engineering solutions could be applied to the post-pandemic economy.
By now, there's scarcely anyone who hasn't been affected by the COVID-19 pandemic. Some were infected in the first wave—or even before the world knew there was a new disease spreading. More have seen schools close and businesses adopt stringent measures to limit new infections.
When grappling with a novel and potentially mortal threat, it's natural to focus on immediate questions: How to stay safe today and how quickly might a preventative treatment appear? It's hard to focus on the horizon when spending so many hours at home. Yet, it's the longer-term issues that are at the heart of the engineering response to COVID-19. What steps can engineers take to reduce the spread of the conoravirus—and the next viral plague after that? How can supply chains be reconceived in order to be more robust in the face of major shocks? Are there existing technologies that can be redeployed to protect vulnerable workers from biological hazards?
In May and June of this year, the editors of
Mechanical Engineering
magazine convened a series of talks with experts from a range of engineering disciplines to explore these issues. The title of that series,
Rebooting After the Pandemic
, may have sounded a bit premature as many American states were grappling with a rising wave of infection in June. The forward-facing focus is, however, critical. The time to prepare for the post-pandemic world is now.
Here's a sample of what we learned over nearly four hours of conversation.
Workplaces Must Change
The first line of safety for workplaces is the front door. One of the experts we spoke with, Shelly Miller, professor of mechanical engineering at the University of Colorado, expressed a desire to restrict anyone who might be contagious from entry. "Work environments and schools in particular need to consider who is coming into their buildings," Miller said. "Almost all transmission happens in buildings, so we need to figure out who's coming into our buildings and why. I know that when we open our labs and classrooms, I want to know every day, What symptoms do you have? What temperature do you have? Have you been near anyone who has had the disease?"
Miller's diligence is justified when one looks at the kinds of air quality issues workplaces present. Often, ventilation systems will recirculate air or blow air from one area—where an infected person may be working—to another. In one coronavirus-spreading event back in March 2020, 97 of the 811 employees at a Seoul call center tested positive for the virus: 94 of those workers sat on the 11th floor of the building and 79 were in the same section.
William Bahnfleth, a professor of architecture at Penn State and a former president of ASHRAE, said, "When you put together low ventilation rate and high density, then you have a prescription for a superspreading event."
Miller concurred. "Workplaces that could be crowded, where people have assigned spaces, and with minimal ventilation—they may be at higher risk," she said. "The risk goes up when you spend more time in an environment where you have higher concentrations (of virus). Fresh outside air provided by ventilation systems can dilute those concentrations."
Not every workplace carries the same risk. Adrien Mann, director for SIMULIA worldwide industry solutions at Dassault Systèmes, has modeled airflow through various spaces and sees fundamental differences between types of workplaces.
"The large difference between a factory and an office or school is that a factory has a large volume, so it's going to be more about the airflow," Mann said. "We had the chance to simulate environments—even our own offices— and what we saw is that because the airflow is guided through the hallways, it is very easy for the contaminant to transfer through the floors."
Since most office workers use those contaminated hallways to enter and exit, Mann said, those spaces create an environment for exposure.
Learn more about:
The
ASME COVID-19 Response
Bahnfleth suggested that building managers could look at making some changes to ventilation systems to help slow the disease spread. "The level of particle filtration in most systems that are just barely meeting code don't do a very good job of removing small particles the size that are produced by respiratory aerosols," Bahnfleth said. "We're suggesting a significant upgrade in filter efficiency."
That's a long-term project, of course, as is adding lights shining UV-C, a band of high-frequency ultraviolet light, within ventilation systems to attempt to sterilize the air as it circulates.
In the immediate term, the simplest means to cut virus transmission within indoor workspaces and schools may also be the trickiest for Americans to pull off: Wearing a mask whenever one is spending time in an enclosed space. Many workplaces and schools thrive on close, personal interaction, but until we have eliminated the coronavirus, safe face-to-face interaction will mean every face needs to be covered.
Automation Will Expand
As traditional workspaces become
difficult to keep safe, companies have been looking at ways to reduce risk to their operations across the board. For some, that meant turning to technological solutions to reduce the potential spread of the virus among the workforce.
"There was the whole challenge of turning facilities back on after the lockdown and being able to allow people to come back to work on a limited basis," said David Breaugh, Americas lead for manufacturing and resources at Microsoft. "We're seeing technology being used to ensure compliance of personal protective equipment at the beginning and during shifts, as well as coming up with ways to bring engineering capacity to plants with remote assistance."
The kind of solutions companies are turning to are not limited to the tradition suite of business applications. "The tools that are being developed in the health care system and personalized medicine world can be used to assess risk within the workforce within a manufacturing plant of 100 employees," said Joseph Kapena Agor, an assistant professor of mechanical engineering at Oregon State University. "Technologies which are integrated with the current health care system can be used to maintain the level of health among employees as well as customers."
Another way that engineering tools could support risk reduction is through greater use of robots. Many workers who today are put on the front lines to perform dirty or now-dangerous tasks, such as cleaning rooms or delivering supplies, could have that burden reduced or removed through automated systems.
That can start in factories. "There are a lot of tasks where the person has to go fetch something. It's something the line worker shouldn't have to do—go to collect parts in what they call the 'supermarket.' That should have been automated anyway," said Howie Choset, professor of robotics at Carnegie Mellon University, where he serves as the co-director of the Biorobotics Lab. "We have improved automation in factories, but now companies will more likely bear the initial investment because they will have the added benefit of minimizing interaction between people."
Choset also expects increased automation in warehouses, which have already seen an influx of logistics robots. "Where I would like to see automation go is the final mile, from the truck to the home, and there is a lot of potential there," he said. "I don't believe we will see drones picking up packages from a warehouse and delivering to your home, but maybe a drone flying from a truck parked on a block."
Hospitals clearly could use more automation, as the coronavirus has been able to infect many health care workers despite the precautions they take. Roles that are ripe for automating include such routine procedures as drawing blood from patients. One critical—and dangerous—job involves disinfecting hospital rooms between patients.
"When COVID-19 came, we were able to help the hospitals redeploy our robots into ER, screening areas, and respiratory carrier areas to sterilize those rooms," said Mark Stibich, an infectious disease epidemiologist and co-founder of Xenex, a company that has developed robots that use UV-C to disinfect surfaces. "Over the years, there have been a lot of projects we have been wanting to explore but were not sure if the market was there. Now all those are live and we are able to develop further."
Even face-to-face interactions are getting an automated intervention. The Israeli company RoboTiCan developed telepresence platforms for various industries but quickly adapted them for monitoring the patients and even delivering medicine.
"We used a platform previously developed for the agricultural field and changed for use in hospitals to prevent healthcare workers from getting exposed to the virus," said CEO Hagai Balshai. "We worked with doctors and staff to understand what they needed and deployed quickly."
Manufacturing Will Go Digital
Another way for companies to reduce risk to workers is to revise their manufacturing operations. Adopting digital tools will enable manufacturers to better leverage automation in their factories.
One limit on rolling out these digital solutions is the quality of data being collected. Capturing the physical environment accurately, and translating that into the virtual world, is how engineers can design accurately in a digital space.
More COVID-19 Content:
7 Manufacturing Lessons from COVID-19

"Specific to the COVID-19 crisis, we realized we didn't necessarily have the digital data we needed to immediately fill the need for some of the shortages that existed," said John Wilczynski, executive director at America Makes, the national accelerator for additive manufacturing based in Youngstown, Ohio. "We can solve that, in theory and in practice, by having a digital stockpile and multiple processes qualified at some level for the most critical components."
Digital twins, which are models of equipment or even entire production lines that can be used to simulate physical assets, are especially dependent on quality data, said Dan Skulan, general manager of industrial metrology at Renishaw. But companies that begin using digital twins quickly realize that simulations may not capture some critical intangibles.
"When you get into automated systems, there are a lot of things that are done by humans that are overlooked," Skulan said. The operator is using his knowledge to not only manufacture the part, but also his years of experience to feel the finishes on the part, listen to the machine if it was operating efficiently, and monitor the overall production line.
The upside of adopting digital technologies for manufacturing is substantial, however, and extends beyond simply reacting to pandemic-related stresses. "I think one of the key lessons that we learned throughout this is that automation and digitalization, when done correctly, lead to stability and flexibility," said Rob Bodor, vice president and general manager of the Americas for Protolabs.
Such technological shifts can transform a manufacturer, but manufacturing is only as good as its supply chains— without third-party components, almost every factory line would grind to a halt within weeks. The global nature of the COVID-19 pandemic placed the 21st century supply chain, where parts stream in on an as-needed basis from all over the world, under the microscope. A lot of companies discovered that after taking every precaution with their own workers and production lines, they were vulnerable to lockdowns in the places where their suppliers were located.
Greg Toornman, global vice president of materials, logistics, and freight management at AGCO, an agricultural equipment manufacturer in Duluth, Ga., used a risk-management monitoring service at the beginning of the pandemic to keep track of the spread of coronavirus cases in Japan and South Korea. "We were able to pull out a number of days before the government restrictions went into effect that took away the ability to take decisions," Toornman said. As more cases hit around the world, AGCO could keep one step ahead of disruptions. "With surgical accuracy, we were able to determine which suppliers, and which product lines, would be impacted."
It's also critical to know not only the status of the suppliers in a supply chain, but where those suppliers get their components. Bindiya Vakil, CEO of supply chain management consultancy Resilinc, said it's important to identify where the second and third tier failure points could lie.
"For example, what we call the diamond-shape supply chain is where your supply chain fans out in the beginning, but then in the second tier, you see a lot of your direct suppliers are all buying from the same second tier source," she said.
No matter how well a company understands its supply chain, there is no way to completely eliminate the risk of disruptions, said Sekhar Visvanathan, the vice president of global procurement at Mercury Marine.
"There is no single dimensional numerical value that you can assign to the cost of risk," he said. "However, it becomes a qualitative discussion at that point. How you structure your supply chains? Where do you source from? What do you source? It's a complex web and you have to solve it every single day."
While the supply chain for most manufacturers were stretched thin during the worst of the COVID-19 crisis, the supply chain for medical supplies and devices was hit especially hard. There was a surge in demand for personal protective equipment far outstripping the normal capacity of manufacturers in addition to disruptions at manufacturing centers in China.
Editor's Choice:
Manufacturing Blog: Smarter Manufacturing after the COVID-19 Pandemic
Dealing with the second challenge is straightforward, but expensive. "What we have seen, what we think will continue to happen will be a regionalization," said Terry Haber, managing director of St. Onge, a supply change strategy and logistics firm.
That makes sense from a logistics point of view, but it results in increased manufacturing costs. For instance, many pharmaceuticals are made using batch manufacturing techniques, so that the same line can produce active ingredients as well as a formulated product.
"These are very fairly labor-intensive procedures as opposed to an assembly line or continuous type manufacturing operation," said B. Frank Gupton, the chair and professor of chemical and life science engineering at Virginia Commonwealth University, and founder of its Medicines for All Institute. "That manufacturing element has migrated to countries that have lower labor costs. What we're looking at doing is applying some basic principles of continuous manufacturing to be able to make these things much more cost-competitive and reduce the labor costs."
"We're starting to see a shift of people's thoughts, where they're going. It's nice to have [supply] outside of the U.S.," noted Adam Callahan, northeast sales manager at XCentric, a plastic injection molding and rapid prototyping company in Clinton Township, Mich. "But do we have internal resources? Because if we don't, and something like this happens again, we're going to find ourselves with an even bigger issue."
The Engineering Response is Key
Where does this all lead? Microsoft's Breaugh believes the engineering response to this crisis will result in a better workplace going forward.
"Engineers are really going to be the ones that are setting the table for how work gets done in the future," he said. "There is an opportunity to define the way that jobs will look in the future. It's not going to be what I walked into in the mid-1990s, where factories were dirty and people would come in and do the same job, you know, heavy, dirty, repetitive for six, six and a half hours a shift."
For white-collar workers, the changes may be even more profound. Engineering tools may enable professionals to reduce—or even eliminate—the need for going into the office altogether. Whether that is feasible or even desirable in the long term is one of the unanswered questions of posed by this pandemic.
Jeffrey Winters
is editor in chief of
Mechanical Engineering
magazine. To watch the multi-episode video series, "Rebooting After the Pandemic," go to www.youtube.com/mechanicalengineeringmagazine.
Related Content