Engineering Safety with Smart Helmets
Engineering Safety with Smart Helmets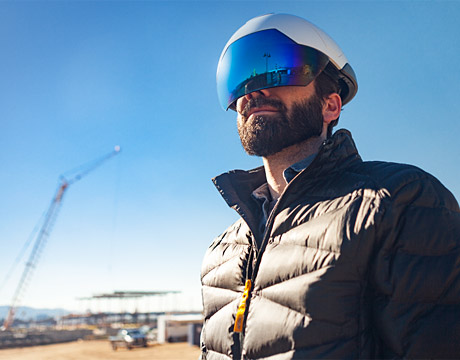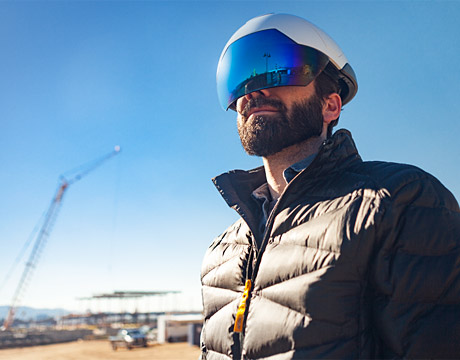 A smart helmet enables operating engineers to overlay maps, schematics, and thermal images. Image: DAQRI
The extremely loud environment at a steel plant precluded transferring information about critical machine processes over walky-talkies. Each time an operation stopped or started, the operator returned to the control room to gather data.What if the operating engineer could deliver that same control room data right on the factory floor using a hands-free wearable device?
"Advanced wearable technologies when coupled with a robust sensor package and augmented reality, have been proven to increase productivity and workplace safety," says Brian Mullins, founder and CEO of DAQRI, a Los Angeles-based enterprise augmented reality company, which has developed a smart helmet designed to reduce operational complexity, increase productivity, and improve work life in an industrial workplace.
DAQRI's smart helmet is an Industrial Internet of Things (IoT) device that increases the connectivity between people, data, and machines, says Mullins. It enables operating engineers to overlay maps, schematics and thermal images to see through walls, pipes, and other solid objects. "The helmet can also provide an immense amount of data back to the industrial Big Data servers,specifically, things like photographs, videos, thermal and environmental noise monitoring, and 3D mapping," he adds.
The device was pilot-tested last year at the KSP Steel plant in Kazakhstan. "The analysis showed that by eliminating trips back to the control room, the plant would be able to increase overall productivity by around 40% and reduce factory downtime by 50%," estimates Mullins.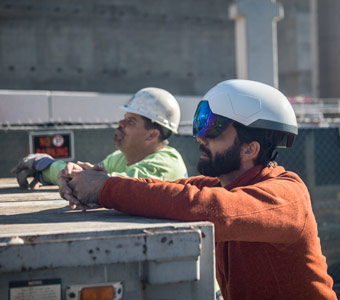 Smart Processor
The helmet is designed to be rugged and resistant to dust, water, and the wide range of environmental conditions which impact conventional hard helmets. But what's at the core of the helmet that makes it smart?
The device, highlights Mullins, is powered by an Intel 6th generation m7 processor and loaded with depth sensors, cameras, inertial measurement units, and an advanced audio system in order to "understand" the world around it. In addition, a visual heads-up display system enables an augmented reality based user interface.
"These hardware elements are fused together through a family of algorithms and a mobile software stack," he explains, adding that through these features, the helmet has the ability to map, monitor, and serve up relevant digital information which has been shown to positively impact productivity and safety in the workplace.
For example, the thermal vision equips users with the ability to see temperature data in their real-world environment. This prevents them from interacting with something at an unsafe temperature. They can also see thermal characteristics of objects or items in the workplace that need maintenance or additional monitoring.
Workplace Safety
Workplace safety is a key area that the helmet has been designed to address. "It replaces the necessity to carry auxiliary tools like tablets, books, digital cameras, laptops etc. These types of hand-carried equipment can be dangerous when a worker is performing a task at high altitudes.By having access to this information in a visual space, workers can have their hands free to perform operations or maintain balance," says Mullins.
Operating engineers are at risk for accidents around heavy machines at the work site, such as a forklift that reverses over someone when their back is turned. The helmet comes equipped with two depth-sensing cameras, facing forward and backward."This enables a person to literally have eyes in the back of their head and signal an audible or visual alarm if an impending dangerous situation is observed," he says.
The helmet also comes with an optional headband that detects heart rate, skin temperature, blood oxygen level, and frontal lobe brain activity so that focus and cognitive states can be monitored. "The combination of this set of sensors can serve as an early warning for a variety of potential health-related danger zones that the worker could be placing themselves in," says Mullins.
A Gartner research report predicts that wearables could increase the efficiency of technicians, engineers, and other workers in field service, maintenance, healthcare, and manufacturing roles. However, in a manufacturing setup where engineers are working with complex and heavy machinery, they should not feel uncomfortable while using wearables.
According to Mullins, DAQRI's device conforms to the standard deviations of existing hard helmet weight and wearability and the pricing varies based on customization/workflow. It is currently in the pilot phase of product roll-out with companies in the fields of oil, gas, power, construction, water, transportation, shipbuilding, and aerospace. "Some amount of training will be required for both developers and users," says Mullins. "But the benefits to worker training are astronomical."
Explore IoT hardware from the component to the system level at ASME's IoT Connect

For Further Discussion
Related Content