Electric Vehicle Makers Work Out Supply Chain Kinks
Electric Vehicle Makers Work Out Supply Chain Kinks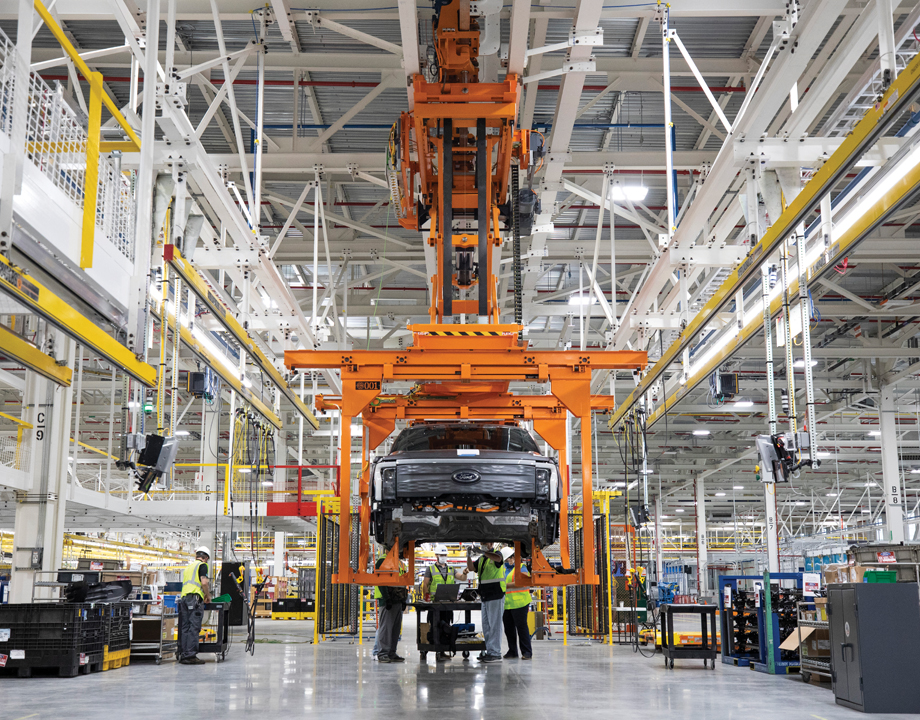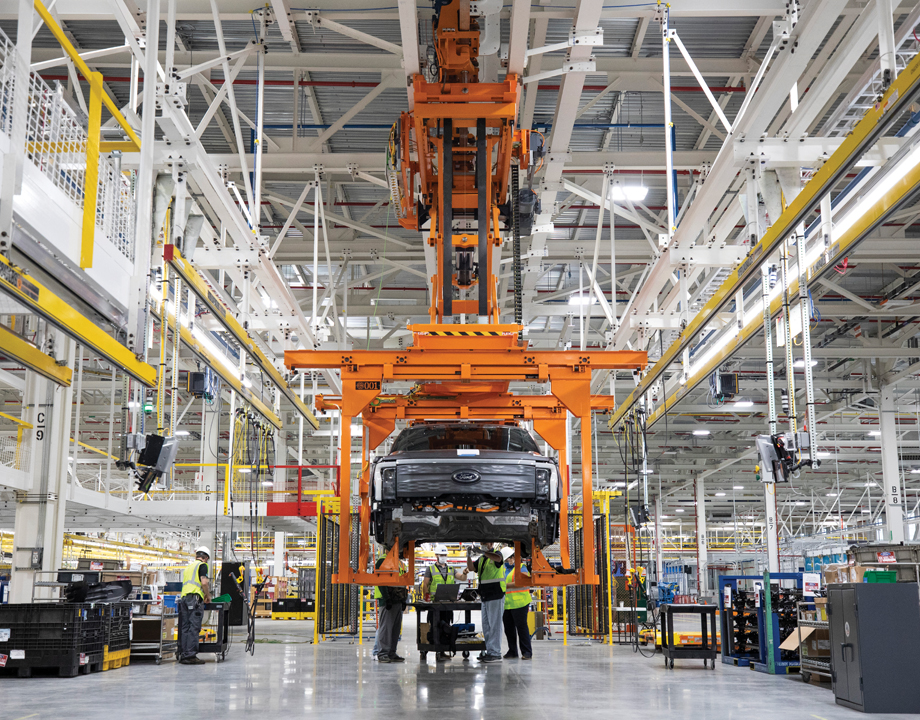 Change is inevitable, but it happened faster than expected for some in the auto industry. Photo: Ford's Rouge Electric Vehicle Center in Dearborn, Mich.
As climate change concerns accelerate the adoption of electric vehicles around the world, automakers have retooled their manufacturing, throwing automotive supply chains into turmoil. Already battered by disruptions from the COVID-19 pandemic, manufacturers are rethinking what will work as suppliers try to anticipate future needs while maintaining existing product lines.
There are some 4,000 auto parts manufacturers in the U.S. with a combined annual revenue of about $300 billion, according to Dun & Bradstreet. Many are small companies. Of some 1,200 engine and transmission parts suppliers, the U.S. Census Bureau reported more than 60 percent had 20 employees or fewer, and those are very vulnerable to the transition to battery-driven electric vehicles.
"Suppliers are quite interesting because they are kind of, 'I don't want to change anything until you show me, I have to see it,' " said Daron Gifford, partner in automotive consultant Plante Moran. "Suddenly in this past year almost every OEM has transitioned product plans from ICE to electric vehicles. The vast majority of suppliers now are reeling. Some of the programs that were either cancelled or postponed, they were developing quotes for them and suddenly there's nothing to quote on."
The writing is on the wall. General Motors in 2021 announced it will stop producing gas-powered vehicles, replacing them with electric options by 2035. By 2025, it plans on offering 30 new EVs among its brands. Ford Motor Co. earlier this year went further, splitting its electric business into a separate Model e division. It will spend a whopping $50 billion on EVs between 2022 and 2026, with a goal of producing 2 million vehicles annually. That is one-third of the company's global volume.
They and others are chasing Tesla, the leading EV manufacturer, and now followed by startups including Fisker, Rivian, and Lucid. Their development is sparking an upheaval the auto industry has not seen since Henry Ford's Model T, which introduced manufacturing to the assembly line.
There's going to be a big jump in electric vehicles, which in 2019, made up only a 2.5 percent slice of the global market, according to the International Energy Agency. In 2021, by contrast, nearly 9 percent of new cars sold were electric. By the end of the decade, it could reach 50 percent, at least in the U.S.
More on Manufacturing:
5G Pilot to Test Factory of the Future Concept
"Pre-pandemic there was an estimation that by mid to end of this decade we'd be at 20 percent battery electric vehicles," said Brett Smith, technology director with the Center for Automotive Research. Then, earlier this year, President Biden issued a directive upping that to 50 percent. "That is an enormous change and ramp. You have an industry that is set for remarkable change at every level of the propulsion business."
Rearranging the Field
Auto manufacturers are setting individual courses on how to adapt, when they will have EVs on the market, and how much longer gas-powered vehicles will be manufactured. Ford has converted its Rouge plant into an electric vehicle center for production of its electric F-150 pickup truck and partnered with South Korea battery maker BlueOvalSK to build batteries for its coming EV fleet. GM has a joint venture with LG Chem to build two new battery plants producing 70 gigawatt hours of batteries every year when they are completed at the end of 2023. Volkswagen has launched a separate company to work on EV batteries, from developing new technology to building six gigafactories in Europe.
That poses problems for suppliers. "Not surprisingly, the industry is taking different variations of the transition, and for suppliers and others that becomes a bit of a challenge because maybe you're not getting the volumes you might get if everyone was kind of flipping at once, or if there was a consistent pattern among them," Smith said.
Batteries are the most crucial component of EVs, and are now mostly manufactured in Asia. Supply-chain disruptions from COVID-19, precarious sourcing for lithium and other metals needed for battery production, and the shortage of computer chips hammered home the need for assurances against future disruption. Tesla, for instance, signed an agreement with Syrah Resources, an Australian mining firm, to buy graphite directly from the firm's plant in Louisiana.
Manufacturers are working to improve and lower costs for lithium-ion batteries, the standard for electric vehicles. But sourcing raw materials is problematic as they are found in China and some politically unstable countries. BlombergNEF reports China controls 80 percent of battery cell manufacturing and more than half of the global capacity to refine battery metals. Tesla, for one, hopes to lessen dependence on China through Syrah, which mines graphite in Mozambique.
"As you start ramping up battery production worldwide, you start to worry about supplies of nickel, lithium, cobalt, manganese, and copper," said Brian Daugherty, chief technology officer of the Motor & Equipment Manufacturers Association. "There's some pretty sensitive pricing. We saw when the unfortunate war in Ukraine started, the price of nickel jumped overnight, up over $100,000 per ton or so. So it is going to be interesting to see how those raw materials, the supply of them, along with the price, hold up as we go forward."
Listen to the Podcast:
The Future of Automotive Power
Bolstering that supply chain was one goal of the $550-billion U.S. infrastructure bill that became law earlier this year. It includes $6 billion in grants for firms making batteries or processing materials for their components. It will help fuel the growth of battery manufacturing in the U.S. and stabilize the supply chain for the coming onslaught in EV production.
Walking a Line
All of this does not mean the internal combustion engine is going away. In 2021, sales of electric vehicles more than doubled to 6.6 million globally, according to IEA. While that share will continue to rise, it still leaves large numbers of gas- and diesel-powered vehicles coming off the assembly line.
Manufacturers and suppliers must straddle the two, at least in the near term. Many parts will be needed for both, such as headlights, axles, seats, clusters of instrument panels, or door panels. But propulsion systems, drive trains, and motors are changing.
Large suppliers such as Eaton Corp., which manufactures power equipment, have established an electric powertrain business unit within its vehicle group. Building from its experience in developing hybrid systems, the firm will spend more than $500 million over five years to develop new smart diagnostic technologies, intelligent power electronics, and predictive health monitoring.
Engines, of course, will be the most visible component affected by the change. Manufacturers may assemble their own engines, but components come from smaller suppliers. Electric motors are much simpler. The UBS Group noted a Chevrolet Bolt's electric motor had three moving parts compared to 113 in an internal combustion engine.
Because of that simplicity, there is a question on whether electric motors will become a commodity, interchangeable among brands. That could open up opportunities in the supply chain.
"The jury's still out," Daugherty said, "A lot of [OEMs] make their own engines and some make their own transmissions. With those workforces, they may be inclined to bring electric motor and powertrain production inhouse. Electric motors look similar but there's a lot of differences in how they're designed. We can see that across different brands in terms of efficiency, how many miles they get per kilowatt-hour."
Editor's Choice:
Can Manufacturing Respond to the Great Resignation?
Larger firms have the money and capability to make the electronic jump, but many of the smaller suppliers are facing harder decisions.
"There's a transition phase for companies to change, but if you're a supplier of an exhaust pipe the transition to electric vehicles is harder than for someone already in the electronic subsystem," said Ralf Klaedtke, chief technical officer for transportation solutions at TE Connectivity.
Getting Connected
Electronics course through EVs, but they wind through ICE vehicles also. Sensors, wire harnesses, cameras, and more are fitted on both types of vehicles. Connectivity is ever more important, not only because autonomously operated vehicles are on parallel development tracks, but consumers are demanding to be connected while driving.
"The industries that are traditionally in the combustion engine are not perfectly positioned to get on this new computer on wheels because the complete architecture is changing," Klaedtke noted. "This opens it up to completely new players. The market is a Wild West right now."
One big example is Sony, best known for entertainment and electronics. The firm has been developing its prototype VISION-S 01 coupe, followed now by an electric SUV. It also has partnered with Honda to develop EVs for sale by 2025. Rather than designing its own cars, Sony will use Honda's manufacturing expertise to produce vehicles with its technology and entertainment options leading to autonomous driving.
"This is a kind of monster wave building right now, and if you see that nearly 50 percent of that market will turn into electric or hybrid in such a short time, the OEMs will have to support their partners to create the capacities quick enough," Klaedtke said.
Suppliers still have a five- to seven-year window to prepare for more electric vehicles, according to research by PwC. But it notes they will need more manufacturing expertise and a greater degree of technical acumen to compete to provide software and advanced electronics from technology firms muscling into the supply chain.
More on This Topic:
Racing Toward 3-D Printed Electric Motors
Klaedtke points out that manufacturers now are either modifying production lines or building dedicated lines for EVs, but automation is still a challenge. "On the production side, there is still a lot to be built. For things like electric harnesses, it is a challenge for everyone, and OEMs are struggling to wrap it up."
PwC notes auto manufacturers are ramping up investment in EV technologies, either through research and development or acquisition. Already they have spent $90 billion on EV-focused R&D, according to a Reuters analysis. Those investments will drive sourcing in the supply chain as vehicle electrification evolves.
John Kosowatz is senior editor.
Related Content