The Eiffel Tower Goes Green
The Eiffel Tower Goes Green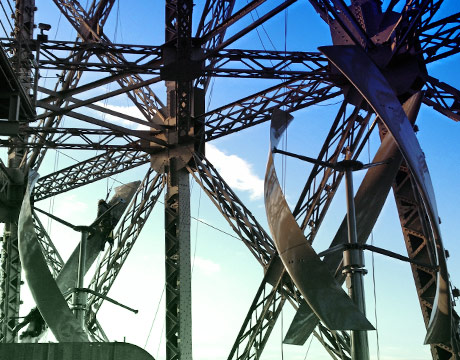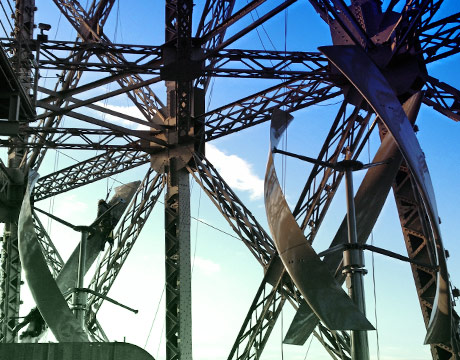 UGE International has installed two VisionAIR5 vertical axis wind turbines on the Eiffel Tower. Image: Urban Green Energy
One of the world's most recognizable historical landmarks now has a visible symbol to signify its decidedly progressive view of the future. As part of a five-year, $38-million renovation that included a goal of reducing its ecological footprint, the Eiffel Tower has installed wind turbines 400 feet above ground to power the commercial areas of the tower's first floor.
Solar panels, LED lights, high performance heat pumps, and rainwater collection systems are also saving energy, but it's the spinning turbines positioned above the second level to capture wind from any direction and maximize energy production that are making a statement for all to see.
While the result is clearly 21st century, the actual installation of two vertical axis wind turbines set to produce 10,000 kilowatts hours of electricity per year (enough to power the commercial areas of the tower's first floor), was done the old-fashioned way, using ropes, winches, and pulleys. A highly skilled team of rope workers were harnessed up and hoisted each large component one by one.
This was one of the unique challenges that UGE International faced as the manufacturer of the turbines. "We worked very closely with the general contractor [Bateg, a subsidiary of Vinci Construction France] so that we could adhere to all the laws of the tower," says Jan Gromadzke, UGE's project engineer. That includes no welding, drilling, or using any lifting equipment on the tower.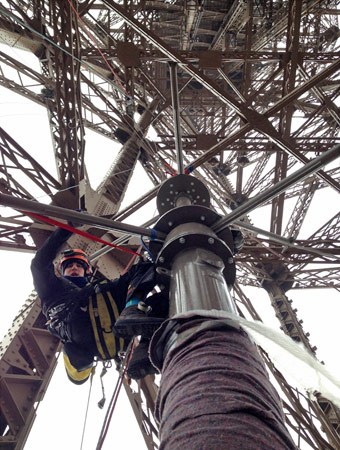 Gromadzki explains the restrictions are both for aesthetic and structural reasons. For example, cranes or other conventional lifting equipment were not allowed because of their weight and also because there is not much room to maneuver within the four puddled iron arched legs that curve inward. So the rope workers climbed their way through the tower's intricate latticework to assemble one turbine component at a time, he says.
The largest parts were the fiberglass blades. Although not heavy at under 200 pounds, they are bulky and awkward. Moving the 16-foot blades had to be done carefully because there was not a lot of space to rest them on within the lattice structure and because fiberglass is somewhat fragile.
"That was a bit tricky to make sure they were tied down in a protected way so that they wouldn't get damaged before they were installed and then just getting them in the air and onto to the turbine was definitely the most difficult aspect of the whole process," Gromadzki says. "I was there as the engineer from the manufacturer to show [the installation team] how to put the turbine together, to answer any questions and make sure everything was done correctly. It was very cool to watch and very efficient. We're still using old technologies to [implement] new ones."
He says the installation team, whichhas experience working on the tower, had never installed wind turbines before and were excited about learning how.
According to UGE, installing a wind turbine is easy and quick, but it becomes a little daunting to someone without experience with them. "Some people take extra precautions just because it's a wind turbine, but it could just as easily be a conventional HVAC system and can be done by any contractor that has experience working on a lift," Gromadzki says.
While UGE has much experience installing or supervising installations on tall buildings, this structure wasn't a conventional building. And while the turbine installation was simple and the turbines themselves were UGE's standard product, the support structure was another story. "Typically, we install these on buildings that have a concrete foundation. Here we couldn't use a concrete foundation so the contractor built a steel foundation that had to [absorb] any vibration from the turbines, withstand any resonant frequencies and make sure everything worked well together," Gromadzki says, especially since the turbines were installed just above the renowned Le Jules Verne restaurant, where there was deep concern about noise. But the turbines performed as they should, almost silently.
The only customization was painting the turbines the same color as the tower. When they are not spinning, they are hardly visible, but when they are spinning, they can be seen from a distance because they are essentially the only moving parts on the tower.
While the turbines, installed in February 2015, will provide only a very small percentage of the total power needed (10,000 kWh out of 6.7 gWh used), they do contribute a small amount and serve to stimulate thinking about renewable energy. The tower itself consumes as much energy as a town of 3,000 people, mostly due to the elevators that take visitors up and down some 15 hours each day, 365 days a year.
"It's a great start and allows people to think about energy and renewable energy more than they have in the past," says Gromadzki.
Learn more about energy solutions for a sustainable future at ASME Power & Energy 2015.

For Further Discussion
"[Moving the blades] was a bit tricky to make sure they were tied down in a protected way so that they wouldn't get damaged…Getting them in the air and onto to the turbine was definitely the most difficult aspect of the whole process.Jan Gromadzki, project engineer, UGE International
Related Content