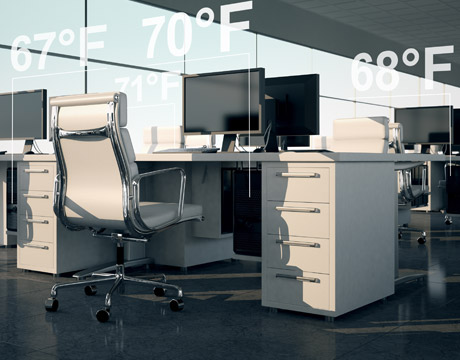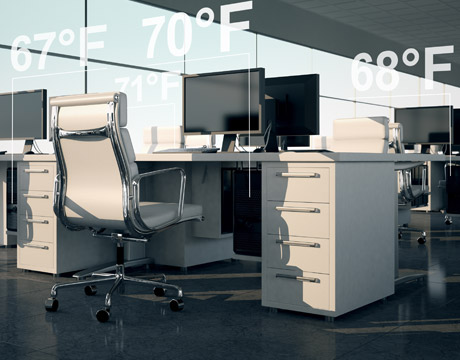 Customized for Comfort
Jun 2, 2016
by Dan Ferber Senior Editor, Mechanical Engineering Magazine
Buildings use about half the energy in the United States, and close to half of that powers heating, ventilation, and air conditioning (HVAC) systems.
Next time you're at work, stroll around and you'll see why. The spacious lobby, high-ceilinged rooms, empty office spaces—they're all typically heated to about 70 °F or cooled to about 73 °F. That's incredibly wasteful, says Edward Arens, director of the Center for the Built Environment, an industry-university research consortium based at the University of California, Berkeley.
"Buildings are way overdesigned and overconditioned for what people actually need," he said. Arens aims to change that. In March, at the ARPA-E Energy Innovation Summit in National Harbor, MD, he and his colleagues presented a "personalized comfort system"— a set of devices that warm or cool parts of the body that are especially sensitive to heat or cold. They're designed to let workers maintain the temperature they prefer, no matter how warm or cool the office is, and they cut building energy costs dramatically.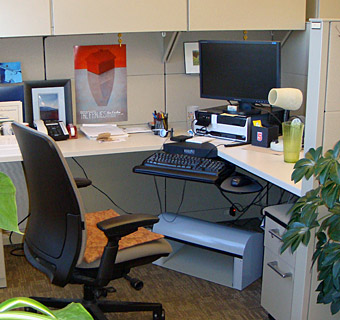 The system's components include an under-desk foot warmer that uses an average of 20 W, a 5 W wrist warmer and a heated mouse that keep hands warm, 2 W heated insoles, and a 1 W desk fan that blows a light breeze across the worker's face from as much as six feet away.
Arens's team also hacked a commercial ergonomic office chair to heat or cool the body for an office worker's comfort, using heating coils in the seat and the back, an air plenum inside the chair, and a wicking, non-insulating fabric.
The combined wattage of the entire system is less than one-fiftieth of the 500-1000 W a typical building HVAC system consumes to heat or cool a single person.
The chair also contains sensors that detect occupancy, temperature, and humidity, and relays that data via WiFi to the building management system. This lets the building operator turn down the heat or reduce the AC in part or all of the building to save energy.
To see how much energy the office chair saved, the researchers had 25 U.C. Berkeley office workers work in the customized chairs for 16 months and report twice daily whether they felt warm or cool, and if they were comfortable. Most workers preferred office temperatures between 74 °F and 77 °F in ordinary chairs, but four of five people in the customized chairs were fine with office temperatures as low as 68 °F and as high as 80 °F. This saved an astonishing 60 percent on building energy costs.
An earlier six-month test of the foot warmers alone saved 48 percent of the total heating costs over a cool northern California winter. The Berkeley project is unique in tailoring their localized heating and cooling technologies to individuals, said Jennifer Gerbi, program director for ARPA-E's DELTA program, which funded the work. "People feel comfort in different ways," Gerbi said,"And I think they're really amazing in looking at that."
Learn about the latest trends in energy solutions at ASME'sPower & Energy Conference and Exhibition.

For Further Discussion
Buildings are way overdesigned and overconditioned for what people actually need. Edward Arens, Center for the Built Environment