Clean Fuels Gain in Energy Forecast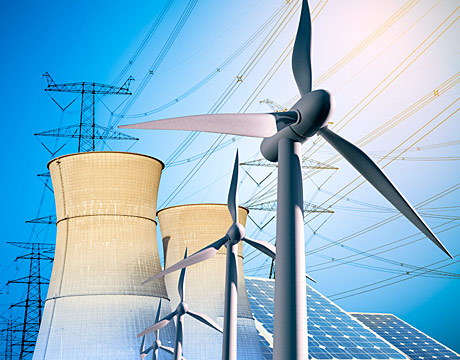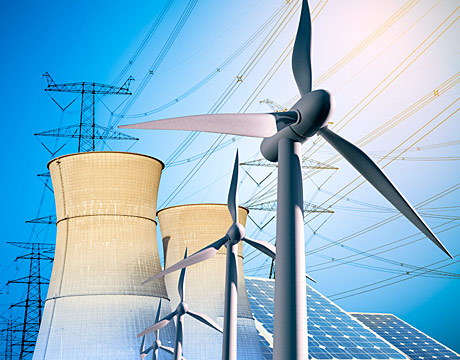 Clean Fuels Gain in Energy Forecast
Mar 28, 2017
by Jean Thilmany ASME.org
By 2050, the United States will more than likely become a net energy exporter, as oil imports fall and natural gas exports rise, according to the Annual Energy Outlook 2017 report, released in January by the U.S. Energy Information Administration.
Should a clean power plan be implemented by the U.S. Environmental Protection Agency, carbon emissions will fall, the report finds.
The outlook provides energy projections for the U.S. through 2050 based on eight possible scenarios: potential economic growth or stagnation; world oil prices' rise or fall; oil and gas resource and technology improvements—or lack thereof; and number of clean-energy power-plant implementations. The final scenario, called the reference case, is modeled using today's prices, technologies, and power-plant implementations.
The eight cases incorporate varied assumptions that reflect market, technology, resource, and policy uncertainties that affect energy markets.
Other takeaways from the report: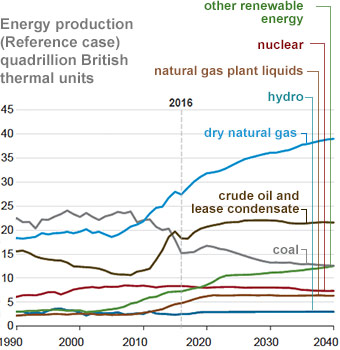 Energy Production
Petroleum liquid imports will likely fall and natural gas exports increase over the projection period, the EIA anticipates.
Total energy production increases through 2040 by more than 20 percent in the reference case, led by increases in crude oil and natural gas production.
But increases in crude oil and natural gas production would mean U.S. energy production could increase by 50 percent over the report's projection period.
Exports are highest—and grow throughout the projection period—in the case of strong domestic energy production and relatively flat demand, as favorable geology and technological developments combine to produce oil and gas at lower prices.
U.S. production declines in the 2030s to slow or even reverse projected growth in net energy exports, unless substantial improvements are made to production technology and more oil and gas resources become available.
Residential and commercial fuel consumption is relatively stable in the reference case.
Clean Energy
Energy-related carbon dioxide emissions decline in most scenarios, with the highest emissions projected in the case that doesn't include a specific EPA clean power plan. All scenarios except that of the "no clean power plan" assume the power plan is implemented.
On a percentage basis, renewable energy rises the fastest because capital costs fall with increased penetration and because current state and federal policies encourage its use.
Liquid biofuels growth is constrained by relatively flat transportation energy use and blending limitations.
Wind power capacity in the United States could double from today's available 76GW to 152 GW by 2023.
New wind deployment drops off significantly in the scenarios after 2023.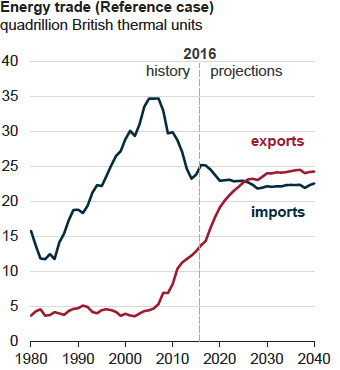 Pricing
High oil prices favor economic conditions for producers while restraining domestic consumption, enabling the country's most rapid transition to net exporter status.
If oil prices rise, oil companies will boost production even as the high prices tamp down domestic consumption.
Energy Consumption
Although the "low oil and gas resource and technology" and "high oil and gas resource and technology" cases affect the production of energy, the impact on U.S. energy consumption is less significant.
In all the modeled cases, the electric power sector remains the largest consumer of primary energy.
Energy consumption grows in all cases but is highest when in the high oil prices and high economic growth scenarios.
Energy consumption should increase over the next 23 years unless the economy slows during that period, in which case consumption remains at today's levels.
In the reference case, total energy consumption increases by 5 percent between 2016 and 2040, by 11 percent in the high-economic growth case, and remains nearly flat in the low economic growth case.
Natural gas use increases more than other fuel sources in terms of quantity of energy consumed, led by demand from the industrial and electric power sectors.
Petroleum consumption remains relatively flat as increases in energy efficiency offset growth in the transportation and industrial activity measures.
Coal consumption decreases as coal loses market share to gas and renewable generation in the electric power sector.
The Energy Information Administration releases its complete Annual Energy Outlook every other year. The 2017 version is a shorter edition.
Jean Thilmany is an independent writer.