A Small Robot Performs Knee Surgery
A Small Robot Performs Knee Surgery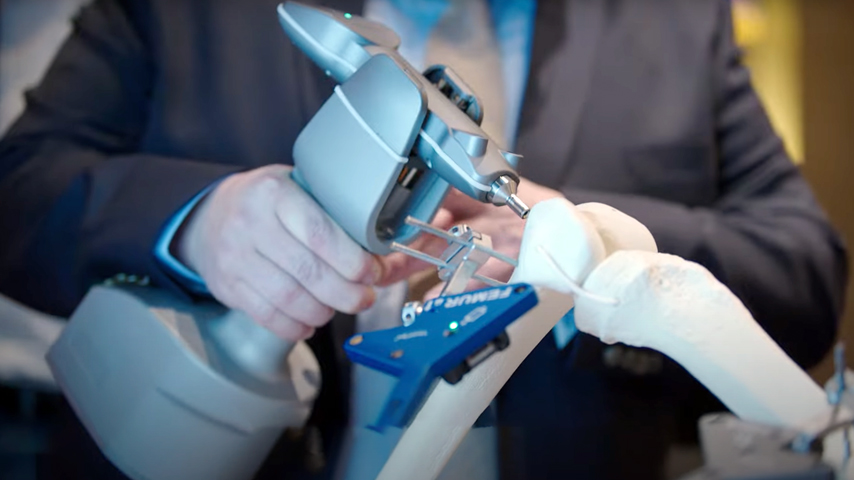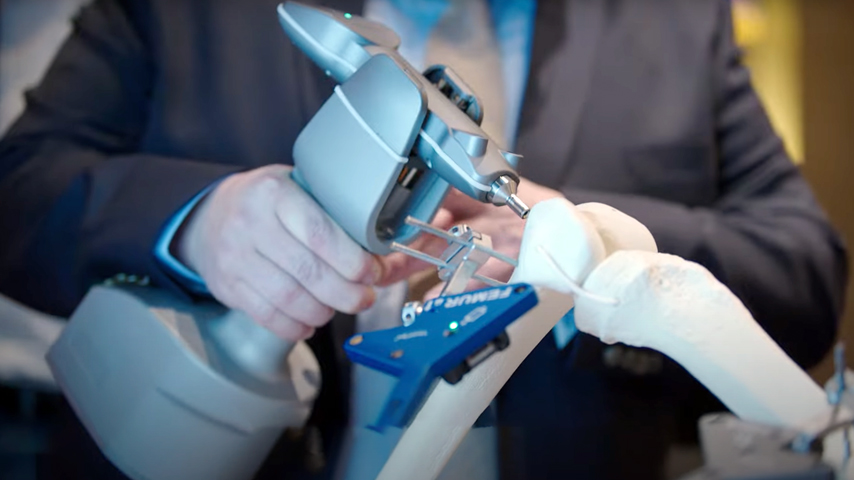 A new robot for knee replacement is roughly the size of the tools surgeons already use, making pin placement precise and adoption a cinch.
Surgical robots are proliferating, yet they are still not ubiquitous in hospitals. It's not that surgeons are wary of being replaced as a machine that does it all is complicated to orient, program, and set up for a single task. Introducing one into an operating room means completely revamping how things are done. As a result, many surgeons are robot-averse.
But now the engineers from THINK Surgical Inc. have created a robot for a single procedure—the knee replacement, called the TMINI. The U.S. Food and Drug Administration recently approved it for sale.
"A lot of robotics companies have come out with robots that change the whole workflow of what surgeons do on a daily basis," said Nick Margree, vice president of marketing at the Fremont, Calif.-based company. "Some surgeons, we believe, from an adoption perspective, have found that a real put off." Robots have a better chance of being incorporated if they do just what surgeons need help with most.
To find out what that might be, the company performed extensive interviews with the people that would be operating a robot in an operating room. "I remember one surgeon said, 'If you just give me something that can magically put these pins in the right place, that's all I really need.' That was what triggered this to a large degree," said Joel Zuhars, THINK's vice president of research and development.
The result is a handheld device that allows surgeons to automatically place pins on a predefined plane. It works kind of like a car's lane assist: like a driver, the surgeon is in control of the larger movements and timing. But the precise placement of the pins is dictated by the TMINI system.
"It's a two-degree-of-freedom device, so you're basically looking to track on a plane. You can put the pin in anywhere you like along that plane," explained Zuhars. "All they have to do is get in the ballpark, pull the trigger, and it'll put the pin in the right place."
Become a Member:
How to Join ASME
To make that happen with enough accuracy and stability, THINK's engineers needed a new camera system. Every other available system had too much latency. So they made a system that optimized every data transfer step. Wifi, Bluetooth, and other systems were also not fast enough or reliable enough, so they also developed their own form of communication between robot and camera.
The real-time meshing of the patient's knee is matched to a bone model generated previously from a CT scan. With the model, robot, surgeon, and camera all working together, the pin placement can only occur when the TMINI has aligned the pin with the predefined plane tht allows the location of the cuts to be specific to the anatomy of the patient.
More for You:
Building Dexterity into Robotic Hands
But however clever the whole system, the tool itself has to please the user if it's going to be adopted and make any kind of disruption. The usability research THINK conducted found that the weight and feel of the device were crucial; the robot had to fit comfortably in the surgeon's hands and handle much like the conventional tools they were already familiar. As a result, they 3D-printed a number of prototypes to get the form factor right.
The result of all is a device that surgeons immediately recognize as useful. "We put it in their hand and then all of a sudden, they know what it is," Zuhars said. "You can see it on their face. You put it in their hand, they pull the trigger, and it's like, boom, Aha!"
Now, with FDA clearance, THINK is in the process of ramping up inventory and getting the TMINI into operating rooms. Zuhars believes once a few surgeons start using it in real surgeries, the product will prove itself.
Michael Abrams in a science and technology writer in Westfield, N.J.