5 Advances in Smart Fabrics
5 Advances in Smart Fabrics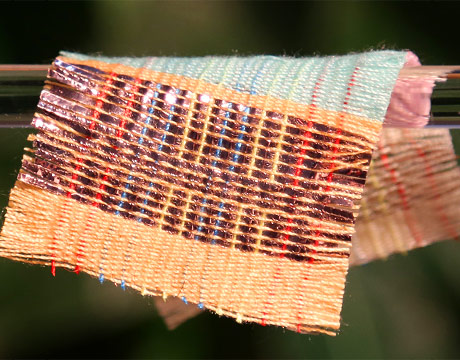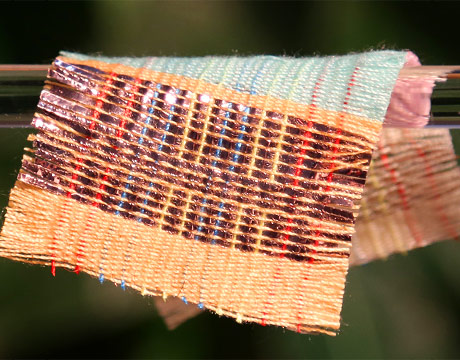 A piece of fabric is woven with special strands of material that harvest electricity from the sun and motion. Image: Georgia Tech
Fabrics can do more than keep their wearers warm or clothed or help them make a fashion statement. Newly designed materials, sometimes called smart fabrics or smart textiles, incorporate a number of advances that help them generate electricity, cool the body, and even capture greenhouse gases. Below, we've detailed five smart textiles and their not-so-futuristic functions.
Powered and Warmed by the Sun
Researchers at Georgia Institute of Technology recently developed a fabric that generates electricity from the sun and the wind surrounding the wearer. Garments made from the material could one day power the smartphones or global positioning systems their wearers use every day, says Zhong Lin Wang, a professor in Georgia Tech's school of materials science and engineering.
To create the material, the researchers used lightweight polymer fibers, photoanodes (the anode of a photoelectron cell), and fiber-based triboelectric nanogenerators. The latter use the triboelectric effect, a type of electrification at contact, and electrostatic induction to generate a small amount of electrical power from mechanical motion, in this case, the wind that blows across the nanogenerators, Wang says.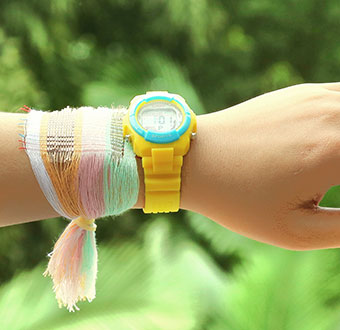 The photoanodes are used to harvest the sunlight.
The anodes, fibers, and nanogenerators are then woven with strands of wool into a 320-micrometer thick fabric that can be used to make tents, curtains, or wearable garments, he says.
"The backbone of the textile is made of commonly used polymer materials that are inexpensive to make and environmentally friendly," Wang said.
That also means they can be produced via large-scale manufacturing methods.
In one of their experiments, Wang's team used a fabric about the size of a sheet of office paper. They attached it to rod like a small colorful flag. Rolling down the windows in a car and letting the flag blow in the wind, the researchers were able to generate significant power from a moving car on a cloudy day. The researchers also measured the output of a four-by-five centimeter piece of the fabric and found it charged a two-microfarad commercial capacitor to two volts in one minute under sunlight and movement.
"That indicates it has a decent capability of working even in a harsh environment," says Wang.
Clothed Cooling
On the other side of the nation, engineers at Stanford University have developed a low-cost, plastic clothing material that could cool the body more efficiently than natural or synthetic fabrics.
"If you can cool the person rather than the building where they work or live, that will save energy," says Yi Cui, an associate professor of materials science and engineering at Stanford.
The researchers found a type of polyethylene with a specific nanostructure that makes it opaque to visible light, for modesty, yet is transparent to infrared radiation, to let body heat escape. So in addition to letting perspiration evaporate through the material, something ordinary fabrics already do, the three-ply polyethylene allows thermal radiation, air, and water vapor to pass through, and it is opaque to visible light, Cui says.
They modified industrial polyethylene by treating it with benign chemicals to enable water vapor molecules to evaporate through nanopores in the plastic, allowing the plastic to breathe like a natural fiber, says researcher Po-Chun Hsu.
Those who wear the clothing made from the material feel nearly four degrees Fahrenheit cooler than if they wore cotton clothing, Cui says.
Artificial-Light Energy
ThermalTech, from the company of the same name, calls upon energy-absorbing technology embedded in fabric to transform the sun's ultraviolet rays as well as energy from artificial light into heat to warm wearers in minutes.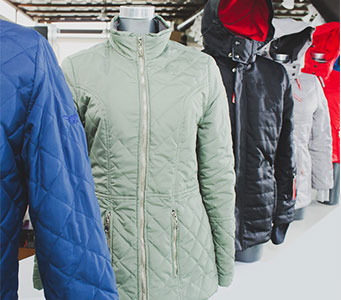 The fabric is made of a 100 percent stainless-steel mesh coated with a solar technology similar to that used for solar water-heaters, says Araceli Ríos Flores, the company's chief technology officer. The company recently carried out a successful Indiegogo funding campaign to create a solar-powered smart jacket that incorporates ThermalTech.
The jacket resembles a common lightweight winter coat and warms wearers up to 20 degrees Fahrenheit within two minutes, Flores says.
In September, the company began shipping jackets to early backers.
Electronic Skin
Xenoma, a company spun-out from the Someya lab at the University of Tokyo in 2015, integrates stretchable circuit and sensor technologies with traditional textiles to remotely monitor the user's motion, respiration, and body temperature for the virtual reality gaming, healthcare, and fitness apparel markets.
The stretchable circuit technology allows more than 30 sensors to be integrated into a shirt. The number, type, and location of sensors can be fully customizable, says Osamu Sawanobori, the company's co-founder and its chief development officer.
E-skin can be worn like a typical shirt and is machine washable, he says.
Captured Greenhouse Gases
Smart Textiles, a Swedish research lab, on the other hand, is at work on textiles that use a methane filtration production method, which, say its creators, make for clothing made from greenhouse gases filtered from the air.
The lab has teamed with researchers at the University of Borås in Sweden to develop a method that binds methane gas from the atmosphere with textiles, says Lena-Marie Jensen, Smart Textiles coordinator.
The lab wants to develop a product made from greenhouse gases and air in order to demonstrate to the market that it is possible.
"If we can achieve a cycle where the producer and the retailer can make it simple for the customer to leave garments to be repaired or recycled, textile fibers never have to become garbage again," Jensen says.
Jean Thilmany is an independent writer.
Learn more about the latest energy technologies atASME's Power and Energy.
If you can cool the person rather than the building where they work or live, that will save energy. Prof. Yi Cui, Stanford University
Related Content