Robotics Special Report: August 2019
Robotics Special Report: August 2019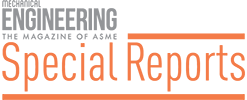 Mechanical Engineering magazine Special Reports are a multimedia series designed to provide impactful market intelligence for today's strategic decision makers and technology leaders.

Each Special Report is a deep dive into one of the key technology issues in today's emerging industries, backed up with both data and industry experience.
---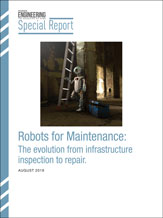 Robots for Maintenance: From Inspection to Repair
Inspection robots have begun to perform maintenance tasks. Either teleoperated by a human technician in a safe location or working autonomously, these robots are beginning to handle routine, but dangerous jobs. In this white paper, find out how robotic platforms are evolving to handle that kind of task.

DOWNLOAD WHITE PAPER
---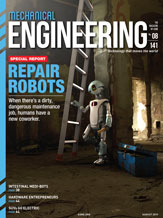 Cover Story: Meet Your Robotic Coworkers
In the age of advanced automation, new robots with machine learning and autonomous capabilities are your future coworkers.
READ COVER STORY
---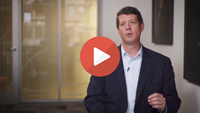 Video: The Rise of Maintenance Robots
In this video series, we learn how maintenance robots are being deployed for the industrial landscape. We spoke with Tim Westhoven from ExxonMobil and John Grimes from ASME as they walk us through the robots available for inspection and maintenance today.
WATCH VIDEO
---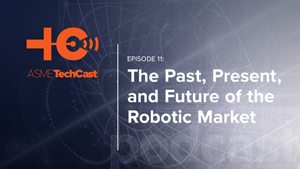 Podcast: The Past, Present, and Future of the Robotics Market
In this episode of ASME TechCast, Bob Doyle, VP of the Robotics Industries Association, discusses the robotics market and how robots are changing the manufacturing landscape.
LISTEN TO PODCAST
---
Related Content