Membership Certificate
An ASME Membership Certificate will acknowledge your professional status and display your pride!
By joining ASME, you have demonstrated your commitment to high professional standards. Let others know you are a member of the most respected professional mechanical engineering organization in the world by displaying a handsome framed ASME membership certificate in your office or home. Great gift idea – consider having one custom made for a family member or colleague who is an ASME Member.

Every certificate is superbly printed on 8 1/2" x 11" quality grade paper with an embossed gold ASME seal. Your certificate will bear your name, current membership year, and the signatures of the ASME President and Executive Director.
Three Options created exclusively for ASME members: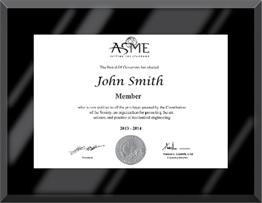 Beveled Glass Frame
Certificate enclosed in a beautiful 11"x14" beveled edge glass frame with black border providing an elegant, contemporary style.

---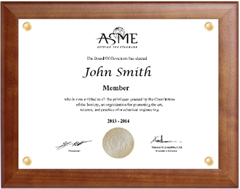 Walnut-Finish Plaque
Certificate matted under clear lucite and mounted on an attractive 10 1/2" x 13" walnut colored hardwood plaque, providing a classic look and style.
---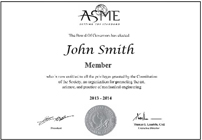 The Basic
Ready to frame personalized certificate placed in an attractive 9 1/2" x 12" blue certificate holder with an embossed ASME seal.
---
Mail completed order form with payment to:

ASME Membership Certificates 150 Clove Road, Little Falls, NJ 07424-2100

To place a credit card order by phone, call ASME Customer Care at 1-800-843-2763 or 1-646-616-3100, or fax to 1-973-882-1717
ASME will not accept payment by email. Download order form >