ASME Wins Two Awards for "E-Fests Aro...
ASME Wins Two Awards for "E-Fests Around the Globe" Video
May 24, 2018
May 25, 2018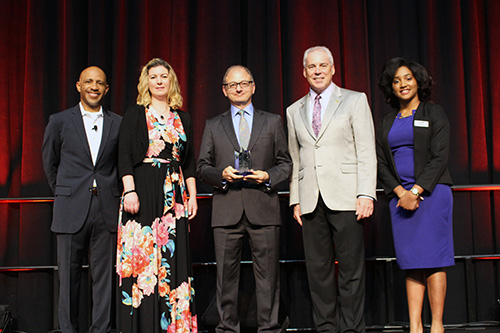 ASME's Roger Torda (center) receiving a Gold Circle Award from ASAE in Washington on May 22. Left to right, Robb Lee, ASAE chief marketing and communications officer; Paula Gonzales, chair of the ASAE Golden Circle Awards committee; Roger Torda; Alan Rickard, vice chair of the awards committee; and Myisha Headen, ASME manager, Volunteer Relations.
ASME was recently selected as the winner of two prestigious awards for a video showcasing ASME's Engineering Festival (E-Fest) program. The video was recognized with both a Gold Circle Award from the American Society of Association Executives (ASAE) and a Telly Award.
This year, ASAE received than 180 submissions for the 2018 Gold Circle Awards, which recognize excellence, innovation and achievement in association and nonprofit organization marketing, membership and communications programs. Awards were presented in 14 categories — ranging from advocacy, membership recruitment, and convention/meetings campaigns to print magazines, video, websites and other media vehicles — at ASAE's 2018 Marketing, Membership & Communications Conference, which was held May 22-23, in Washington, D.C.
ASME was recognized with a Gold Circle Award in the video category for the five-minute video, "E-Fests Around the Globe." Produced by Roger Torda, manager of Communications Projects and Initiatives for ASME Public Information, the lively video provides an overview of the Society's E-Fest program, which was launched last year, and features highlights of the three inaugural festivals that were held in the spring of 2017 in Jaipur, India; Las Vegas, Nevada; and Cookeville, Tennessee. The video features interviews with E-Fest participants as well as exciting footage from student competitions — such as the Human Powered Vehicle Challenges — that took place during the festivals.
The "E-Fests Around the Globe" video was also recently announced as a winner of a Telly Award. Founded in 1979, the Telly Awards program recognizes outstanding achievement in video and television across all platforms. "E-Fests Around the Globe" was named as the winner of a Bronze Telly Award in the Non-Broadcast/Not-for-Profit category. Each year, the Telly Awards receives more than 12,000 entries from around the world. The entries are judged by the Telly Awards Judging Council, which is comprised of more than 200 leading experts including representatives from advertising agencies, production companies and television networks.
To view "E-Fests Around the Globe," visit http://efestvideos.asme.org/detail/videos/all-videos/video/5769197242001/e-fests-around-the-globe?autoStart=true.