Timothy Chung to Deliver Keynote at the Robotics for Inspection & Maintenance Summit
Timothy Chung to Deliver Keynote at the Robotics for Inspection & Maintenance Summit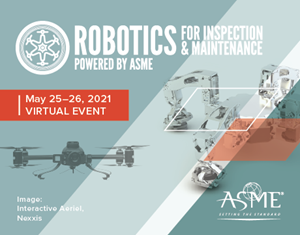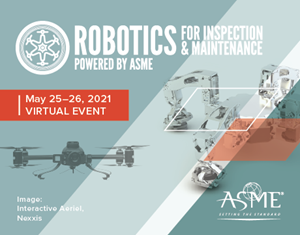 ASME's
Robotics for Inspection & Maintenance Summit
that will be held on May 25-26, 2021 will bring together industry experts from across the entire supply chain of robotics solutions in inspection and maintenance. The two-day virtual event offers a unique combination of virtual demonstrations, expert panel discussions, case studies, and technical solution presentations.
The summit will feature a keynote by Timothy Chung, DARPA program manager, who will discuss accelerating innovations for robotics in complex real-world environments. Chung will share new approaches and insights for discovering and demonstrating breakthrough technologies to help close the gaps for robotic operations in hazardous conditions that should not be accessed by humans.
Companies spend more than $40 billion per year on inspections alone and even more on maintenance. New digital technologies and robotic innovations are changing the way inspections are taking place, with robotics increasingly being deployed to take the place of in-person inspectors in hazardous environments, confined spaces, and elevated surfaces. Understanding the latest advancements in robotics solutions can help businesses optimize inspection, maintenance, and repair while improving safety and lowering costs.
Register now
for the event for just $299.
Get pragmatic, real-world insights from influential business and technical professionals working in aviation and defense, renewable energy and civil infrastructure/construction, petroleum, chemical, pipeline, nuclear, power generation, and process industries. Connect and build relationships with industry trailblazers from around the world who are currently working on making robotics devices more effective, autonomous, and practical through topic-specific chat rooms.
Register now for the
Robotics for Inspection & Maintenance Summit
and understand how to leverage robotics technology in inspection and maintenance to reduce costs, improve safety, and gain a competitive edge.
The full event program is included on the website with more information about the keynote session and what to expect at the event.
Related Content