Merry Campbell Selected as ASME's New...
Merry Campbell Selected as ASME's New Faces-College Edition Winner for 2014
Apr 10, 2014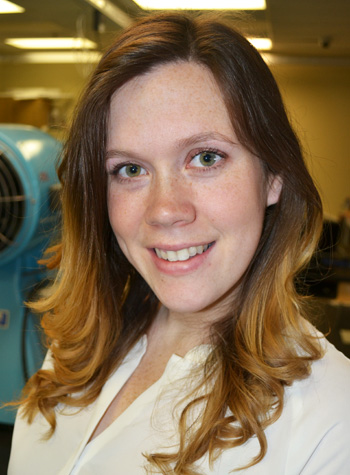 Meredith (Merry) Campbell, a third-year mechanical engineering student at Daniel Webster College in Nashua, N.H., has been named as ASME's winner of the 2014 DiscoverE New Face of Engineering-College Edition program. Campbell was one of 15 engineering students from various engineering societies who were selected as the winners of this year's competition, which highlights the accomplishments of third-, fourth- and fifth-year university engineering students.
Campbell was cited for her role in founding the Kenya Connection Club, a program that creates instructional videos to help professors at Africa International University connect with students using a learning management system. As a 2014 New Faces-College Edition winner, she will receive a $1,000 scholarship from ASME and appear with this year's other winners on the New Faces of Engineering-College Edition Facebook page.
A non-traditional engineering student, Campbell began pursuing a mechanical engineering degree after returning to school at the age of 23. "I have never had a parent or guidance counselor speak to me about engineering," she wrote in her application for New Faces-College Edition. "It saddens me to think back on that, because I spent a long time finding engineering. I think that is why I want to be involved in engineering and science education for young people, because I want them to have the opportunities I was never afforded."
Campbell has served the Daniel Webster ASME student section in various capacities, including the position of student section chair, which she has held for the past two years. She has also participated in ASME's Human Powered Vehicle Challenge (HPVC) competition, and volunteers in her local community with engineering programs for children.
Campbell was one of three student members nominated by ASME for the New Faces-College Edition honor this year. The three finalists — Campbell, Ashton Archer and Emily Miner — were announced during Engineers Week in February.