Mechanical Engineering Magazine Prese...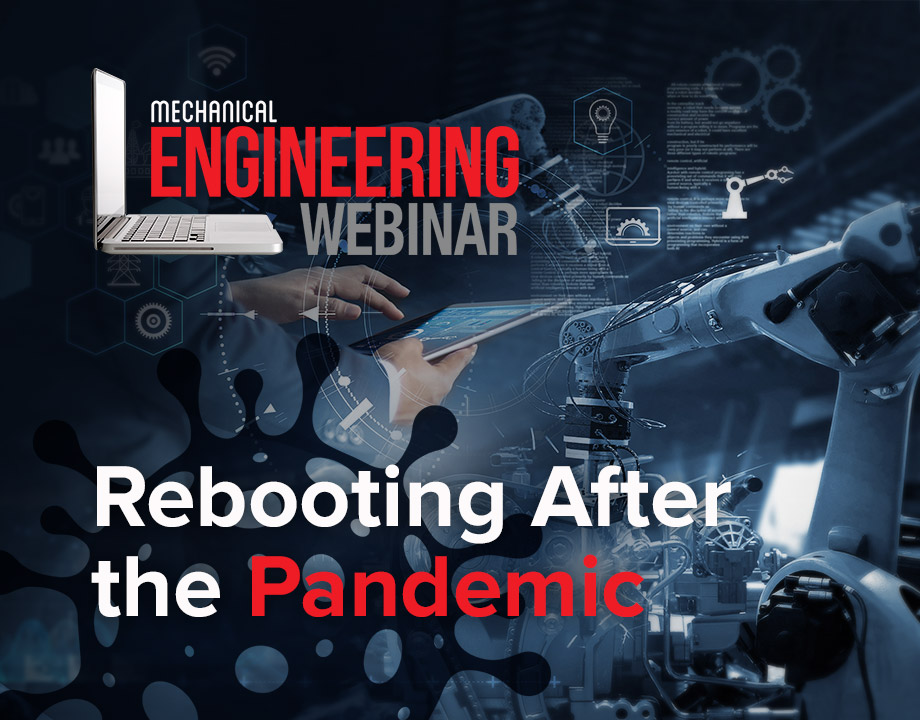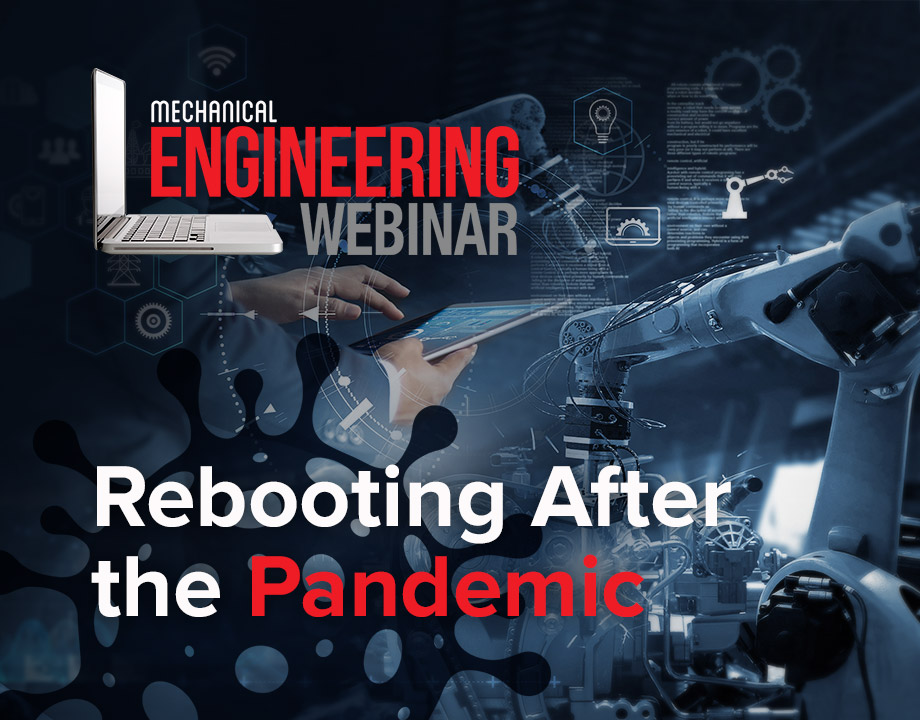 Mechanical Engineering Magazine Presents "Rebooting After the Pandemic" Webinars Through June
Jun 12, 2020
ASME's
Mechanical Engineering
magazine launched a new webinar series last month to focus on how technology can help businesses and other organizations recover and thrive after the COVID-19 crisis.
The sessions feature in-depth conversations with leading engineers, business leaders, academics, and technologists, who will discuss how to restart operations and build more agile and resilient systems to prepare for whatever crisis we face next.
Three installments of the series, titled
Rebooting After the Pandemic
, will be offered through the end of June. The hour-long webinars will take place at 1:00 p.m. Eastern Time each Tuesday through on Tuesday, June 16, 23 and 30.
The next webinar, on June 16, is "Making Robots Ubiquitous After COVID-19." It will focus on the breakout use of mobile and service robots in hospitals, clinics, and factories during the pandemic, and how these enterprises can use robots to scale up operations rapidly in the future. Moderated by Chitra Sethi, managing editor of
Mechanical Engineering
and ASME.org, the session will feature Howie Choset, professor of robotics at Carnegie Mellon University, Hagai Balshait, CEO of RoboTiCan, and Mark Stibich, co-founder and chief scientific officer for Xenex Disinfection Services.
The June 23 webinar, "Manufacturing Smarter After the Pandemic," will look at how digital manufacturing technologies, such as IoT-driven data analysis, 3D printing and flexible production networks, emerged as valuable tools during the COVID-19 outbreak. The session will feature speakers Rob Bodor, vice president and general manager of Protolabs, and Dan Skulan, general manager, Industrial Metrology, of Renishaw Inc. Moderated by Carlos Gonzalez, special projects manager for
Mechanical Engineering
and ASME.org, the discussion will also explore how smart technologies will change the manufacturing industry going forward.
The final webinar in the series on June 30, "Rebuilding Medical Supply Chains After COVID-19," will examine how the pandemic uncovered the weaknesses in the supply chain for medical consumables, equipment and medicines, and potential solutions and new opportunities for engineers and manufacturers going forward. Featured guest speakers include B. Frank Gupton, founder of Medicines for All and professor of engineering at Virginia Commonwealth University, and Terry Haber, managing director of the St. Onge Company, a medical supply chain consulting and engineering firm. John Kosowatz, senior editor for
Mechanical Engineering
and ASME.org, will be the session's moderator.
The previous three webcasts in the series — "Cleaner and Safer Workplaces After Coronavirus," "Better Resiliency and Re-Engineering Risk Post-COVID-19" and "Building Better Post-Pandemic Supply Chains" — are now available to view on demand. Support for the webinar series was provided by COMSOL, Protolabs, Renishaw, Safety Services Company, Simulia, and Xcentric.
Visit
go.asme.org/PostCOVID-19
for more information on the
Rebooting After the Pandemic
series. Once there, you can register for one of the June webinars, or view recordings of the previous webcasts.