Madiha El Mehelmy Kotb Takes Office as ASME's 132nd President
Madiha El Mehelmy Kotb Takes Office as ASME's 132nd President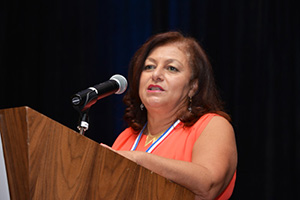 During her inaugural address at the President's Dinner, new ASME President Madiha El Mehelmy Kotb discussed the steps ASME needs to take to remain successful in the future. .
During ceremonies held at the ASME Annual Meeting in Indianapolis, Madiha El Mehelmy Kotb, Eng., was introduced as ASME's 132nd president.Kotb used the occasion to share her perspectives on the future of ASME along with citing personal goals during her presidential term.
"This is such an exciting time to be a part of ASME. The changes we've seen and those that are still in the works are making ASME stronger and more relevant than ever," said Kotb during the opening of her inaugural comments at the President's Dinner, held on June 25. President Kotb thanked outgoing president Marc Goldsmith for his year of service and expressed appreciation to all those who have committed themselves to seeing ASME move forward in its strategic initiatives and future success. "Opportunities are plentiful and we need to keep working together as volunteers and staff."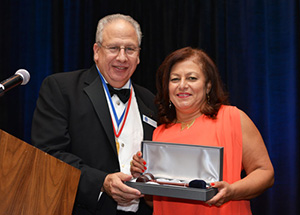 Immediate Past President Marc Goldsmith (left) presents the Society's new president, Madiha Kotb, with her presidential gavel.
Kotb outlined some important ways to ensure that the Society moves successfully into the future. "First, we need to continue building international bridges to further increase legitimacy as a leader in the global marketplace," she said. Kotb also stressed the importance of ASME's geographical growth and diversity to expand our networks; growth in the area of energy by expanding ASME's energy footprint and serving as a global energy resource; and also serving as an advocate for a new culture of safety, particularly as it relates to the integration of risk management.
Using the illustration of a high-speed Mag-Lev train, Kotb said, "ASME is like this well-honed bullet train — boldly functional, highly efficient and focused on its destination." In anticipation of the work and contributions of engineers and professional societies like ASME, she concluded by saying "Today, we must think differently about our world, just as today's engineer moves beyond probability theory to quantum theory…let's be willing to adapt to new ways of working together."
As Marc Goldsmith concluded his term as ASME president he thanked the Board of Governors, the many volunteers, ASME Executive Director Tom Loughlin and the ASME staff for their support and for "the great work they have done to carry forward the mission and strategic initiatives of the Society" during the past year. Goldsmith expressed well wishes to Kotb and expressed enthusiasm for ASME's future. "I know that incoming president, Madiha Kotb, will have an outstanding year and will continue ASME's legacy of leadership in engineering respected worldwide," Goldsmith said.
Mel Torre, ASME Public Information
Related Content