Leveraging Modeling and Simulation in...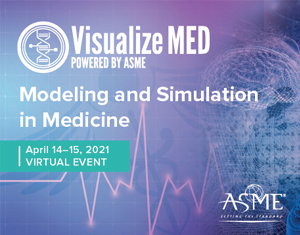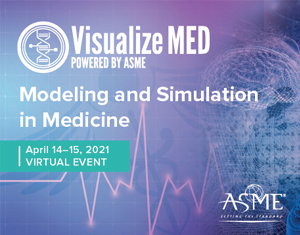 Leveraging Modeling and Simulation in Medicine at VisualizeMED
Mar 4, 2021
ASME's
VisualizeMED: Modeling and Simulation in Medicine
will take place on April 14-15, 2021. This two-day virtual event is enabling the transformation of modeling and simulation in medicine by bringing together industry experts of technology and masters of technique who are effectively implementing it with the goal to increase the application and adoption on a global scale. Medicine–including medical devices and pharma/biotech–is in the process of realizing the full potential modeling and simulation can bring, especially to expedite solutions to combat Covid-19. The
early bird registration deadline
is March 12. Get your pass now for just $199.
VisualizeMED's featured keynote speaker is Giovanni Traverso, named one of the top innovators who is changing the world by
WIRED
Magazine. He will speak on his development on the next generation of drug delivery systems. Physician, scientist, MIT assistant professor of mechanical engineering, and co-founder of Suono and Vivtex, Traverso will explain how enabling efficient delivery of therapeutics through the gastrointestinal tract as well as developing novel ingestible electronic devices are sensing a broad array of physiologic and pathophysiologic parameters.
Hear case studies from leading pharmaceutical and medical device companies and understand how modeling and simulation techniques have enabled quicker, more efficient, and more successful outcomes. Connect and build relationships with industry trailblazers from around the world through topic-specific chat rooms and scheduled meetings.
Register now for
VisualizeMED: Modeling and Simulation in Medicine
and understand how to leverage this technology to increase innovation, improve quality, expedite speed to market, and much more. The full event program is included on the website with more information about the keynote session and what to expect at the event, along with additional information on pre-conference workshops.