Join ASME's Robotics for Inspection &...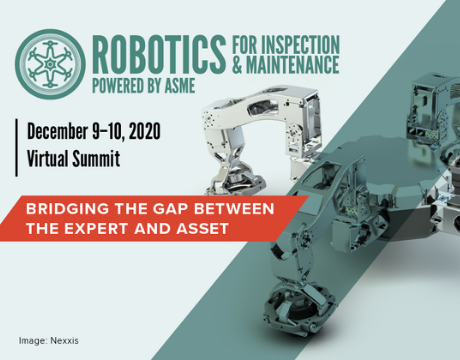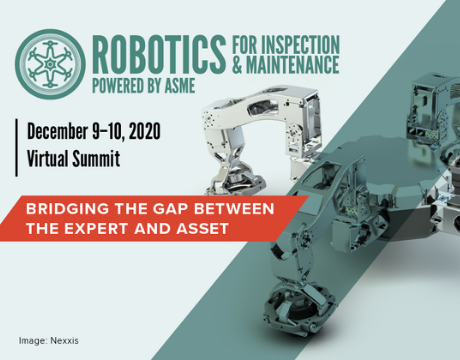 Join ASME's Robotics for Inspection & Maintenance Summit Virtually
Oct 7, 2020
Join
ASME's Robotics for Inspection & Maintenance Summit
virtually from anywhere December 9-10, 2020. This two-day cross-industry event offers a unique combination of case studies, expert discussions, and demonstrations of robots in action intended to help businesses optimize inspection, maintenance, and repair while improving safety and lowering costs.
Each year, companies spend more than $40 billion on inspection and even more on maintenance. With expenditures this large, it is critical that these inspections are thoroughly and effectively detecting corrosion, leaks, and defects as well as predicting any impending problems. Gain expertise in best practices for applications, leveraging data and analytics, and gaining trust in predictive maintenance by engaging and collaborating with leading experts from the entire supply chain in robotics solutions in inspection and maintenance.
Get an exclusive look at robotics and unmanned aerial systems in action in real time on and around vessels, platforms, and structures performing tasks that cannot and should not be done by humans. These demonstrations will help you understand the new and different techniques being utilized to increase the volume, speed, and accuracy of inspections and maintenance and allow you to make smarter investments for your business.
Register now
before November 2 and save up $50 on your pass. If you have any questions, email
robotics@asme.org
. We hope to see you there!