ASME INSPIRE Connects with All 50 States
ASME INSPIRE Connects with All 50 States
Feb. 23, 2018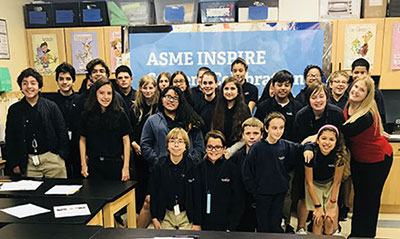 Students from the Hollywood Academy of Arts and Sciences in Hollywood, Fla., with their teacher Carissa Brazeal (far right).
Driven by the popularity of and enthusiasm for new, enhanced STEM content aimed directly at middle-school students, ASME's INSPIRE program is now officially being used by schools in all 50 of the United States and the District of Columbia.
Introduced this year, ASME's INSPIRE Career Exploration — an in-class experience that focuses on students creating a personalized journey to explore real-world career paths and skill sets — is now in use in nearly 70 percent of the more than 1,100 schools currently integrating ASME's INSPIRE programs into their curricula. INSPIRE Career Exploration, along with the flagship program INSPIRE STEM Readiness, currently reach more than 73,000 middle- and high-school students.
How does that reach translate in the classroom?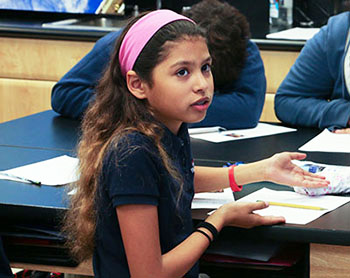 Leylanie, a seventh-grade student at the Hollywood Academy of Arts and Sciences, shared her observations regarding the INSPIRE Innovation Investigation activity during the ASME INSPIRE Connects school visit on Feb. 12.
Look no further than the sixth- and seventh-grade students from the Hollywood Academy of Arts and Sciences in Hollywood, Fla., which was visited by ASME's INSPIRE Classroom Connects team on Feb. 12. During the visit, the school's students tackled the INSPIRE Innovation Investigation activity with zeal and shared how the INSPIRE program opened their minds to all the opportunities engineering and STEM at large can offer.
Logan, a seventh-grader who plans to pursue a career in bioengineering, shared that, "the INSPIRE program showed me how everything works together — people, technology, even simple machines. (They) all rely on one another in order to work perfectly. So everything needs to work in harmony."
Another seventh-grader, Leylanie, said that her INSPIRE experience "definitely changes my perspective about how to see the world and how people invent and create things." She went on to say that ASME INSPIRE also showed her "how I can change my life and others through learning about new things in science, math, and engineering. It's really cool."
For more information on ASME INSPIRE and ASME's other K-12 STEM education programs, contact Patti Jo Rosenthal, rosenthalp@asme.org, or visit https://www.asmefoundation.org.
Patti Jo Rosenthal, Programs & Philanthropy
Related Content