Future Engineers Launch Events Celebr...
Future Engineers Launch Events Celebrate 3D Design and Creativity
Oct 19, 2017
Oct. 20, 2017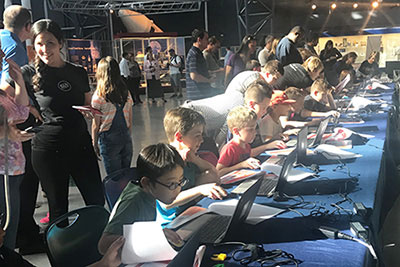 Young visitors at the "Two for the Crew" challenge launch at Smithsonian National Air and Space Museum on Sept. 27 had the opportunity try out Tinkercad software.
Trumpeting the message, "If you can design it, you can print it!," recent launch events held to promote the ASME Foundation's latest Future Engineers challenge opened up the 3D design world to students and encouraged them to explore its infinite possibilities.
More than 400 students and guests gathered at the Smithsonian National Air and Space Museum on Sept. 27 for the official announcement of the sixth Future Engineers challenge, "Two for the Crew." Joining representatives from the ASME Foundation and NASA, these aspiring engineers had a chance to flex their creative digital design skills while exploring Tinkercad software and watching MakerBot 3D printers in action.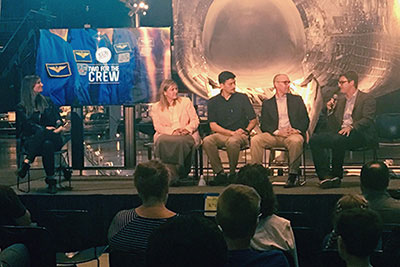 The "Two for the Crew" event at the Smithsonian National Air and Space Museum featured a panel session on K-12 STEM education and non-traditional partnerships. Taking part in the discussion were (left to right) moderator Deanne Bell, founder of Future Engineers; Barb Gruber, supervisor of school programs for the National Air and Space Museum; Josh Ajima, instructional facilitator for technology at Loudoun County Public Schools and DesignMakeTeach.com blogger; Ryan Heitz, co-founder and head of Ideaventions Academy; and Paul Scott, interim executive director of the ASME Foundation.
Following this 3D design-and-print "show and tell," Future Engineer founder Deanne Bell facilitated a panel discussion featuring ASME Foundation Interim Executive Director Paul Scott. The discussion focused primarily on the opportunities to positively impact K-12 STEM education through non-traditional collaborative partnerships.
A similar approach was on display at the ASME Foundation's Future Engineers booth at the 2017 Girl Scout Convention in Columbus, Ohio, from Oct. 3 to 5. Building on a theme of G.I.R.L. — Go-getter, Innovator, Risk-taker and Leader — the convention hosted some 10,000 scouts, delegates, and parents who enthusiastically camped out at the Future Engineers exhibit to render their 3D designs and get the red carpet treatment at a corresponding step-and-repeat photo booth.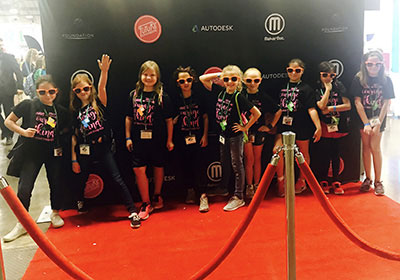 The ASME Foundation's Future Engineers booth at the 2017 Girl Scout Convention in Columbus, Ohio, included a step-and-repeat photo area, complete with red carpet.
"Two for the Crew" is the sixth in a series of space innovation challenges developed by Future Engineers along with the ASME Foundation with technical assistance by NASA. This national 3D design challenge asks K-12 students across the United States to combine two objects into one for astronauts on the International Space Station (ISS). The end product will be a model intended to be 3D printed by astronauts on the ISS. By taking part in this design and creative problem-solving challenge, students will learn about the advantages of in-space manufacturing, including customization.
Submissions from K-12 students in the United States will be accepted through Dec. 19, 2017 at www.futureengineers.org/twoforthecrew. Winners will be announced on March 14, 2018.
-Patti Jo Rosenthal, Programs & Philanthropy