Engineers Week 2018 Begins February 18
Engineers Week 2018 Begins February 18
Feb 8, 2018
Feb. 9, 2018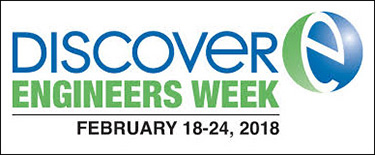 Engineers Week, the annual celebration of engineers and their contributions to society, begins in just nine days. This year's event, which will take place from Feb. 18-24, will encompass a number of exciting activities, including Family Day, the Future City Competition, and Introduce a Girl to Engineering Day.
Engineers Week is organized by DiscoverE and co-chaired this year by the National Council of Examiners for Engineering and Surveying (NCEES) and the DiscoverE Leadership Council, which includes Bechtel, Bentley Systems, ExxonMobil, Lockheed Martin, the Northrop Grumman Foundation, Shell Oil, TE Connectivity, and UL.
One particularly popular and festive Engineers Week program is DiscoverE Family Day, which kicks off Engineers Week on Feb. 17. The event, which takes place from 10:00 a.m. to 4:00 p.m. at the National Building Museum in Washington, D.C., is designed to introduce students under the age of 12 to the wonders of engineering and the importance of technological literacy. The ASME Washington D.C. Section will participate in Family Day, which each year attracts thousands of children, teachers and parents from the area surrounding the nation's capital. To learn more about Family Day, visit www.engineeringfamilyday.org.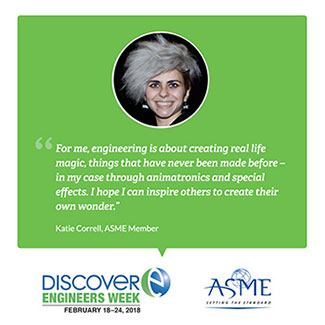 Another long-running Engineers Week activity, the Future City Competition finals, will be held Feb. 20 in Washington, D.C. The competition asks middle-school students to imagine, design, and build cities of the future. ASME Past President Robert Simmons and ASME Auxiliary President Kay Simmons are expected to serve as judges at the competition, which will take place at Hyatt Regency on Capitol Hill. For more information on the Future City Competition finals, visit http://discovere.org/our-programs/future-city.
Introduce a Girl to Engineering Day (Girl Day), on Feb. 22, is a worldwide campaign to introduce girls to the exciting world of engineering.Thousands of engineers and educators are expected to share their knowledge and experience in an effort to teach young women about engineering and the contributions engineers make to the public. To learn more about Girl Day, or to sign up to become a Girl Day role model, visitwww.discovere.org/our-programs/girl-day.
For more information on these activities and the other programs that are part of this year's Engineers Week schedule, visit www.discovere.org/our-programs/engineers-week.