ASME Decision Point Dialogues Videos ...
ASME Decision Point Dialogues Videos Now Online
Aug 15, 2013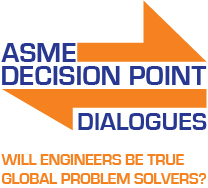 A set of videos on a lively discussion on the topic "Will Engineers Be True Global Problem Solvers?" has been posted on ASME.org and is now available.
The discussion, held earlier this year at the State University of New York's Global Center in New York City, was the inaugural event of the ASME Decision Point Dialogues series bringing together leaders from industry, academia and the global development areas to discuss the engineer's role in society.
In the first Dialogue, ASME's immediate Past President Marc W. Goldsmith and 11 other engineering and science thought leaders discussed the various challenges facing engineering education and the engineering profession. They also addressed the question of how to prepare and inspire generations of engineers to solve the most pressing global challenges. The Decision Point Dialogue series was conceived by the Workforce Strategy Execution team in partnership with the Engineering for Global Development area, Mechanical Engineering magazine and various other areas within ASME.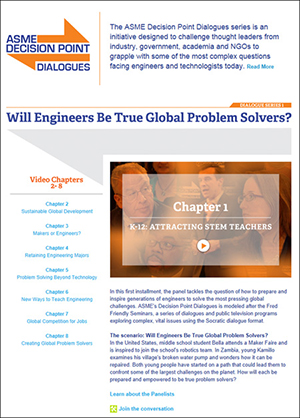 In addition to Past President Goldsmith, panelists for this insightful session included Engineers Without Borders-USA founder Bernard Amadei; Richard Benson, dean of engineering at Virginia Tech and former ASME Governor; engineering student and consultant Liza Billings; Emergent Engineers founder Daniel Ignacio Garcia; Ron Hira, associate professor at Rochester Institute of Technology; IBM corporate strategy executive Florence Hudson; Emeka Okafor, Maker Faire Africa Curator; Javaris Powell, a winner of last year's inaugural DiscoverE Educator Awards; Andrew Reynolds, senior advisor at the Office of Space and Advanced Technologies; Joseph Sussman, ABET's managing director for Accreditation and chief information officer; and Jessica Townsend, associate dean for curriculum and academic programs at Franklin W. Olin College of Engineering. The program was moderated by Robert J. Jackson Jr., associate professor and Milton Handler Fellow at Columbia Law School.
The video program is divided into eight chapters, each outlining a different discussion point: K-12—Attracting STEM Teachers; Sustainable Global Development; Makers vs. Engineers; Retaining Engineering Majors; Problem Solving Beyond Technology; New Ways to Teach Engineering; Global Competition for Jobs; and Creating Global Problem Solvers.
After watching the videos, viewers are encouraged to participate in discussions on these critical topics. To join the online conversation, visit the Workforce Development group page.
Information on the next Dialogue and on topics to be explored in future dialogues will be posted on go.asme.org/dialogues.