ASME and City Tech Students Team Up f...
ASME and City Tech Students Team Up for the Google Geek Street Fair in New York
Oct 20, 2016
Oct. 21, 2016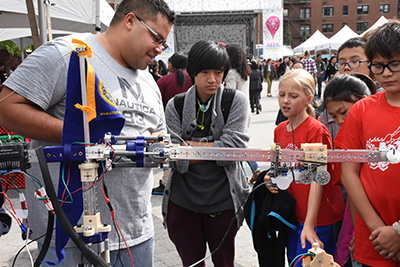 City Tech student Julio Mejia demonstrates the Candy Crane, one of the devices the school exhibited at the New York City Geek Street Fair, which was hosted by Google on Oct. 13.
For the second year, a team of engineering students from New York City College of Technology (City Tech) in Brooklyn, N.Y., and their advisor represented ASME at the annual New York City Geek Street Fair. The event, which took place Oct. 13, featured science exhibits from more than 20 universities, museums, nonprofit organizations and technology companies from the New York area.
The event drew more than 5,000 students, teachers and tourists — approximately 10 times the number of people who attended last year. A spokesperson for Google attributed the spike in foot traffic to its more prominent location this year in Union Square. The fair had been held in Gansevoort Plaza in midtown Manhattan the previous two years.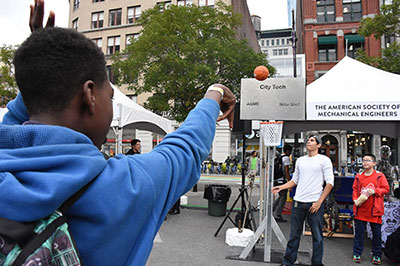 A student vising the ASME/City Tech booth at the Geek Street Fair tries out one of City Tech's exhibits — a basketball hoop that generated electricity using gravity.
The six engineering students from City Tech, along with their professor Andy S. Zhang, demonstrated a few of the devices they designed and built in the school's Mechatronics Technology Center. These devices included a robot called MoDAR (Mobility Detection and Auto Recognition) that could scan and recognize the faces of visitors to the booth, a basketball hoop that generated electricity using gravity, and an electro-mechanical crane that children could use to pick up bags of candy.
One of the City Tech students manning the ASME booth, Julio Mejia, was particularly impressed by the excitement and enthusiasm for science and technology expressed by the young people who stopped at his team's exhibit throughout the day. Mejia, a 38-year-old former U.S. Marine who is currently president of the school's mechatronics club and a mechanical engineering student in his senior year at City Tech, brought a unique perspective to the event.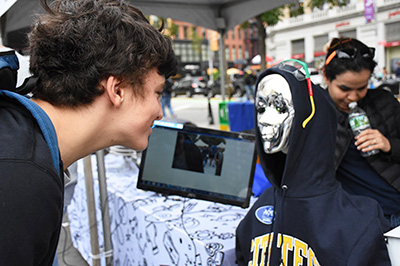 A young visitor to the booth checks out MoDAR (Mobility Detection and Auto Recognition), a robot that scans and recognizes faces.
"I like seeing the kids' faces when they see all the new technologies that we have out here," Mejia said of the devices on display at the fair. "When I was young, I didn't have the opportunity to see any of this. This is a big step for me because I've never seen half the stuff that's here, but I'm picking it up now. Things are so different now. My nieces just finished junior high school and they had robotics clubs available to them. But we didn't have these types of opportunities that the kids have now."
Joining Mejia at the ASME booth were his fellow City Tech students Luca Scarano, Devon Paul, Zahra Elfatimi, Ehab Amed, and Tristen Canchig.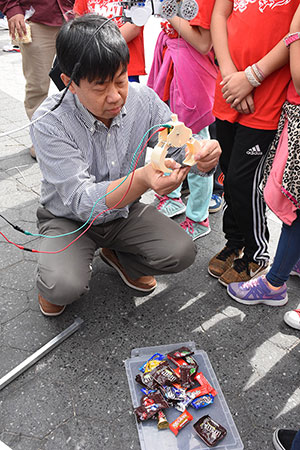 Professor Andy S. Zhang of City Tech makes adjustments to the electro-mechanical Candy Crane, which was on display at the ASME/City Tech booth.
Dr. Zhang, an ASME member and advisor to the City Tech mechatronics club, said events like the Google Geek Street Fair are important not only for younger students who are visiting the events, but also beneficial for the university students who participate.
"It's very important to get young people to get to know science and technology early on, especially in grade school and middle school," Zhang said. "When they're in high school, it's too late. Therefore, we support this kind of activity. It's also a good opportunity for our students to get involved and sharpen their hands-on skills. If you never make a mistake, you're never going to learn anything. Your first design doesn't always work. That's why it's important to get hands-on experience. If you make your mistakes while you're in school, then you won't make a big mistake at your company."
In addition to the ASME/City Tech booth, the event featured displays from more than 20 organizations and companies. These exhibitors included the fair's sponsor, Google, as well as Facebook, Pinterest, Samsung, the American Museum of Natural History, Black Girls Code, New York University's Tisch and Tandon Schools, Cooper Union, the Museum of Math, NYC FIRST, the Bronx Academy for Software Engineering, and Pioneer Works.