ASME Awards Nearly 70 Scholarships to...
ASME Awards Nearly 70 Scholarships to Student Members
Sep 20, 2017
Sept. 22, 2017

Each year, the ASME Scholarship Program helps ensure the future of the engineering profession by helping ease the financial burden for ASME student members who are pursuing their undergraduate and graduate degrees. This year, 69 student members were awarded more than $260,000 in scholarships through the ASME Foundation Scholarship Program and the ASME Auxiliary Scholarship Program.
The ASME Scholarship Program offers more than 30 different scholarships for undergraduate and graduate students, including the Kenneth Andrew Roe Scholarship, the ASME Foundation Scholar awards, the ASME/Society of Hispanic Professional Engineers (SHPE) Scholarships, and the ASME Nuclear Division (NED) Scholarship.
Trevor White of Rensselaer Polytechnic Institute was awarded ASME's largest single-year scholarship, and named the Kenneth Andrew Roe Scholar. The $13,000 scholarship, which is awarded to juniors and seniors studying mechanical engineering, was established in 1991 in memory of the former ASME president and chairman of the ASME Foundation.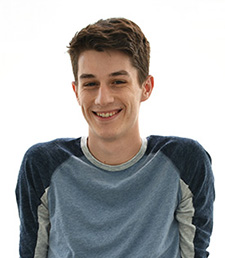 Trevor White
White, who is a senior studying mechanical engineering at RPI, served as president of the ASME student section at his university last year. In his scholarship acceptance essay, White said being selected as the Roe Scholar was "an incredible honor and I am so grateful for it. This award comes at a time of financial uncertainty, (as) there have been many setbacks this past year and even more costs approaching in the future. Receiving this award solidifies my attendance at Rensselaer for my senior year and enables me to continue pursuing my research project, involve myself further in ASME, and invest more time narrowing my search for a career that I love."
Another ASME student member, Jared Talamini, a junior at Wentworth Institute of Technology in Boston, was one of three student members who received $11,000 scholarships and were named ASME Foundation Scholars this year, along with Jason Bugarin of Worcester Polytechnic Institute and Austin Kaul of the South Dakota School of Mines & Technology.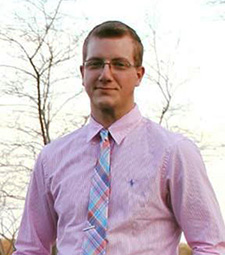 Jared Talamini
In his scholarship acceptance essay, Talamini, who is enrolled in a five-year Bachelor of Science program in electromechanical engineering with a minor in manufacturing, said that in addition to enabling him to continue his studies at Wentworth without interruption, being selected as an ASME Foundation Scholar has inspired him to get the most out of his college experience. "My involvement in ASME has given me opportunities to gain internships, network with professionals, and learn new software and other skills that aren't part of the curriculum," continued Talamini, who is chair of the student chapter at his university. "This year I intend to do more with our chapter than our school has ever done in the past. " One of his goals this year is to take part in Accelerate, the university's Innovation and Entrepreneurship Center, which promotes interdisciplinary collaboration among students, faculty, alumni and the local community in order to bring ideas and products to the marketplace.
Danielle Petterson, from the University of South Florida, was one of two winners of the ASME/ Society of Hispanic Professional Engineers (SHPE) Scholarships. Petterson won the undergraduate award, while Erin Hong of California State University, Northridge, received the post-graduate ASME/SHPE Scholarship. The program, now in its third year, provides two $5,000 awards each year to students who are members of both ASME and SHPE and have been actively involved in volunteer work to benefit others through at least one of the societies.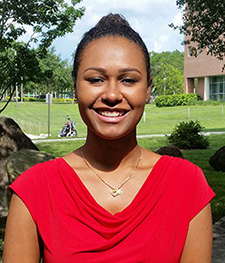 Danielle Petterson
The past year had been a trying one for Petterson, who is a senior at the University of South Florida majoring in mechanical engineering and the activities chair for her school's ASME student section. Already struggling to afford school and housing, Petterson lost her apartment in a fire last spring and has had to move eight times in the months that followed. Understandably, she describes her year so far as "incredibly stressful," but she expressed in her acceptance essay that the ASME/SHPE Undergraduate Scholarship is relieving some of that pressure.
In addition to unexpected emergency expenses that have affected her family, growing student loan debt left Petterson "in constant panic about money and school," she wrote. "Winning this scholarship from ASME has definitely lifted some of the weight off of my shoulders and has given me the little boost I needed to continue working toward my goals. I am so proud of this organization for valuing its student members and I am so grateful to have been given this opportunity."
Joshua Smith, an ASME student member from Colorado State University, is one of three students who were each awarded a $5,000 ASME Nuclear Engineering Division (NED) Scholarship for the 2017-2018 school year. Also receiving NED Scholarships for this school year are Eric Zhong of California Polytechnic State University and Hank Costner from Utah State University. Each year, the division awards three scholarships to ASME student members who demonstrate a particular interest the design, analysis, development, testing, operation and maintenance of nuclear reactor systems and components, nuclear fusion, heat transport, nuclear fuels technology and radioactive waste.
Joshua Smith
Smith, who has been a board member of Colorado State University's ASME student section for two years, served as professional development chair last year and was recently elected vice chair of the student section. He is pursuing bachelor's degrees in both mechanical engineering and bioengineering at Colorado State.
"This scholarship will help me, as well as my family, allowing me to focus on my studies and maintain the class load I need to complete my five-year program in four years, while still gaining experience participating in internships, and ASME activities," he wrote. "Your help will both minimize my own resulting debt and help me to focus on my studies, internships and organizing activities for my college's ASME student chapter." During this last year at Colorado State, White said he would like to continue working in the laboratory in which he currently researches and develops low-cost portable aerosol samplers — as well as continue helping coordinate ASME activities that enable students to connect with professionals in industry and academia.
Other scholarships awarded by the Foundation include two $5,000 Garland Duncan Scholarships, which were given to Tamim Reza of the University of Michigan–Flint and Mukul Sawant of Purdue University, and three $4,500 Willis F. Thompson Scholarships, which were awarded to Viktoria Meyerhoff of Indiana University–Purdue University, Tooba Ehtesham of the University of Houston, and Joseph Pechstein of the Milwaukee School of Engineering.
To read the complete list of 2017-2018 ASME scholarship winners, visit the Scholarship Winners webpage on ASME.org.
For more information on the ASME Scholarship Program, visit www.asme.org/career-education/scholarships-and-grants/scholarship-and-loans. To find out how you can support the scholarship program with a gift to the ASME Foundation, go to www.asme.org/about-asme/get-involved/asme-foundation.