ASME Presents Robotics for Inspection...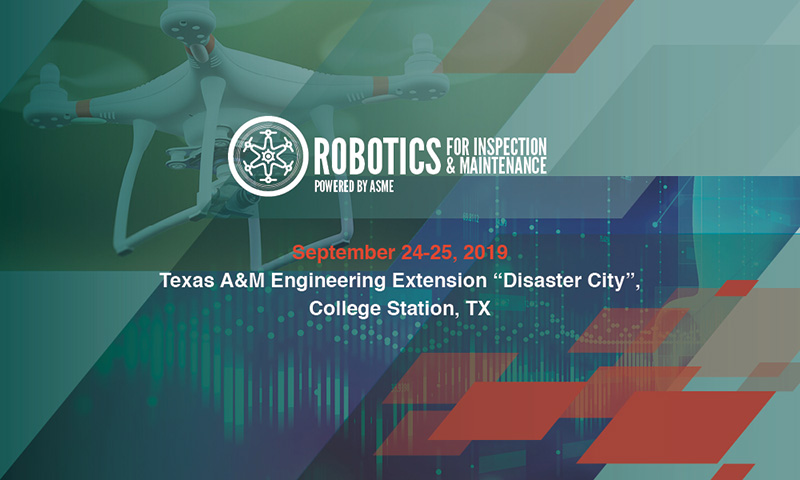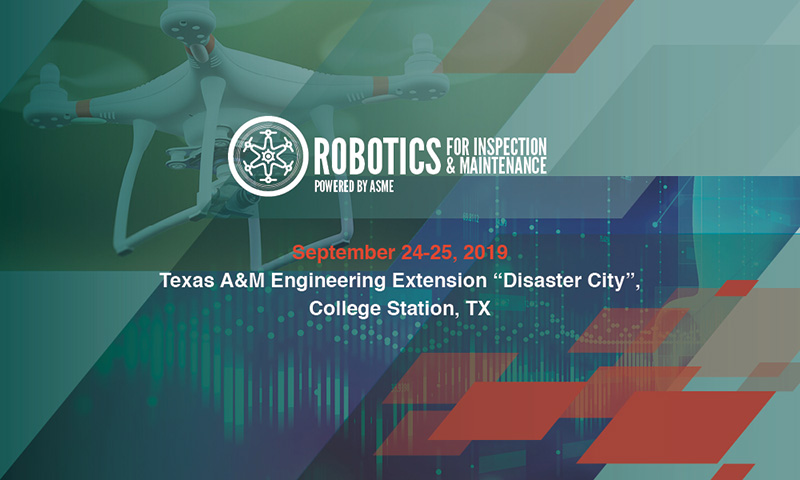 ASME Presents Robotics for Inspection and Maintenance Forum
Aug 9, 2019
There's still time to register for the second
ASME Robotics for Inspection and Maintenance Forum
, which will focus on the theme "Bridging the Gap Between the Expert and Asset." The forum, which will take place on Sept. 24-25 at Texas A&M Engineering Extension Service's Disaster City training facility, was designed as a venue for engineers and business professionals in the oil and gas, pipeline and power generation industries to meet and interact with robotics experts and learn how their businesses could employ robotics technologies for inspection and maintenance.
Representatives from more than 50 companies ― including ABB, Avitas Systems, Baker Hughes, Cyberhawk, Dow Chemical, GE Oil & Gas, Hess, Phillips 66, Quest Integrity and Shell ― took part in the inaugural Robotics for Inspection and Maintenance Forum, which was held last June in Houston.
This year's event is expected to bring together representatives from even more companies to provide presentations and hands-on demonstrations that will offer attendees the opportunity to discover how industry leaders are implementing robotics technologies for increased speed, improved accuracy, safer operations and cost savings; find out about the latest technologies from leading suppliers and get a look at these technologies in action; and learn about best practices for applications, data and analytics, and predictive maintenance.
This year's program will feature a number of informative sessions that will interest engineering professionals who are involved in asset inspection and maintenance, including the keynote session, "Tools to Teammates: The Next Wave of Industrial Productivity," which will be presented by John Lizzi, executive leader for robotics and autonomous systems at GE Research. Lizzi and his team's work, which spans the entire GE industrial portfolio, drives the company's robotics and autonomy initiatives, including applications in the areas of field service, manufacturing, and defense.
A number of additional speakers from leading companies and organizations in the field will also take part in the two-day forum, including Evan Acharya of NVIDIA, Jamie Beard of Robotic Technologies of Tennessee, Jennifer Doogan of Sarcos, Hendrik Hamann of IBM/IBM Research, Steven Trevino from Diakont, Ron Kessler from Quest Integrity Group and Ozge Whiting of Avitas Systems. Other scheduled speakers include Stephen Antolich of Paragonix, Rod Lee of Pipetel Technologies, Suzanne Lemieux from API, Kevin F. McCarthy of Xcel Energy, Luis Pulgarin of ASME Standards & Certification, Patrick Saracco of Cyberhawk, Rob Troutt of the Texas Department of Licensing and Regulation and Stefan Vages of ROSEN USA.
Registration for the ASME Robotics for Inspection and Maintenance Forum is $495 for ASME members and $595 for non-members. Space is limited, however, so readers are encouraged to register as soon as possible to guarantee a seat at the event.
For more information on the ASME Robotics for Inspection and Maintenance Forum, or to register, visit
https://roboticsforinspection.asme.org/home
.