ASME Launches New ASME.org Website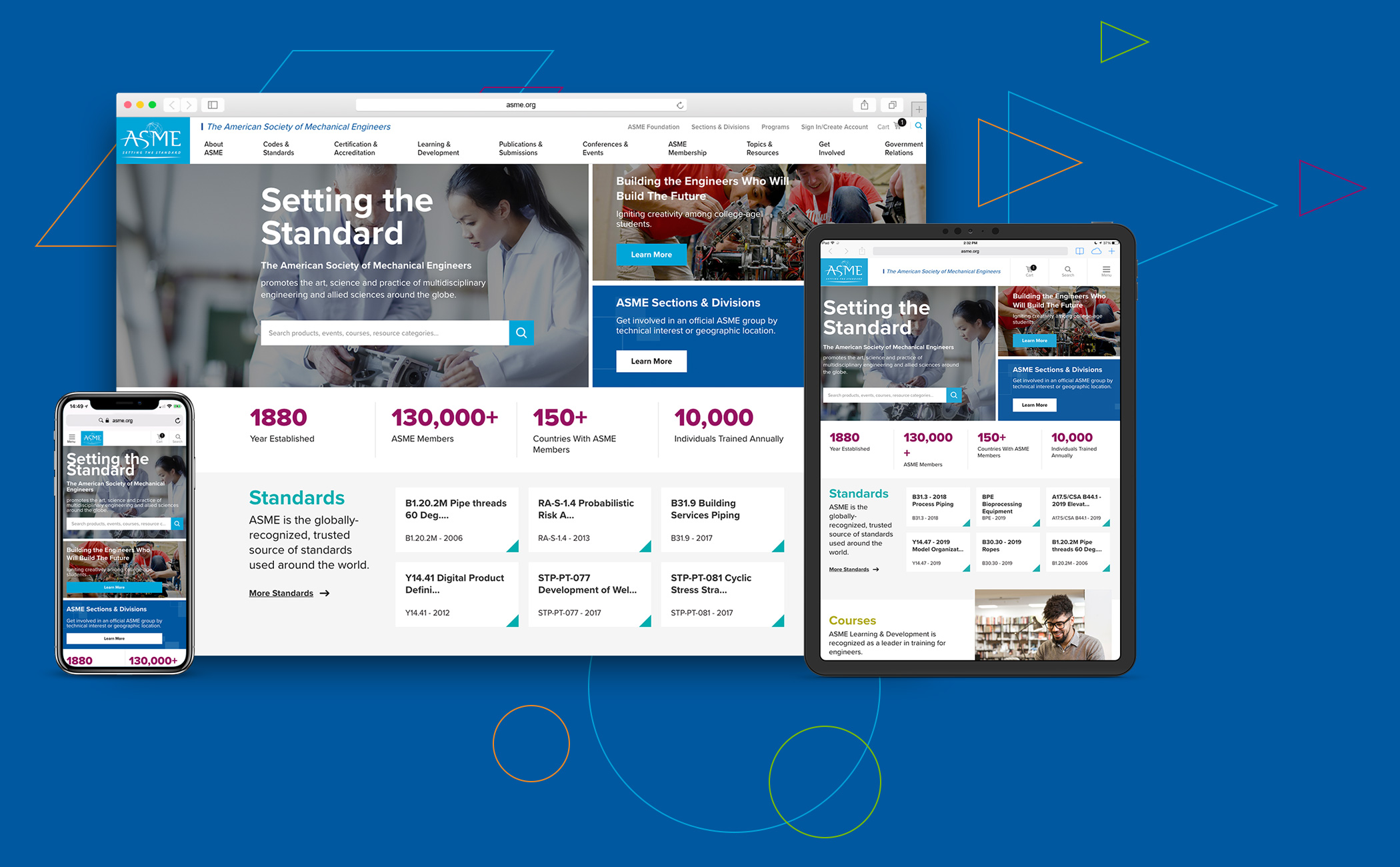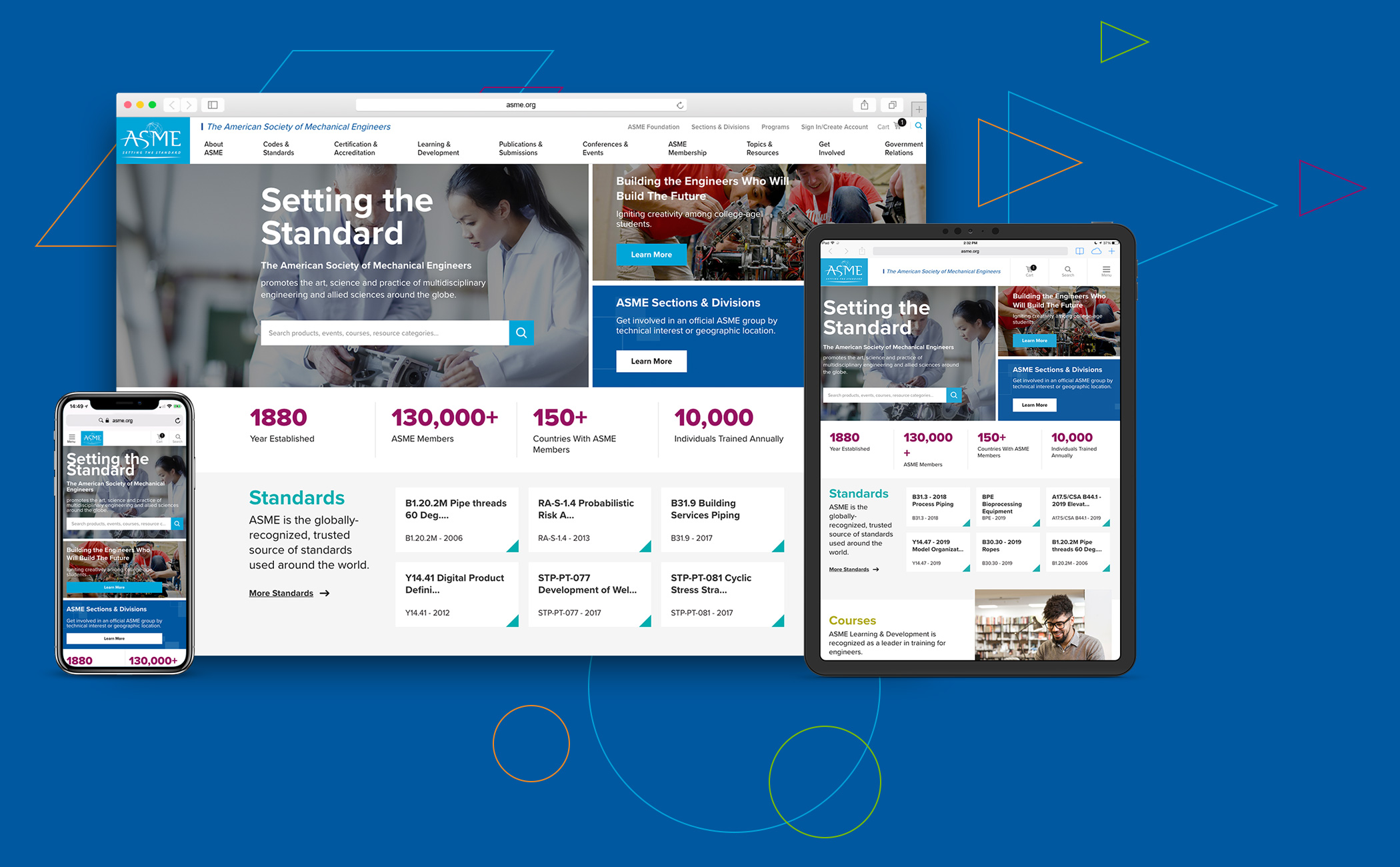 The new ASME.org Homepage viewed on multiple screen sizes
ASME Launches New ASME.org Website
Jun 28, 2019
If you're reading this sentence, you're on the new website. What you see here is just one of many new page designs on the new ASME.org. After you finish reading this article, we encourage you to explore the site and see for yourself. While you're here, check out the new My Account page and make sure your information and communication preferences are up-to-date. It'll help us keep in touch and better serve you with relevant information and content in the future.
www.asme.org
One of the main goals of the new website design is to improve the mobile web experience to better serve the increasing number of ASME constituents who primarily use their phones to visit websites and consume digital content. The new site was built using a technique known as responsive design, which enables better viewing and functionality on smartphones, tablets and other devices. Whether you wish to access editorial content, find the latest society news, purchase a product, access your member benefits, update your account profile – or any number of other ways to engage with ASME.org – all of those experiences are now fully mobile-optimized with new page designs that look great and function well on any screen.
Improved usability and navigation is another goal of the website redesign. The product pages, content pages, full checkout process including shopping cart, "My Account" page, and calendar of events were all revamped for better ease of use and faster access to information. The website also features a new "mega menu" navigation that helps visitors see what pages are within each section of the site before they click – making it easier to find information quickly by scanning the menu. This menu also contains links to critical tools and resources that are hosted outside of ASME.org, providing a shortcut to the most important websites and tools for each area of ASME all in one place.
We will also prominently highlight divisions and sections in the navigation via a permanent "Sections & Divisions" link in the site header, appearing at the top of all website pages, as well as in a featured unit on the home page; both will lead to a content page with relevant links for these key parts of the Society. The expanded "Get Involved" menu within the navigation bar also features access to divisions and sections, along with other opportunities to engage with the Society.
"Whether you are new to ASME and visiting the site for the first time or have been to the ASME.org many times before, it was critically important for the new website to be more intuitive and enable you to find what you're looking for without the 'trial and error' clicking that many experienced on the old site," said Josh Heitsenrether, Managing Director, Marketing & Digital Strategy. "We wanted the experience of ASME.org to match what you'd expect from other leading websites you visit. The mega menu, the layout of the pages, the ability to filter and sort… are all intended to make the site easier to use and come back to over and over again."
Another change visitors will notice is the new "Topics and Resources" area of the site, which will be the new central hub for information, news, and thought leadership content – all of which was previously scattered throughout separate sections of the website. Now, editorial content from the editors of ASME.org and Mechanical Engineering magazine, resources provided by contributors and collaborators, and society news will be available in a single stream that enables the reader to filter and sort the content as they wish based on source, content type and format. The flexibility of this new content area will enable expansion to include other types of news and information, such as news items from local sections or ASME Divisions.
"Centralizing the content takes away the complexity of having to click to multiple hub pages to find the topic or type of content you're interested in. If, for example, you only want to view webinars on a specific topic, you can do that easily through the filter options," said Deborah Johnson, Director of Digital Operations. "We've made it much easier to find content all in one place and decide which content you want to view."
The website's Search functionality also underwent a major upgrade as part of the redesign, which will result in more accurate and precise results for those using the search feature – and the ability to refine results further using the search facets available on the page. This is powered by a new search engine and machine learning technology that has been running on the old website since January 2019 to learn about the sites' search activity and deliver better results on the new website.
The relaunch will be followed by a series of iterative releases over approximately 18months that will include new functionality, new content formats, and further enhancements to navigation. You can provide your feedback by taking a short survey
here
. A separate project is also slated to upgrade the Community area, which was out of scope for this relaunch. Several other ASME websites have been relaunched or are undergoing a redesign currently. This includes a majority of the R&D Conference websites and the ASME E-Fest website.
"Now that we've done a big redesign of the website, you'll start to see continuous enhancements and updates from here – including items we've already planned as well as those we gain from feedback from ASME's constituents," said Heitsenrether. "We have a new beginning for our web presence to the world that will show immediate benefit to visitors to the website today, coupled with a regular release plan that will ensure the site remains useful, relevant, and modern for future audiences to come."
What to do next?
Need help? Contact
Customer Care.