ASME 2012-2013 Annual Report is Now A...
ASME 2012-2013 Annual Report is Now Available Online
Dec 6, 2013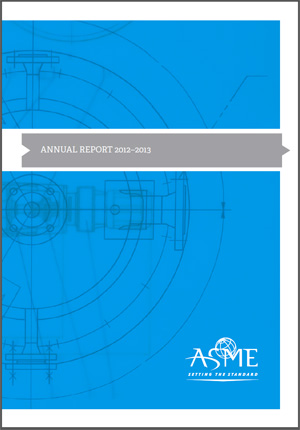 The Society's Annual Report for 2012-2013, which was presented during the Annual Business Meeting at the 2013 ASME Congress, is now available on ASME.org.
Produced by ASME Public Information, with contributions from the Creative Services department, the 52-page Annual Report with its stylish new design provides an overview of ASME's initiatives during the past fiscal year. These include the introduction of an enhanced, more interactive version of ASME.org, the launch of the Society's multi-media ASME Energy Forum program, and the relocation of ASME's headquarters in New York to Two Park Avenue.
In addition to a letter from ASME's 2012-2013 President Marc W. Goldsmith and Executive Director Thomas G. Loughlin, the publication also includes a Treasurer's Report, the Society's Consolidated Financial Statements, a featured section on the ASME Foundation's Donor Report and a listing of ASME Honors and Awards for 2012.
To view a PDF version of the new Annual report, visit www.asme.org/about-asme/governance/annual-reports-from-asme-and-asme-foundation.