Woman Power, Bio of Belize Plant Manager Niebert Blair
Woman Power, Bio of Belize Plant Manager Niebert Blair
Article Edited by Julia Yeung, ASME Public Affairs and Outreach Intern Interview by Soren Maloney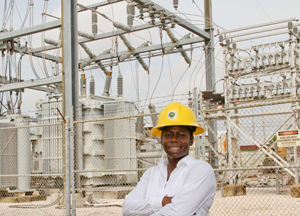 Niebert Blair works as a Contract Manager for Guyana Power and Light Inc., one of the Demerara Power Plants located on the banks of the Demerara River in Georgetown, Guyana in South America. She is a Chartered Engineer with a Bachelor's degree from the University of Guyana and a Master of Philosophy from the University of Cambridge in the United Kingdom.
Born in Georgetown, Guyana, Niebert grew up in Hopetown, Berbice, a small close-knit village with a small population of about 2,000 people, most of which are her relatives.
As a child growing up, she found herself constantly opening and repairing items. She opened her grandmother's radio, unscrewed door locks, and even attempted repairing her own bicycle after observing her cousins' fixing theirs. These experiences fueled her passion for figuring out how things work.
"I don't think I chose engineering, engineering chose me. I was the best graduating student in the region. My dad wanted me to become a lawyer and I wanted to become a doctor because I wanted to help people, but my mother wanted me to become an engineer."
Niebert's mother is a teacher and witnessed her exposure to many technical subjects at school and suggested engineering as a possible career path. In addition, her father's work as a welder at GuySuCo (Guyana Sugar Corporation) exposed her to the inner workings of a sugar factory.
This encouraged her to take the GuySuCo technical training school exam. Although she was the highest scorer, she opted to go to a 2-year technical institute instead.
Now as a power engineer Niebert who originally trained for mechanical engineering, acquired the skills to perform work on the electrical engineering side by working with men in the shops from the planning to implementation stage.
"Being involved and getting to the bottom of details, I was hands-on, even to hand a spanner. I was always at the forefront of getting the work done and my hands dirty. I would climb onto transformers to inspect for problems."
Her transition into the energy development field came from her desire to pursue a new challenge. There is a shortage of power engineers in the energy sector worldwide with few engineers in the industry and almost no women. As power engineering is a key area in energy development, she was interested in and decided to apply for a job in Belize that would help her develop the skills to become a more rounded engineer in the energy field. She worked in Belize for almost two years.
Niebert also faces obstacles when it comes to working in a developing country. The lack of resources, financial constraints, and the limited amount of information available poses challenges when working to develop new systems.
"In a developing world, it's all about dollars and sense, so as engineers we need to make these two combinations work well. I would be happy to know I designed a system without state of the art technology that is 80-95% efficient, that works and gives me a high return on investment."
She also finds that she is not scrutinized being a woman in the industry as she has become use to working with men and has even encountered men who have tried to help and support her career advancement. She applies the principles - honesty, trust, and discipline - when it comes to working with anyone.
Niebert offers this advice for young women considering a career in engineering:
"I would encourage everyone to do something they like doing first of all. If a young lady loves engineering, then just go for it--- 'Let beyond the skies be your limit.' Mankind has discovered a lot throughout the ages and there is a lot more for us to discover. Engineering is a great career. You have the opportunity to develop and improve systems and most of all make living more comfortable, affordable and rewarding."
One of the projects Niebert is working on in Guyana is the Frequency Conversion of the Electrical System. It involves converting the system from 50Hz to 60Hz, which will create huge savings, reduce transmission losses, and establish a single operating frequency in the country.
Her advice for engineers working in developing environments is to take the "we need to make 'dollars and sense' engineering as a science and art.
"Engineers must have some general knowledge of what each area involves and its contribution to the overall outcome of the bigger picture. We must think how one thing affects another. As engineers we need to understand the financial and human aspect, how what we do affects the other people we work with."
Related Content