The Resourceful Job Hunt
Nov 19, 2013
By: Carol Milano
Todd Spurgeon was showing interested parents and prospective students Virginia Tech's Invents program, designed for engineering students. The mechanical and aerospace engineering major mentioned his "self-made, hand-built open source design of a three-dimensional printer" as the campus tour group passed it. "I had modified the design to have more capabilities than the original with some improved components. One parent, a naval researcher who had previously taken additive manufacturing courses at Virginia Tech, recognized that I had been pretty quick to pick up the skills," Todd recalled.
The parent knew of a Penn State professor seeking summer interns and offered to recommend Todd. "I sent some You Tube videos of what I had built and links to my current project," Todd recounted, "They hired me, via e-mail!"
His job consisted of a paid 10-week 2013 summer internship in Penn State's prestigious Applied Research Engineering Lab, "I had a blast! I got to do research and designs to keep the U.S. a world leader in manufacturing," Todd said.
Todd was lucky, but he had also been planning carefully. "Half my reason for building that printer," he confided, "was to get more experience in this field. I want to use and apply knowledge, rather than just get a degree for the sake of getting a job. I have learned that people like it when students take a class, then apply it to what they can do, which makes it a very rewarding learning experience. Just one year after my first exposure to additive manufacturing, I was involved with it at Penn State, who is a leader in this area."
As Todd realized early on sending resumes, answering job postings, and attending career fairs are basic job-hunting steps. Finding ways to stand out by making your skills and ideas noticeable is a better strategy.
Todd's colleague, Greg Jannaman (BS, 2009) did just that. In his fourth year at Virginia Tech, Greg joined the Blind Driver Challenge, to develop a miniature car that sightless teenagers could drive. He became team leader of the successful undertaking, but never expected it to lead to a job.
National Instruments (NI) provided all the project's hardware and software. When two NI senior engineers visited, they were impressed enough with the nine mechanical engineering students' work to provide additional equipment and technical assistance. The added support helped Greg appreciate NI's goal of "assisting not only academic pursuits, but also finding projects involving innovative technology that could help improve everyday life."
At Virginia Tech's 2009 career fair, with hundreds of exhibitors, Greg targeted NI. Throughout the interview process, he highlighted his Blind Car Challenge experience, particularly his leadership and teamwork, and demonstrated understanding of real-world engineering challenges. "My big advantage was a passion for NI's mission and vision, plus familiarity with their products. I communicated that I was not just passionate about the Blind Car Challenge, I wanted to bring this kind of project to other people, through other [similar] things we could do." He was hired.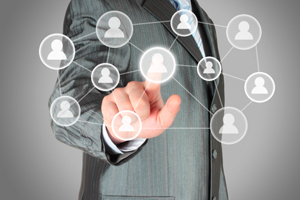 Resourceful Job-Hunt Strategies
Research three to five companies exhibiting at an upcoming Career Fair. Practice describing skills and experiences that match each company's specific interests.
Take on projects that highlight your enthusiasms and strongest assets. Let people know about them.
Utilize your college's resources, including mentor programs and alumni associations.
Join local and national associations, including online groups, such as LinkedIn. Participate! Share information about interesting articles or programs so people learn who you are and what is significant to you.
Seek activities where you'll meet people from different backgrounds, such as community service groups or campus programs. Remember, broadening your network broadens your opportunities!
Now a regional services and support manager for NI, based in Austin, Greg Jannaman is one of their Virginia Tech recruiters. What does he look for? "When I see a student with a passion, doing everything they can to pursue it that puts them way up on the charts."