Students Tour Two of Elon Musk's Faci...
Students Tour Two of Elon Musk's Facilities in California
Nov 10, 2015
By Benedict Bahner, ASME Public Information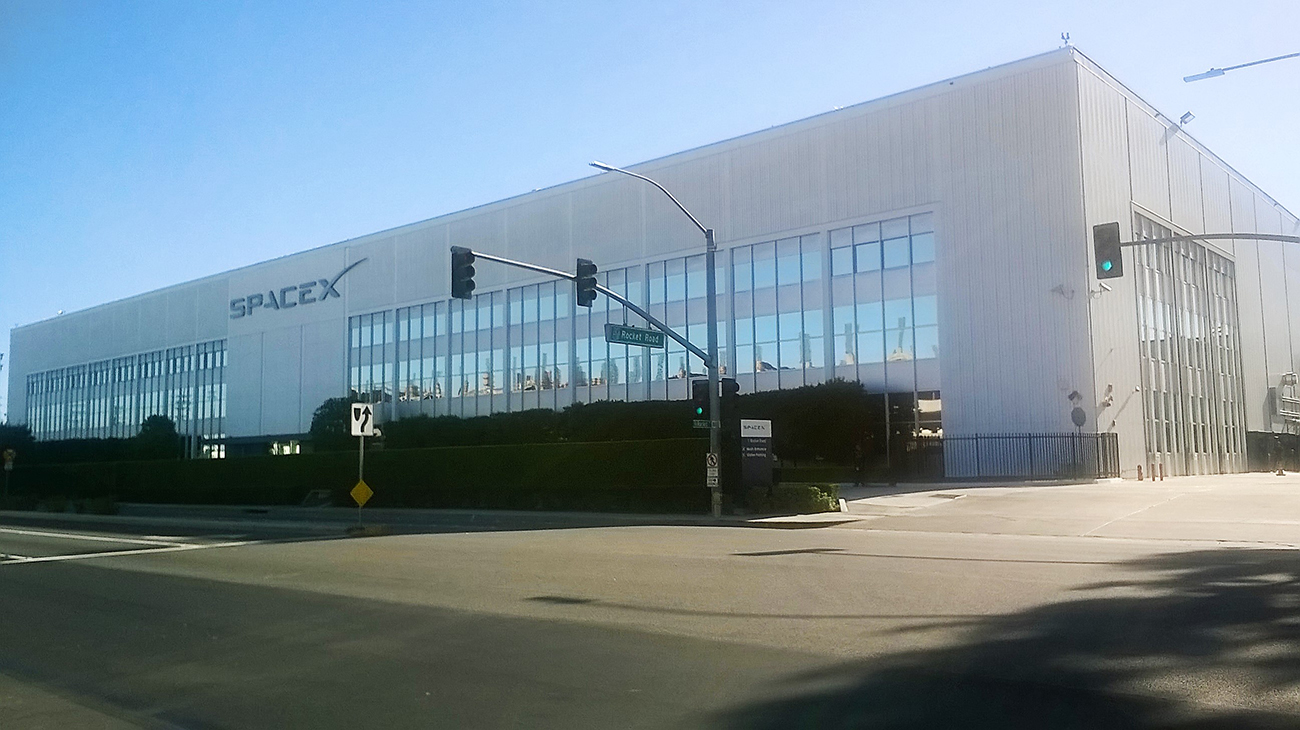 This past summer, Edison Universe and ASME gave 45 undergraduate students the rare chance to get an in-person look at the headquarters for Tesla Motors and Space Exploration Technologies Corporation (SpaceX), two of inventor and entrepreneur Elon Musk's state-of-the-art production facilities in California. The students also had the opportunity to interact with human resources recruiters and engineering interns currently working at the companies.
The tours of Tesla and SpaceX, which were both held July 13, were organized by Edison Universe, the not-for-profit parent company of the annual Edison Awards program, and ASME's Students and Career Development staff. The tours were offered to students who had participated in recent ASME competitions.
Rare Opportunity
Musk, a champion of commercial space travel and sustainable automotive technology, was the recipient of the 2014 Edison Achievement Award for the innovative contributions he has made throughout his career. Musk offered students the chance to visit the world-famous headquarters of his two companies — a rare opportunity, as tours of this kind are seldom granted to the public. Edison Universe reached out to ASME to find top engineering students to take part in the tours.
ASME student member Jennifer Wei, now a junior at Olin College in Needham, Mass., was one of the 20 students who boarded a tram to take a tour of the factory floor of the 132,000 square-foot Tesla engineering and design center in Fremont, Calif. There, she and the other students saw a number of Tesla electric vehicle prototypes, including the Tesla featured in Iron Man, and were shown the process for building a Tesla from start to finish.
"We really got to see the different steps," said Wei, who is co-leading her school's ASME Human Powered Vehicle Challenge team. "And it was interesting to compare their process, for instance, with how we built our vehicle, even though ours is designed at a much smaller scale because we just build one vehicle for competition. But there are still some similarities between the two processes."
As the tour continued, Wei said she was also surprised by the facility's open working environment. "I thought it was unusual that they have a very open workplace," said Wei, who is pursuing a degree in electrical and computer engineering at Olin College. "The office space was an open floor with a lot of tables. Even in the factory, there were sections where there were many tables and people working. A lot of startups have that kind of work environment, but you don't hear of many larger companies being set up that way."
Eric Buck, an ASME student member from California Polytechnic Institute and a member of his school's ASME Human Powered Vehicle team, was also among the lucky students on the tour. "It was really exciting," he said. "I could have spent weeks in there. There was a lot to see, and it was really interesting how they move the cars around. They're up above everyone on a kind of ceiling that moves them around to different sections of the facility."
ASME student member Daniel Smith was among the 25 students who were invited to take a walking tour of part of the main SpaceX headquarters in Hawthorne, Calif. — a more than 500,000 square-foot facility where the Dragon cargo space capsules and the Falcon 9 rockets that launch them are built and tested. The site also houses a mission control center from which those launches are guided.
"We saw actual hardware that was being prepared to go into space," Smith said. "You could see people working on it, which was very cool." In addition to getting a glimpse of the clean rooms where SpaceX employees worked on Cargo Dragon, the students had the experience of seeing engineers' 3D printing metal parts for the engines. "That was a technology I had heard of, but this was my first time seeing it applied. They also had friction stir welding, which they use to weld their fuel tanks together, another technology that I'd heard of, thought was cool, but was getting to see for the first time in person."
After each facility tour, the students met with representatives from each company's human resources department. During these sessions, the HR representatives discussed the qualities they were looking for in prospective employees and interns and offered to review each student's resume. The HR representatives also encouraged the students to apply for the companies' student internship programs.
Richard Livingston, a mechanical engineering major in his senior year at Brigham Young University who took part in the SpaceX tour, was so impressed with the tour that he submitted an application.
"It seems to me that they really value each of their employees," he said. "And their interns could work 40 to 50-plus hours a week — not as gofers but as engineers doing real work for the company. The people there really liked it. So that left a positive impression on me."
"Edison Universe was proud to honor Elon Musk, CEO of Tesla and SpaceX, with the 2014 Edison Achievement Award, and were privileged to offer tours of the Tesla and SpaceX factories to outstanding engineering students from ASME's prestigious engineering contests," said Mindy Manes, chief operating officer of the Edison Awards. "These organizations and students embody the legacy of Thomas Edison."
--------------------------------------------------------------------
If you're an engineering student interested in working on real world projects? Learn more about the internships and co-ops available at Tesla Motors and SpaceX.