Next Generation of Engineers: Meredit...
Next Generation of Engineers: Meredith Campbell
Jun 17, 2014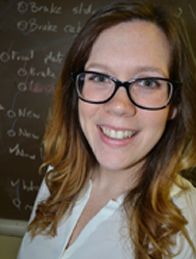 It's never too late to change your career path and get serious about engineering. At age 22, Meredith (Merry) Campbell realized she wanted to "make a difference and do something important with her life" and that meant becoming a mechanical engineer. For her, watching a video of a discussion on the International Space Station featuring NASA Astronaut Nicole Stott was a key moment.
"Nicole Stott is the reason I decided to study mechanical engineering," said Campbell, who is also working on a minor in Business Management at Daniel Webster College.
Merry founded the Kenya Connection Club, a program that creates instructional videos to help professors at African International University connect with students using a learning management system. In recognition of all her hard work, 2014 has been an award winning year for Merry. She was named ASME's 2014 New Face of Engineering [College Edition] and was awarded the 2014 Charles T. Main Gold Medal.
We got a chance to catch up with Merry in a recent interview:
Q: Did you have any interests or previous exposure to mechanical engineering before seeing the video chat with NASA Astronaut Nicole Stott? I actually did not have any exposure to mechanical engineering before watching the video. My father is a software engineer, but even in my early twenties I didn't know what the word "engineer" meant. My lack of early exposure to engineering is actually the main reasons I think STEM education is so important. It is clear to me now that I was made to be an engineer. Nothing has ever felt so natural. Sometimes I think that if I had been exposed to engineering at an earlier age, I may have worked harder earlier. I struggled for many years trying to figure out what to do with my life, and perhaps that struggle could have been avoided or shortened if I had been able to experience engineering at an earlier age.
In the end I'm happy with the path that led me to engineering, because it made me who I am today, but I think it's important to show young people that engineering is an option. I went to college for three years before I switched my major to mechanical engineering, which may have been a detour I needed in my life, but it was an expensive detour.
Q: What motivates you to stay interested in mechanical engineering, particularly aerospace engineering?
There are many things that motivate me. I have a sincere desire to make things better for the people around me, and it is clear to me that engineering provides many opportunities to do just that. With aerospace engineering in particular, it's the need to explore and the desire for new knowledge. I believe there is an innate desire to explore in every person, a need to make the unknown known. The world was once believed to be flat, and the Americas were unimaginable. Explorations in space are what we have on that front today, and I want to be a part of it. I want to watch the first human walk on Mars and know not only am I part of it because I am part of the human race, but that I am a part of it because I did the physical testing of the rockets that took them there. It's a natural curiosity which for me has become a passion.
Q: Did you experience difficulty in transitioning from your previous area of study to mechanical engineering?
Before I switched to mechanical engineering, I was going to school for Theology, but I was forced to take a few years off from school due to financial reasons. I only have one year left in that degree, so I am actually hoping to go back and finish it later. The two years of working between schools gave me the time to grow up and figure out what I really wanted to do with my life. The transition to engineering was actually very difficult for me. Only nine of my ninety-six credits transferred. It had been eight years since I had taken a math class, and I had never had any physics classes. For the first month of classes I felt completely lost and overwhelmed, but I don't think that was because I was a transfer student. I think everyone in the class was completely lost and overwhelmed, because it's engineering. About a month into school though I found my stride. I am very glad I go to a small school, because it's harder to get lost in the crowd. If I was struggling, the professors noticed and actively sought to help me.
Q: What does your network look like? Do you have mentors or other connections in your network to provide you with support throughout your collegiate experience?
Networking is certainly not my strong suit, but in the past few years it has been interesting to see it growing. There are two major contributors: graduating seniors and ASME. Every year since attending Daniel Webster College I have had the privilege of watching some of my friends graduate, and these friends are offered jobs all over the country. An even greater contributor though is ASME. I have had the privilege of holding a district position as well as working on an international committee for ASME. My positions have allowed me to interact with a lot of new people through email and telephone calls, but most importantly face to face at conferences. It's a pleasure to meet and work with people that care as much about something as you do. As for mentors I would say I have many but the two in particular that have had a large impact on my studies are Dean Nicholas Bertozzi of the Daniel Webster College Engineering Department, and Professor Timothy Kostar, the DWC ASME student section advisor. During my freshman year, Dean Bertozzi saw potential in me and actually hired me as a research assistant. He has given me the opportunity to present at conferences and has been very supportive of my academic career. There have been times when I struggled very much with school, and Dean Bertozzi went out of his way to help me do better. He really cares about the students in his department, and I feel blessed to have him as a mentor. Professor Timothy Kostar has also had an impact on my life. As an advisor he helped set the structure for our section, which was the catalyst for my ASME career. ASME has become a part of my identity, and if Professor Kostar hadn't been there to help organize the student section, I would be a different person. Also, as a professor he expects the students to work hard and be their best, which is a challenge that causes me to thrive.
Q: Why do you think conferences are important to your development as an engineer?
Because they are an opportunity to learn how the field is developing. Similar to my interest in aerospace engineering, I want to be in the thick of it all. I want to know what's new and what direction engineering is taking. Research and Development interest me very much, because they are all about creating and advancing. It's very exciting. Even more of a benefit though is the ability to meet your peers face to face. As part of the Student Section Enterprise Committee, I have been attending conference calls for the past year. We met for two days at IMECE, and in that two days we were able to accomplish so much more than we ever could over the phone. Once the business was finished, we were able to spend some time together and become friends. I also think it is essential for engineering students to have the opportunity to meet senior engineers. They can become mentors and also contacts for future job searches.
Q: How did you learn of the New Faces program and what was your reaction to winning the New Faces of Engineering College-Edition?
I heard about the New Faces competition through Facebook. I had been following DiscoverE on the site for some time, so when they posted a link to the New Faces competition I thought I should apply. I was watching the DiscoverE webinar "The Best Engineering Career Advice I Ever Got" when they announced the three finalists for every organization. I had actually forgotten that they were going to make that announcement, so when I heard my name I was in shock. I couldn't even believe I was in the top three. When they emailed me and told me that I was the new face of engineering (college edition) for ASME, I couldn't believe it. I was so excited, but I wasn't supposed to tell anyone (that was very difficult). The day of the announcement they posted on my Facebook and told me to check my local newspaper. There was an announcement in my local paper, which was a surprise to me and very exciting! It's such an honor to be recognized as a rising engineer.
Q: How do you see yourself impacting the engineering profession today, and in the future?
Today I am trying to impact the engineering profession by impacting its future engineers. I am very heavily involved in ASME, because I want engineering to be more exciting for the students. If students are excited about engineering and involved while they are studying, they may work harder while still in school. I want to help inspire students to strive for excellence. With my HPVC team everyone knows that I don't believe in "good enough," because you can always muster that last bit of effort to do something right. I hope to reach out to high school students to help create interest at that age as well. As for the future, I want to be involved with research, because I want to further the discipline. Stagnation is my greatest fear. When we cease to advance we will begin to deteriorate. I hope to continue my education after I finish my Bachelors. My true desire is to help people. I want to take my engineering knowledge and somehow make life better for those around me.