New art of printing electronics on Paper, Plastics or even Cotton By Ritesh Lakhkar, ASME, ME Today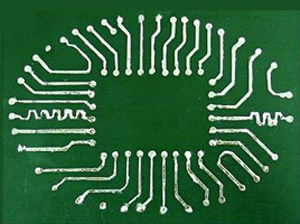 As electronic devices become more common and shape human lives, it is becoming more challenging to reduce the size of the electronic circuits and use them with different substrates to make better devices. Some of the substrates previously could not be even thought of due to their inherent nature. Making electronics on any desired objects, various sizes and surfaces without wires may soon become possible. Many opportunities and innovations in industry can be expected based on these ideas.
One such technology that may enable breakthrough in electronics development is liquid metal printing. Dr. Jing Liu, a professor with the Technical Institute of Physics and Chemistry, the Chinese Academy of Sciences (CAS) and the Department of Biomedical Engineering of Tsinghua University (THU), pioneered many non-conventional technologies and invented many liquid metal based breakthrough technologies. More than twelve years ago, he initiated for the first time the liquid metal based chip cooling technology which was later turned into commercial products and molded into many heat transfer enhancement method and waste heat recovery technology. In recent years, he made great efforts in significantly extending the liquid metal technologies into a variety of newly emerging areas especially the liquid metal 3D printing and printed electronics.
Conventional electronics manufacturing strategies are generally complicated. They are time, water, material and energy consuming. Besides, building an electronic device on a complex object generally requests a series of different connecting wires which would make the machine a mess. In an alternative approach, Dr. Liu proposed an innovative method of realizing conformable electronic connection by the low melting point metal ink and the related flexible packaging material for quickly manufacturing electronics. The liquid metal ink could easily and directly be written on a series of complex surfaces and then coated with the packaging material which is to offer mechanical strength and prevent it from air oxygenation. For illustrating purpose, an electrical connection of LED circuit on cylindrical surface, concave, inclined structure, planes of right angle and sphere was demonstrated. Such optoelectronic device appears rather compact without any evident connecting wires exposing out. Further, a thermal cycle experiment (?40°C ~120°C) was designed to test the variation of the electrical properties of the working sample. It was disclosed that the conductive line covered by the packaging material had a temperature coefficient of 0.255 mO/°C (T0=?16°C) and finally an increasing rate of only 4.24% in resistance after all thermal aging cycles. This electrical connection method is expected to have a significant impact in surface mount technology. Its applications will not only find their way in the industry but also can change the way we interact with each other and our everyday life.
A technical paper titled, 'Additive manufacture of conformable electronics on complex objects through combined use of liquid metal ink and packaging material' was presented by Dr Liu at IMECE 2013. According to the session chair and the audience, this talk generated big interests owing to its innovative contribution. This innovation's important practical value initiated the new direction of additive electronics fabrication. Quite a few audience members had follow up discussions and exchanged ideas with the author.
According to Dr. Liu, small businesses, venture capitalists or young entrepreneurs can work in this area to start a new business. The method as initiated by this present research has generalized significance and a series of innovative products can be created along this direction in the future. For example, this new technology has been used to paint desired electrical circuits to decorate the home such as making LED light on the window glass, the wall, the table, whatever as one can image. Even the human skin with complex shape can be painted with liquid metal electrical circuits to monitor the physiological information. It is imperative for the industry to find new ways to manufacture personal electronics, reduce the cost and time of electronics manufacturing and make circuits on any desired surfaces whenever needed, to continue to innovate.
MIT Technology Review published an article about Dr. Jing Liu's work where he explained how liquid metal printing can be used to print electronic circuits on any substrate such as paper, plastic, glass, rubber, cotton cloth and tree leaves using just an inkjet printer filled with liquid metal. This technology is cheap and simple and can be easily commercialized. If commercialization of liquid ink printing becomes a reality, a day when on skin display devices, wallpaper circuit boards and RFID or LED sticky notes are common commodities, is not far away.
Dr. Jing Liu is a professor with the Technical Institute of Physics and Chemistry, the Chinese Academy of Sciences (CAS) and the Department of Biomedical Engineering of Tsinghua University (THU). Dr. Liu received his B.E. degree in Turbo Machinery and B.S. degree in Physics in 1992, and Ph.D. in Thermal Science in 1996, all from THU. He then served as assistant professor at THU, a postdoctoral research associate at Purdue University, and a visiting scholar at MIT. Dr. Liu has authored nine popular books on cutting edge frontiers, fifteen invited book chapters, and over three hundred peer reviewed journal papers. His research interests include thermal management, printed electronics, bioheat and mass transfer, micro/nano fluidics and mobile health technology. He contributed significantly to the bioheat transfer area through numerous conceptual innovation, methodology development and technical inventions. His work was also fully reflected in energy related area where he pioneered a series of non-conventional technologies especially the liquid metal based thermal management, waste heat recovery, biomedical technology, 3D printing and printed electronics. He is a recipient of Best Paper of the Year Award from ASME Journal of Electronic Packaging, the National Science Fund for Distinguished Young Scholars of China, National Science and Technology Award for Chinese Young Scientist, and five times highest teaching award from CAS.
---
Ritesh Lakhkar is research and development engineer with diverse interdisciplinary background in manufacturing processes such as laser based manufacturing, welding, deburring and edge finishing, corrosion management, glass cutting, glass sheet manufacturing, etc., currently working for Corning Incorporated. He has bachelors in Mechanical Engineering from Govt. College of Engineering, Pune, India and masters in Mechanical Engineering from Purdue University, W. Lafayette, Indiana, USA. He is Member at Large on ASME's Board on Career Development, Member of Manufacturing Processes Technical Committee and Chair of ME Today Committee.
Related Content