From Makeup to Gum: A Mechanical Engineering Career in Consumer Products
From Makeup to Gum: A Mechanical Engineering Career in Consumer Products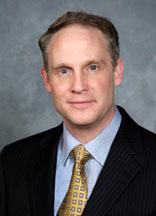 Where do you think your engineering degree will take you? Becoming a mechanical engineer opens up a large bandwidth of opportunity for you to explore what is most interesting to you as a career.
Rob Peterson, Senior Vice President & Chief Innovation Officer at Wm. Wrigley Jr. Company reveals how he turned his mechanical engineering degree and aspirations to become an aerospace engineer into a rewarding career in the consumer products industry and talks about how engineering impacts the industry. At Wrigley, Rob has global responsibility for a wide range of technical functions from R&D/Product Development, Consumer Insights, Science & Technology, Engineering, Productivity & Continuous Improvement, Scientific & Regulatory Affairs and Quality.
Wrigley is a recognized leader in confections with a wide range of product offerings including gum, mints, hard and chewy candies, and lollipops. The company has operations in more than 40 countries and distributes its world-famous brands in more than 180 countries. Brands include Extra®, Orbit®, Doublemint®, 5™, Juicy Fruit® and Eclipse® chewing gums, as well as confectionery brands Skittles®, Starburst®, Altoids® and Life Savers®. Wrigley is headquartered in Chicago, Illinois and operates as a subsidiary of Mars, Incorporated a Based in McLean, Virginia, Mars has net sales of more than $30 billion, six business segments including Petcare, Chocolate, Wrigley, Food, Drinks and Symbioscience and more than 65,000 Associates worldwide.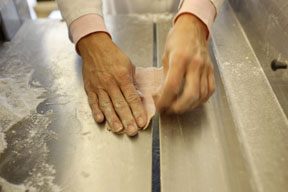 A native of Long Island, NY, growing up Rob always dreamt of becoming an aerospace engineer. Graduating with a B.S. degree from Columbia University, NY in Mechanical Engineering he took a job in San Diego, CA working for what was at the time the General Dynamics Missiles & Electronics Group. While working there for several years he attended San Diego State University at night for his M.S. in Mechanical Engineering.
Rob's Turning Point
Rob's fiancée, who was studying Chemical Engineering, received a job offer with Procter & Gamble (P&G). For her, P&G was a dream job and the company she really wanted to work for. She gave the recruiting manager a copy of Rob's resume and within weeks he had a job interview in Cincinnati, Ohio. But, at the time, he was very skeptical of what opportunities there would be for an engineer at P&G. "I remember calling up my fiancé right before the interview telling her, in not so delicate terms, to not get her hopes up. There was NO WAY I was going to work for a soap company! And, growing up on the east coast and now living on the west coast, there was NO WAY I was going to live in the Midwest"! Well, he ate his words big time because he was absolutely blown away during his visit to P&G by the science and engineering that went into seemingly simple consumer products. "I had no idea this existed outside of a typical high tech or industrial company. So, I accepted a job in P&G's Corporate R&D and have been in consumer goods businesses ever since."
Tell us about the engineers that work at Wrigley and the resources dedicated to engineering and science.
As a family-owned company, we are guided by our Five Principles: Quality, Responsibility, Mutuality, Efficiency and Freedom.
At Wrigley we employ many scientists and engineers primarily in our Innovation, Quality and Manufacturing organizations:
Food Scientists & Food Engineers develop new or improve existing products.
Packaging & Mechanical Engineers develop new or improve existing packages for those products.
The technology in food ingredients and other materials are worked on by Chemists, Chemical and Material Scientists & Engineers.
The assurance that these ingredients and formulas are safe and approved for use around the world is led by Chemical & Biological Scientists.
The equipment and processes to manufacture all these are developed by Mechanical & Chemical Engineers.
The manufacturing and continuous improvement of manufacturing of these products and packages is overseen by Mechanical & Chemical Engineers in the factories.
Lastly, the assurance that all this will be of the highest quality and food safety is led by Quality Scientists & Engineers with Food, Mechanical or Chemical backgrounds.
What does the company look for when they hire its employees?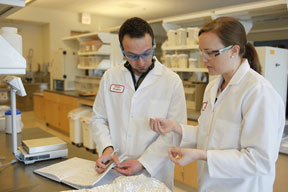 The company looks for several qualities in potential associates. In addition to the technical and experience qualifications for a role, we also look for examples of leadership behaviors such as navigating complex challenges, collaboration, and practicing breakthrough thinking.
How did you plan your career?
I get this question often from younger professionals and my answer never seems to be what they are looking for. I don't believe I did a lot of deliberate planning of my career. What I did do, however, was ensure I worked at places and on things I really enjoyed and was passionate about. With this, I was able to truly put my best effort in and I was fortunate to work at companies and for bosses that recognized and rewarded this. Of course, along the way, I got a lot of help and advice from my bosses and mentors.
What were your expectations when you first became an engineer and what was the biggest job revelation?
Out of school I expected to straight away start designing and inventing things. I was eager to put my hard work and degree to use in the most creative and detailed way. But when I started my first job, I was put to work doing Engineering Change Notices on the manufacturing floor for 6 months. At first, I was very disappointed and thought I made a mistake. But soon I realized that this was a great way to learn about the products, how things are manufactured and learn from mistakes that were made in development and the impact those mistakes have later on. Doing change notices for things I never worked on meant that I also had to talk to a lot of people in different departments and functions. In the course of investigating the corrective actions, I was able to make personal connections that would benefit me later on when I had my own design projects. I believe you learn best what you learn first and this experience gave me a bigger picture of the development process.
Describe some of your experiences (ah-ha moments) over the course of your career that lead you to your current position at Wrigley.
I believe that each role I had in my career I have learned greatly from and has contributed to my current role. Starting with my first job at General Dynamics, I learned about the development process and how to be a good technical engineer. I built on this strong foundation when I went to work at P&G where I learned how to take deep consumer insight and translate that into technologies to solve problems. I also learned how to lead teams of people and develop technical strategy.
My experience at Rubbermaid was like getting a real life MBA! While my role was to run the R&D organization for Rubbermaid, I also served on the leadership team running the company. I got to know how a company really worked and how each of the functions from sales, marketing, finance, legal, manufacturing, procurement, HR and corporate affairs operated and how they interacted. I also got a much better sense of the many things involved to successfully commercialize a new product. It was not just about an idea that could be manufactured. Many things need to be right...ranging from developing good trade customer relationships to the right pricing.
At Pactiv, my role was leading innovation and new products but I learned how important it was to continuously improve the efficiency of the existing products as a means to help fuel the growth for the new products. In fact, this efficiency focus, along with quality, is instrumental to long term sustained growth of a business. All my experiences, successes and mistakes have contributed to the overall breadth and depth of experience necessary for my current role.
Along with these experiences, education, both formal and informal, has helped to reinforce them. The ability to acquire knowledge quickly…call it learning agility…has been necessary in each of my career roles…its allowed me to go from making missiles to cosmetics to plastic storage products to trash bags to chewing gum!!!
Receiving 22 patents, tell us about the one engineering achievement that you are most proud of?
Of the 22 patents I have granted or pending, the one I'm most proud of is the first one….Many inventors say that! But for me the reason is different than simply it being my first patent. You see, I was not only the inventor but I wrote the whole patent…every word, including the drawings…from the Abstract to the Specification to the Claims. The company I was working for at the time, P&G, encouraged their scientists and engineers to write their first patent to gain valuable experience understanding patents and claims. Of course, I had some guidance from a company IP lawyer and some books I bought on writing patents. And, believe it or not, the patent was granted in about 4 months after submission. I remember the patent lawyer coming to my office with the positive news of allowance and saying he had never seen a utility patent get granted that quickly. So, depending on how you look at it, I did a really good job and convinced the patent examiner OR I did a really bad job and wrote a very narrow patent.
What has been the most interesting thing you have learned about the consumer goods business and what projects have been your favorites?
Consumer products are very much like other products which require creative designs and solutions to problems, often leveraging new or improved technologies to enable them. But, what I find unique to consumer products is that the problem you are trying to solve for is ill defined. Rarely are consumers able to clearly articulate their unmet needs for things as simple as a trash bag or piece of chewing gum. We have to dig deep and use a variety of research methods to get at the problem or opportunity. Further, we then have to define this opportunity in a way that is easily communicated to the consumer afterwards in simple advertising or package copy. We also have to translate consumer words into technical parameters to design against. An example would be translating consumer words for the preferred texture of a chewing gum in the mouth to the mechanical or rheological properties of the gum under those conditions of temperature, moisture, strain rate, etc. Lastly, these consumer products need to be manufactured at very large volumes and at extremely low costs which presents a whole new set of technical problems to solve.
My favorite product I have been involved with and hold two patents on is for a unique cosmetic applicator for liquid foundation…yes makeup! Cosmetic foundation is very important to the whole make-up process…it establishes the tone for the face and skin and for that reason is the 'foundation" of a make-up application. Powder applied foundation provides a very natural look that can be customized by the consumer but easily removes and must be re-applied during the day. Liquid foundation adheres to the skin better but often is difficult to control and in the worst case, the consumer can look like they are wearing a clown's mask! Professional make-up artists apply liquid foundation with a spray device called an airbrush which can simulate the natural look of powder but with the long lasting nature of liquid foundation. However, this takes great skill and airbrushing requires a second party make-up artist to apply it.
So, the solution we came up with was a miniature electrostatic sprayer! Just like with painting cars or other grounded surfaces, the charged liquid foundation particles would precisely deposit on the face, avoiding overspray onto eyebrows and hairline because the skin was more grounded. In fact the consumer could close her eyes and spray around her face with confidence the make-up would hit the target. This product, the SK-II and MaxFactor Aispray, is sold in high end department stores in Japan and US / Europe.
How is engineering technology applied to the consumer goods industry differently from traditional engineering industries? What are the some trends on the forefront in your industry?
There are many similarities in how technology is applied to consumer or industrial businesses. In both cases, technology is used to enable solutions to problems. And in both cases, the development of new technology can take many years, starting with a foundational understanding of the science behind it. For a consumer business, because it is not always clear from consumers what their unmet needs or problems are, technology development often goes hand in hand with deep consumer insights. These consumer insights inform the current and future needs of consumers and very much set the agenda for technology development.
Another unique aspect of technology development in consumer goods is the whole area of claims in advertising. Being able to make a simple yet impactful claim to a consumer in a short TV commercial or on the product's package is often an essential marketing strategy. People don't spend a lot of time researching the technical advantages of a product that costs only a few dollars. For this reason, a lot of research goes into not just the development of the technology but also in the solid substantiation of the advertising claims. The trend in the consumer goods industry is that this substantiation is being scrutinized by consumers and regulatory bodies more and more which means the science and technology behind the claim needs to be all the more robust.
Based on your experiences, define engineering innovation in your own words?
It's simply the application of science to solving technical problems.
What advice would you offer an early-career engineers in the first few years of work?
Try to learn as much as possible about your field…use your intellectual curiosity to guide you. And, don't be afraid to get your hands dirty in the process….often that is the best way to learn.
And, with this knowledge you will better understand what you like to do and what motivates you the most. Then try and find a job and career path within your company or at another company where you can do this. Also, make sure, wherever you work, the company, its leaders and your colleagues share the same values and ways of working as you. This coupled with doing what you love, will give you the best chances to have a successful and rewarding career as an engineer.
Young scientists or engineers often ask "I'm interesting in pursuing my education further…should I pursue a Masters in a technical field or an MBA?" In my opinion, the answer to this really depends on the company you are at, the field you are in and what type of career path you are interested in. However, my general view is early on in your career it is probably best to pursue a relevant advanced technical degree. You can't go wrong and you will never regret it. This is because your early roles will likely be as an independent technical contributor where advanced technical problem solving skills will provide more rapid career advancement. Later on in your career an MBA might be more impactful for your career because it will reinforce what you have already learned in business or industry. But, at the end of the day, no degree will teach you everything you will ever need to know to be successful. New challenges will come up, new directions in your career will arise, and new technologies will become more prevalent. So, the main thing you want to gain from pursuing an advanced degree, any type of Masters, is the skill of learning a subject matter very quickly and mastering it. That's what it's all about!
Related Content