Engineer Spotlight: Steve Price
Engineer Spotlight:
Steve Price (Sprice)
Sep 4, 2013
Mechanical Engineer meets America's Got Talent
By: Julia Yeung
Steve Price from Canton, Michigan, also known by his stage name Sprice, is a sophomore mechanical engineering student at Michigan State University (MSU). Steve reached the Quarterfinals of America's Got Talent (AGT) using his interest in design and background in mechanical engineering to create Rube Goldberg machines. Rube Goldberg machines are known to be deliberately over complex machines that use a series of chain reactions to perform a simple task. With his experiences creating his own original Rube Goldberg machines for his popular YouTube Channel, SpriceRGMs and recognition for his machines on AGT, Steve hopes to have a career in mechanical engineering that involves design.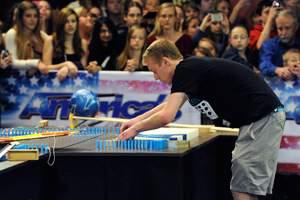 Photo: Virginia Sherwood/NBC
As a child, Steve's first exposure to mechanical engineering was with blocks and Legos. Using them to construct buildings and cities, he was all for and about anything that involved design and building. Steve first came across Rube Goldberg machines in middle school, when he was learning about different forms of energy in science. Now, he uses his own blocks, hot wheels, and marble tracks to build his version of the Rube Goldberg machine. His first machine came out to be very complicated with 63 test runs before working successfully. That machine, however, is nowhere near as complicated as the ones he is building now.
In his video, "A Convenient Way to Put Sunglasses On," Steve constructed the machine to flip sunglasses to his face through the use of a racing car, dominos, and a mouse trap. Although it may seem to be a complicated process, Steve found that after years of building these machines, he knew exactly what to do. His design process starts with thinking of the best ways to intrigue the audience's eyes to create the highlights of the finished machine.
"Building Rube Goldberg machines is essentially taking an object and looking at it in a different way than its intended use. The simple task is probably the most important part of a machine. It has to be something that could be done easily by hand, but turns out to be much more exciting when done as part of a chain reaction."
Once Steve is ready to begin testing the machine as a whole, it usually takes him less than 50 tries to get everything working consistently. There is a lot of trial and error in getting the machine to run properly, seeing what works and what doesn't is part of the process to reach the completed stage.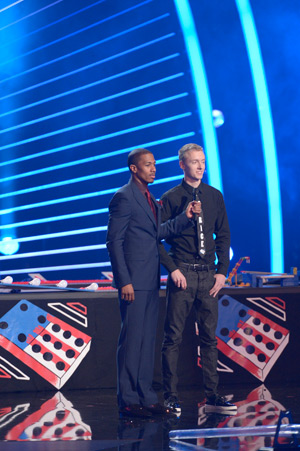 Photo: Virginia Sherwood/NBC
"I don't always come up with a task first; the inspiration might come to me at any stage when building the machine. I've made machines that put sunglasses on, make a cup of coffee, feed my dog, and score a goal with a soccer ball."
Steve's recognition as being the mastermind behind his Rube Goldberg machines started three years ago, when he began to post recorded videos of his machines on YouTube. Over time, his channel began to gain traction with audiences and led to one of the producers from America's Got Talent to contact him about a possible audition. The audition, which took place in Chicago, happened right after finals ended. Luckily, he was able to please the judges and proceeded to the next round in Las Vegas, where he advanced to the quarterfinals. At the quarterfinals, Steve performed in front of a live audience at Radio City Music Hall.
"America's Got Talent has allowed me to be recognized for something that I love doing. It's definitely a life goal of mine to end up doing something that I love doing for a living, but who would think that building Rube Goldberg machines would allow for so many opportunities? Thanks to my being on AGT, I have gotten a lot of offers to build machines for different things and if I'm lucky I might make something huge out of this hobby."
In the future, it doesn't matter to Steve if his hobby happens on a live show, TV show, or on the internet. His purpose is to use his machines to entertain people and attract others into the field of mechanical engineering. He also wants others to see the creativity and broad spectrum of opportunities available within the field.
"If you are not sure where you want to go with Mechanical Engineering, try as many things as you can to find out what you like the most. This is the time to discover where your interests lie and what you want to do as a career."
Steve offers this advice to those who are interested in performing their talents:
"If you have a talent or an interest that you want to pursue, don't let anything stop you, especially if it's something that hasn't really been done before. If you have a talent that's not going anywhere, you have to make something out of it yourself and make people recognize you. It's rare to see a mechanical engineer on a talent show, but I would love to see more. If you can make something that is helpful or entertaining to others, do whatever you can with it and take every opportunity to show it off."