Boundless Thinking Affords Daniel Kearney a Pathway for Career Success
Boundless Thinking Affords Daniel Kearney a Pathway for Career Success
By Carol Milano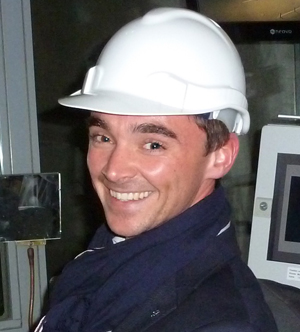 When Daniel Kearney joined ASME during his PhD program at the University of Limerick, in 2006, he never suspected that eight years later, he'd be ASME's College Relations, Honors and Awards officer -- in its Switzerland section!
Earning his doctorate in Thermal Management of Electronics in 2009, Kearney recognized that, "I liked the research environment, but didn't want the academic life. I wanted to explore engineering opportunities in Europe." Eager to be in a community attracting people with very different backgrounds, he selected southeastern France, near Switzerland and Germany -- "almost a Silicon Valley, rich in science and technology research." Kearney, now 30, spent 2010 as a post-doc Research Engineer at Leti- MINATEC in Grenoble, France.
When he began job-hunting, Kearney had the opportunity to go on numerous interviews. He stresses the importance of building and using a network. "Everyone talks about networking, but it isn't just clicking on 'Connect'!" he declares. "One reason why I get so much benefit from ASME is that when I meet people, I keep in touch. I might want to draw on their advice one day." In Grenoble, the professor of his Heat Transfer training course, an ASME member in Switzerland, "put me in touch with the ABB Corporate Research Centre in Zurich. Other contacts in my network told me about some work ABB does that [parallels] my own interests. I realized that I'd have lots of opportunity to continue my career there." The company flew him to Zurich for interviews; he joined ABB Switzerland as a Research Engineer, in mid-2011.
Kearney, who speaks fluent French and basic German, discovered that, "The official language of many research companies, including ABB, is English, because of the multi-national workforce. Science over-rides cultural differences, too," he finds. "At meetings, when someone asks a scientific question, no matter where my colleagues are from –- Brazil, Russia, anywhere –- we all speak the same language when it comes to engineering."
He sees good engineering opportunities now in Dublin ("another Silicon Valley"), France, Germany, and Switzerland. What's the best way to understand cultural differences? "Embrace and experience," Kearney maintains. "Take opportunities to travel and absorb not just the technical stuff, but also various cultures, and how you interact. Be open to new experiences, and you should have no problem" in a multi-national setting.
Kearney's grateful for the mentors he's had during his ECLIPSE internship (Early Career Leadership Intern Program to Serve Engineering). "I've gained a more strategic, high-level perspective on how the ASME system works," he reflects. A key question during his internship has been, "Do you ask 'why' enough?" "Sometimes we accept things as they are, without questions! ECLIPSE has given me the confidence to push forward with my new ideas to the top level of ABB, which has 140,000 people."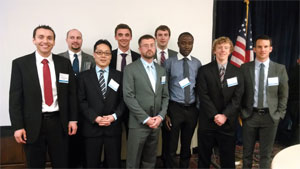 Daniel with fellow 2013-14 and 2014-15 ECLIPSE interns at Engineering Public Policy Symposium
He's relished the programs[opportunities] ECLIPSE has brought him to, including leadership training in St. Louis, and the Board of Governors meeting in Rio de Janeiro, which explored ASME's next ten years and discussed their views of the organization with local industry leaders. Another highlight: the Energy and Public Policy Symposium in Washington DC. "We were advocating for the STEM workforce, pressing the U.S. Congress to pass the Revitalize American Manufacturing and Innovation Act. We explained that STEM is great but equally important is the creation of innovation hubs to provide jobs for the educated workforce. Engineers are very humble people, but en masse, we can really make an impact!"
Expanding on his know-how, Kearney helped plan a rare ASME event in Zurich: touring a completely self-sufficient plant that uses heat from trash incineration to produce heat for thousands of nearby homes. They also extract metals like gold, aluminum and lead to resell on the metal market. Kearney arranged for ASME Swiss Section's Young Engineer Awards presentation to be held afterwards, at a wine-and-cheese reception in the incineration plant's lobby -- an apt backdrop for Daniel Kearney's career advice to young engineers: "It's so important to step out of your comfort zone –- that's where you really learn the most. Just think outside the box!"
Related Content