Audio, Video, Lights and Engineering
Audio, Video, Lights and Engineering
Oct 28, 2011
by Michael MacRae ASME.org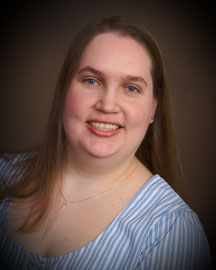 Elizabeth R. Schwartz, Systems Engineer and Project Manager, (Clair Brothers Audio Systems, Inc.) received her mechanical engineering degree from Duke University, and began her career in the audio, video, lighting (AVL) systems integration industry. Doing exactly what she wants to do as a career, she completely believes in following your passion.
Born and raised in Swaziland, Africa, Elizabeth's parents were missionaries with Trans World Radio (TWR) where her interest in the AVL world began. "My dad was a broadcast engineer for TWR and my mom worked in the main offices and used her background and music skills in community ministries. Through their work, I was exposed to the TWR recording studios and transmitter site where I was first introduced to the audio side of the AVL world."
In a recent interview, Elizabeth shares her background, experiences and takes us behind the scenes of the audio, video and lighting industry.
As a mechanical engineer, how did you end up in the audio/video/lighting systems integration field?
Moving to the USA, I was able to take audio, video, acoustics and music related courses throughout high school and college. After graduation and moving to Oklahoma City, I had a strong interest in working for Ford Audio-Video Systems –my first "real" job. They offered me a position as a draftsperson and after a year I was promoted to the position of project engineer "in training". A year later, I was promoted to project engineer as the lead engineer on some of the company's largest projects.
What were your expectations when you first began your engineering career?
I expected that I would know a fair amount about the work I would be doing at my first job. In reality, I knew very little and learned almost everything from on the job training and hands-on experience. However, having an engineering degree helped prepare me for thinking through and solving problems and managing the projects that I worked on.
Tell us about your current employer; Clair Brothers Audio Systems.
Clair Brother Audio Systems, Inc. is a loudspeaker manufacturer and an audio, video and lighting (AVL) systems integration company. The speaker manufacturing side of the company designs, fabricates and builds various products; including line arrays, video and audio stage monitors, full range speakers, subwoofers, rigging and road cases.
The systems integration side of Clair Brothers provides various services for the installation of audio, video and lighting systems. These services include acoustical analysis and design, building a system based on clients' needs, creating specifications, budgets and drawings, installing, testing and commissioning of the system and service of existing systems.
Clair Brothers works on systems for churches, sports arenas and stadiums, performing arts centers, university facilities and cruise ships. Some of the Clair Brothers projects past and present are Watermark Community Church in Dallas, TX, the BC Place stadium renovation in Vancouver, BC, Grand Ole Opry House in Nashville, TN, and the Marriott Waikiki Edition in Honolulu, HI.
What does the company look for when they hire its employees?
The work environment calls for someone who can work both independently and as part of a team. Depending on the position, some experience related to the work would be necessary. This could be an engineering or architectural background, an IT background, previous AVL experience, a background in theater or lighting, music or acoustics background or something related to broadcast or camera work or drafting and CAD experience. To do well in the job, you would need to have a genuine interest in the AVL industry and be willing to continually learn about the industry. Basic skills such as use of standard spreadsheet, word processing and email programs, good customer service and writing skills are also important.
Working for a small company, as a systems engineer/project manager what does your role entail?
I am involved from the design phase to the completion of a project. I can be involved with almost any aspect of the job, but the most frequent tasks include meeting with customers and other trades involved with the specific project, creating a system design and budget, putting together a bid for bid projects, creating drawings of systems, programming control systems and other devices that are required, creating GUIs (Graphical User Interface), testing and commissioning the system, writing user manuals and training the end user.
Typically I will be involved with 10-15 projects throughout a year, but the amount of work can vary greatly depending on the phase of the project, whether it is a design project, bid or a complete installation project, and whether I am the lead on the project or assisting others on their projects.
Starting out in the AVL field I learned the basics by assisting others with their projects and over time working on progressively larger and complex projects of my own. I was able to be successful because I was always willing to take on challenging projects. With the ever-changing technologies involved in AVL projects it is common to be the first to use certain devices or to be the first to use devices in a certain application. When dealing with these challenges I have learned to be persistent in researching the problems and in working with manufacturers to find a solution. There are also coworkers and others more experienced in the field that are willing to help and give advice when asked. Successful projects have been the result of being organized, using methodical processes to accomplish tasks and working with a team of talented people who also want projects to be successful.
Tell us about one engineering achievement that you are most proud of …
I have many memorable moments from almost all of the projects I have worked on. Some of the largest projects were hotel & casinos in Las Vegas, the Mandarin Oriental and Veer Towers, both at City Center, and the Wynn Encore. I also worked on the AVL systems for the Southern Nevada Water Authority which was a part of the new construction of Molasky Corporate Center. This was the first LEED Green Building project that I worked on and it was interesting to learn more about the sustainability and environmental requirements for the building.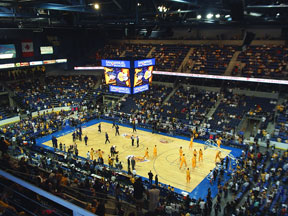 As part of the project at the Citizens Business Bank Arena in Ontario, California, I was able to attend the first basketball game between the LA Lakers and Oklahoma City Thunder which was my new hometown team at the time. Being able to see the systems fully functional and working after months or years of time invested in the project is my favorite part of being an AVL Systems Engineer/Project Manager, no matter if it is a small project or a large multimillion dollar project.
The AVL industry has a big impact on the world today. It plays a role in emergency situations with audio and visual paging and other notification systems. Communication is changing with the access to video and teleconferencing systems. Churches and other venues are using broadcast quality equipment to record, stream and replay their services and events. It's difficult to go anywhere today without seeing some form of digital signage whether it is for advertising or informational purposes. With the current generation growing up carrying around miniature computers and media centers in their pockets, there will be a growing demand for high quality audio, video and lighting systems in businesses and homes.
Tell us how mechanical engineering technology fits into the world of audio/video systems integration.
The study of acoustics, noise and vibration are often part of the mechanical engineering curriculum and these subjects are important to the AVL industry. The topics of statics and dynamics are essential in developing proper structural mounting and rigging methods for AVL equipment. When working with equipment racks and other heat-producing AVL devices, it is necessary to take heating, cooling and fluid dynamics into consideration. One of the major applications of nanotechnology being studied and researched is for the touch screen market. The basic principles of sound and light that are the foundation of the AVL industry follow are the same principles of physics studied in mechanical engineering.
Walk us through the design/engineering/programming /installation process…
The majority of my work revolves around particular projects. Most of our projects can be split into two categories, "design-build" and "bid." For design-build projects, we work with a customer from designing the system all the way through to the completed installation. Bid projects are typically large projects that involve an architect, multiple contractors and consultants. Bid projects start with making a bid on an already designed system and, after winning the contract, continuing through to the completed installation.
My earliest involvement with a project is usually during the design phase. The design phase includes meeting with the customer and other stakeholders in the project, determining the requirements and constraints of the design and developing the system components based on this information. As with many aspects of the technology field, the audio, video and lighting field and related technology is constantly changing. A big part of being ready to create a design that fits a client's needs is keeping up with the latest technology and watching the latest trends. There are hundreds of manufacturers of various equipment; used in our systems, and the design phase requires that we take all the components available, choose the best to match the requirements and integrate them together to form a working system that fits the client's needs and budget.
Once the budgets have been determined and agreed upon, the project moves on to the engineering phase. During the engineering phase, all of the planning and preparation needed for the installation is completed. One of the most important aspects of the engineering phase is the creation of installation drawings that are usually created in AutoCAD or other drafting/design software. These drawings include system one-line schematics, panel and rack details, architectural placement and location drawings, conduit and other electrical requirements and mounting details. For many projects it is necessary to work with a licensed structural engineer to have mounting and rigging details approved and stamped. One of the latest trends is for AVL systems to be included in Revit 3D architectural building models.
Many of the devices used in AVL systems require some kind of programming in order to function. This programming is typically manufacturer specific so there is a large variety of software and programming "languages" that have to be learned. Most audio systems include a digital signal processor (DSP) that allows for audio processing to be digitally created. What once may have been done by several individual devices in the past can now be done by one DSP system. For this part of the engineering phase a layout has to be configured through the specific DSP software that takes the physical connections to the DSP and digitally directs the signals through routers, mixers, equalizers, compressors and various other processors depending on the requirements of the system. There is often also control system programming required in AVL systems. This programming is also specific to the manufacturers that build the control system devices and can be logic based processing, code similar to C$ or a graphical type of programming. Control systems allow the end user to control the AVL system through a touch panel, keypad or some other user interface. A control system can take a large system that includes speakers, video displays, various audio and video sources and processors, drapes or screens, lighting, temperature controls, occupancy sensors, and combines the control for the entire system to one user interface. An important part of control system programming that occurs in the engineering phase is the user interface design. These designs can be created in the manufacturer provided software, but a sleek and modern design usually involves graphics design in Photoshop or other graphics software. During the engineering phase, the equipment is ordered and anything to be installed in equipment racks or lecterns is assembled, programmed and tested out in our in-house assembly area.
The next phase of a project is the installation phase. There is usually some overlap between the phases as engineering will be ongoing as the installation begins. During the installation phase an installation team will pull all the wire and cabling at the project site. All of the wiring will be terminated at panels, junction boxes or other destinations. The installation team will install of the rigging, speakers, lighting, projectors and other video displays, equipment racks and other AVL equipment. Once this is complete, all of the system has to be tested and commissioned. Testing includes verifying that all of the system cabling and terminations are correct and conform to certain specifications. It also includes testing of any programming that was done to ensure it works as expected. All equipment is tested to make sure that it is functioning properly and there are no manufacturer defects. Commissioning of an AVL system goes beyond just verifying the functionality of the system but ensuring that it looks and sounds good. This includes setting up the system so that it meets certain standards and achieves the expected quality and setting up any user required default settings.
The final phase is project close-out. This may include any punch list items left to complete, finishing the as-built drawings and turning them over to the customer, writing user manuals and putting together product manuals, training the end users and in some cases attending the first use of the system. Systems also include warranties and extended service contracts so there will often be continued interaction with the customer and their system to ensure the system works as expected for many years after the installation.
Based on your experiences, define innovation in your own words?
Seeing a need and being able to create the solution for it, sometimes even before the need is realized. This is true for many of the greatest innovations of our time, cell phones, tablet PCs, LED technology and some of the work in the AVL sector such as Audio Video Bridging (AVB) that will allow for audio and video device networking.
What advice would you offer other early-career engineers looking for a job in today's economy and those in the first few years of work?
One of my college internships was working at the Mt. Olive Pickle Company. Although the company was not hiring engineers as it only had a 2-person engineering department they were willing to take me on as an engineering intern. I was able to learn the Inventor and AutoCAD software and gain valuable practical experience. In today's world, engineers are in high demand. The possibilities for engineers are all around, whether it is in a jar of pickles or the sound system at your favorite sporting event.